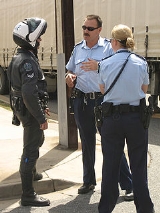 Police officer
A
police officer
is a
warranted
Warrant (law)
Most often, the term warrant refers to a specific type of authorization; a writ issued by a competent officer, usually a judge or magistrate, which permits an otherwise illegal act that would violate individual rights and affords the person executing the writ protection from damages if the act is...
employee of a
police force
Police
The police is a personification of the state designated to put in practice the enforced law, protect property and reduce civil disorder in civilian matters. Their powers include the legitimized use of force...
. In the
United States
United States
The United States of America is a federal constitutional republic comprising fifty states and a federal district...
, "officer" is the formal name of the lowest police rank; in many other countries "officer" is a generic term not specifying a particular rank, and the lowest rank is often "constable". Police officers are generally charged with the apprehension of criminals and the prevention and detection of
crime
Crime
Crime is the breach of rules or laws for which some governing authority can ultimately prescribe a conviction...
, and the maintenance of public order. Police officers may be sworn to an
oath
Police Oath
It is usual for Police officers take an oath to uphold the law. The following is a selection from different countries.- Hong Kong :English version according to Chapter 232, schedule 1, Laws of Hong KongI, .. ....
, and have the power to
arrest
Arrest
An arrest is the act of depriving a person of his or her liberty usually in relation to the purported investigation and prevention of crime and presenting into the criminal justice system or harm to oneself or others...
people and detain them for a limited time, along with other duties and powers.
Some police officers may also be trained in special duties, such as
counter-terrorism
Counter-terrorism
Counter-terrorism is the practices, tactics, techniques, and strategies that governments, militaries, police departments and corporations adopt to prevent or in response to terrorist threats and/or acts, both real and imputed.The tactic of terrorism is available to insurgents and governments...
,
surveillance
Surveillance
Surveillance is the monitoring of the behavior, activities, or other changing information, usually of people. It is sometimes done in a surreptitious manner...
, child protection,
VIP
Very Important Person
A Very Important Person, or VIP is a person who is accorded special privileges due to his or her status or importance.Examples include celebrities, heads of state/heads of government, major employers, high rollers, politicians, high-level corporate officers, wealthy individuals, or any other...
protection
Protective security units
Protective security units typically provide policing, security, intelligence and bodyguard services for Sovereigns and Politicians. They can be contrasted with security services which provide protective security intelligence such as Protective security units typically provide policing, security,...
, and investigation techniques into major crime, including
fraud
Fraud
In criminal law, a fraud is an intentional deception made for personal gain or to damage another individual; the related adjective is fraudulent. The specific legal definition varies by legal jurisdiction. Fraud is a crime, and also a civil law violation...
,
rape
Rape
Rape is a type of sexual assault usually involving sexual intercourse, which is initiated by one or more persons against another person without that person's consent. The act may be carried out by physical force, coercion, abuse of authority or with a person who is incapable of valid consent. The...
,
murder
Murder
Murder is the unlawful killing, with malice aforethought, of another human being, and generally this state of mind distinguishes murder from other forms of unlawful homicide...
and drug trafficking.
Responsibilities of a police officer are varied, and may differ greatly from within one political context to another.