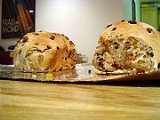 Barmbrack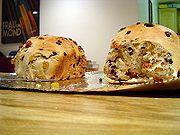 Barmbrack
is a
yeast
Yeast
Yeasts are eukaryotic micro-organisms classified in the kingdom Fungi, with 1,500 species currently described estimated to be only 1% of all fungal species. Most reproduce asexually by mitosis, and many do so by an asymmetric division process called budding...
ed
bread
Bread
Bread is a staple food prepared by cooking a dough of flour and water and often additional ingredients. Doughs are usually baked, but in some cuisines breads are steamed , fried , or baked on an unoiled frying pan . It may be leavened or unleavened...
with added
sultana
Sultana (grape)
The sultana is a type of white, seedless grape assumed to originate from the Turkish, Greek, or Iranian area...
s and
raisin
Raisin
Raisins are dried grapes. They are produced in many regions of the world. Raisins may be eaten raw or used in cooking, baking and brewing...
s.
Usually sold in flattened rounds, it is often served
toast
Toast
Toast is bread that has been browned by exposure to radiant heat. This browning reaction is known as the Maillard reaction. Toasting warms the bread and makes it firmer, so it holds toppings more securely...
ed with
butter
Butter
Butter is a dairy product made by churning fresh or fermented cream or milk. It is generally used as a spread and a condiment, as well as in cooking applications, such as baking, sauce making, and pan frying...
along with a cup of
tea
Tea
Tea is an aromatic beverage prepared by adding cured leaves of the Camellia sinensis plant to hot water. The term also refers to the plant itself. After water, tea is the most widely consumed beverage in the world...
in the afternoon. The
dough
Dough
Dough is a paste made out of any cereals or leguminous crops by mixing flour with a small amount of water and/or other liquid. This process is a precursor to making a wide variety of foodstuffs, particularly breads and bread-based items , flatbreads, noodles, pastry, and similar items)...
is sweeter than sandwich bread, but not as rich as
cake
Cake
Cake is a form of bread or bread-like food. In its modern forms, it is typically a sweet and enriched baked dessert. In its oldest forms, cakes were normally fried breads or cheesecakes, and normally had a disk shape...
, and the sultanas and raisins add flavour and texture to the final product. In
Ireland
Ireland
Ireland is an island to the northwest of continental Europe. It is the third-largest island in Europe and the twentieth-largest island on Earth...
it is sometimes called Báirín Breac, and the term is also used as two words in its more common version. This may either be from the Irish word
báirín
- a loaf - and
breac
- speckled (due to the raisins in it), hence it means a speckled loaf (a similar etymology to the Welsh
bara brith
Bara brith
Bara brith, sometimes known as "speckled bread" , can be either a yeast bread enriched with dried fruit or something more like a fruitcake made with self-raising flour...
). The yeast used was said to be skimmed from the top of fermenting beer and, as beer would also have been made at this time, this is likely. This suggests an alternative etymology, from the use of
barm
Barm
Barm cake is type of bun with flour on top. It has a characteristically strong flavour that comes from the traditional barm leaven made from a natural leaven with the addition of hops. However, the Barm Cake is more likely made from commercial yeast today....
as just such a yeast. Note that the most common spelling in Ireland is Barmbrack.
Halloween tradition
Barmbrack is the centre of an Irish
Halloween
Halloween
Hallowe'en , also known as Halloween or All Hallows' Eve, is a yearly holiday observed around the world on October 31, the night before All Saints' Day...
custom. The Halloween Brack traditionally contained various objects baked into the bread and was used as a sort of
fortune-telling
Fortune-telling
Fortune-telling is the practice of predicting information about a person's life. The scope of fortune-telling is in principle identical with the practice of divination...
game. In the barmbrack were: a pea, a stick, a piece of cloth, a small coin (originally a silver sixpence) and a ring. Each item, when received in the slice, was supposed to carry a meaning to the person concerned: the pea, the person would not marry that year; the stick, would have an unhappy marriage or continually be in disputes; the cloth or rag, would have bad luck or be poor; the coin, would enjoy good fortune or be rich; and the ring, would be wed within the year. Other articles added to the brack include a medallion, usually of the Virgin Mary to symbolise going into the priesthood or to the Nuns, although this tradition is not widely continued in the present day.
Commercially produced barmbracks for the Halloween market still include a toy ring.
Other references
Barmbracks were famously mentioned in the
Van Morrison
Van Morrison
Van Morrison, OBE is a Northern Irish singer-songwriter and musician. His live performances at their best are regarded as transcendental and inspired; while some of his recordings, such as the studio albums Astral Weeks and Moondance, and the live album It's Too Late to Stop Now, are widely...
song "A Sense of Wonder":
Reference to barmbracks is made in
Dubliners
Dubliners
Dubliners is a collection of 15 short stories by James Joyce, first published in 1914. They were meant to be a naturalistic depiction of Irish middle class life in and around Dublin in the early years of the 20th century....
by
James Joyce
James Joyce
James Augustine Aloysius Joyce was an Irish novelist and poet, considered to be one of the most influential writers in the modernist avant-garde of the early 20th century...
. The following example can be found in the first paragraph of Joyce's short story
Clay
Clay (short story)
Clay is a short story by James Joyce published in his 1914 collection Dubliners.-The story:Maria, a spinster with a minor job in a rescue mission for wayward women, is looking forward to a holiday evening at the house of Joe, whom she nursed when he was a boy and of whom she is still very fond...
:
External links