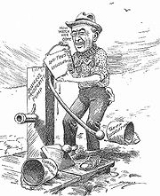 Progressive Era
The
Progressive Era
in the United States was a period of social activism and political reform that flourished from the 1890s to the 1920s. One main goal of the Progressive movement was purification of government, as Progressives tried to eliminate corruption by exposing and undercutting
political machine
Political machine
A political machine is a political organization in which an authoritative boss or small group commands the support of a corps of supporters and businesses , who receive rewards for their efforts...
s and bosses. Many (but not all) Progressives supported
prohibition
Prohibition in the United States
Prohibition in the United States was a national ban on the sale, manufacture, and transportation of alcohol, in place from 1920 to 1933. The ban was mandated by the Eighteenth Amendment to the Constitution, and the Volstead Act set down the rules for enforcing the ban, as well as defining which...
in order to destroy the political power of local bosses based in
saloon
Bar (establishment)
A bar is a business establishment that serves alcoholic drinks — beer, wine, liquor, and cocktails — for consumption on the premises.Bars provide stools or chairs that are placed at tables or counters for their patrons. Some bars have entertainment on a stage, such as a live band, comedians, go-go...
s.