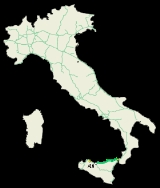 Autostrada A20 (Italy)
The
Autostrada A20
is a motorway (
toll road
Toll road
A toll road is a privately or publicly built road for which a driver pays a toll for use. Structures for which tolls are charged include toll bridges and toll tunnels. Non-toll roads are financed using other sources of revenue, most typically fuel tax or general tax funds...
) on the island of
Sicily
Sicily
Sicily is a region of Italy, and is the largest island in the Mediterranean Sea. Along with the surrounding minor islands, it constitutes an autonomous region of Italy, the Regione Autonoma Siciliana Sicily has a rich and unique culture, especially with regard to the arts, music, literature,...
that links the city of
Palermo
Palermo
Palermo is a city in Southern Italy, the capital of both the autonomous region of Sicily and the Province of Palermo. The city is noted for its history, culture, architecture and gastronomy, playing an important role throughout much of its existence; it is over 2,700 years old...
to Messina. The motorway from Messina follows the
Tyrrhenian
Tyrrhenian Sea
The Tyrrhenian Sea is part of the Mediterranean Sea off the western coast of Italy.-Geography:The sea is bounded by Corsica and Sardinia , Tuscany, Lazio, Campania, Basilicata and Calabria and Sicily ....
coast for 181 km (112.5 mi) until it meets the
A19 Palermo-Catania
Autostrada A19 (Italy)
The Autostrada A19 is a motorway on the island of Sicily that links Palermo to Catania. The motorway from Palermo follows the Tyrrhenian coast esatwards for 46km and then turns south to go over the Madonie mountains and across the centre of the island to descend into the plain of Catania.The...
at Buonfornello. The motorway A20, at its eastern-end, is also connected to the
A18 Messina-Catania
Autostrada A18 (Italy)
The Autostrada A18 is a motorway on the Ionian coast of Sicily that links Messina to Catania. The motorway is linked to the A20 Messina-Palermo at its northern-end and to the A19 Palermo-Catania through the RA15 Catania's Ring Road at its southern-end...
.
History
The first stretch of this motorway, from Messina Boccetta to Divieto, was opened the 01 June 1972 but works for the entire length were completed only the 21 December 2004 with the opening of the exit for Castelbuono.
Messina-Palermo
A20 MESSINA - PALERMO
Type
|↓km↓
|Province
Messina-Catania

Autostrada A18 (Italy)

The Autostrada A18 is a motorway on the Ionian coast of Sicily that links Messina to Catania. The motorway is linked to the A20 Messina-Palermo at its northern-end and to the A19 Palermo-Catania through the RA15 Catania's Ring Road at its southern-end...



0,0
181,8
ME
Toll station Messina Sud
0,0
181,8
ME
Messina Sud - Tremestieri Ferries
0,0
181,8
ME
Service station
"Tremestieri Ovest" (asimm.)
-
180,0
ME
Messina San Filippo
3,5
178,3
ME
Messina Gazzi
5,1
176,7
ME
Messina Centro
Ferries for Villa San Giovanni

Villa San Giovanni

Villa San Giovanni is a town and comune in the province of Reggio Calabria, Calabria, southern Italy. As of 2010 its population was of 13,747.-Geography:...



7,1
174,7
ME
Messina Boccetta
Ferries for Villa San Giovanni

Villa San Giovanni

Villa San Giovanni is a town and comune in the province of Reggio Calabria, Calabria, southern Italy. As of 2010 its population was of 13,747.-Geography:...




9,1
172,7
ME
Messina Giostra
ME
Messina Annunziata
ME
Toll station Messina Nord
21,0
160,8
ME
Villafranca Tirrena

Villafranca Tirrena

Villafranca Tirrena is a comune in the Province of Messina in the Italian region Sicily, located about 180 km east of Palermo and about 12 km northwest of Messina...



(monodirectional to and from ME)
21,0
-
ME
Service station "Divieto"
22
159
ME
‎
Rometta

Rometta

Rometta is a comune in the Province of Messina in the Italian region Sicily, located about 180 km east of Palermo and about 12 km west of Messina...



24,7
157,1
ME
Torregrotta

Torregrotta

Torregrotta is a comune in the Province of Messina in the Italian region Sicily, located about 170 km east of Palermo and about 20 km west of Messina...


- Monforte San Giorgio

Monforte San Giorgio

Monforte San Giorgio is a comune in the Province of Messina in the Italian region Sicily, located about 180 km east of Palermo and about 15 km west of Messina....



ME
Milazzo

Milazzo

Milazzo is a town and comune in the province of Messina, Sicily, Italy.The city is situated between two bays, one of Milazzo and the east to the west of Patti, in a strategic place in the north-eastern Sicily.Located 43 km from the provincial capital, is part of the metropolitan area of the Strait...


- Ferries for Aeolian Islands

Aeolian Islands

The Aeolian Islands or Lipari Islands are a volcanic archipelago in the Tyrrhenian Sea north of Sicily, named after the demigod of the winds Aeolus. The locals residing on the islands are known as Eolians . The Aeolian Islands are a popular tourist destination in the summer, and attract up to...



38,5
143,3
ME
Service station
"Olivarella Sud" (asimm.)
-
140
ME
‎
Barcellona Pozzo di Gotto

Barcellona Pozzo di Gotto

Barcellona Pozzo di Gotto is a town and comune of about 50,000 inhabitants in the north coast of Sicily, Italy, 40 km from Messina towards Palermo. It belongs to the Province of Messina.-History:...



47,2
134,6
ME
Portorosa - Furnari

Furnari

Furnari is a comune in the Province of Messina in the Italian region Sicily, located about 178 km east of Palermo and about 54 km west of Messina....



ME
Falcone

Falcone

Falcone may refer to:People with the surname Falcone:*Aniello Falcone , Italian painter*Don Falcone , American musician*Giovanni Falcone , Italian judge killed by the Mafia*Giulio Falcone , Italian footballer...



58,7
123,1
ME
Service station "Tindari"
61
119
ME
‎
Patti

Patti

Patti may refer to:* Patti , including people with this name* Patti, Sicily* Patti, Punjab, India* Patti, Uttar Pradesh, India* Patti caste, a group of people* Patricia, a given name...



67,2
114,6
ME
Brolo

Brolo

Brolo is a comune in the Province of Messina in the Italian region Sicily, located about 130 km east of Palermo and about 60 km west of Messina....


-Capo d'Orlando

Capo d'Orlando

Capo d'Orlando is a comune in the province of Messina, Sicily, Italy and is considered the capital of comprensorio dei Nebrodi. Well-known as a vivacious, active, touristic and commercial center, Capo d'Orlando is also the birthplace of the poet Lucio Piccolo, cousin of Giuseppe Tomasi di Lampedusa...


est
84,7
97,1
ME
Capo d'Orlando

Capo d'Orlando

Capo d'Orlando is a comune in the province of Messina, Sicily, Italy and is considered the capital of comprensorio dei Nebrodi. Well-known as a vivacious, active, touristic and commercial center, Capo d'Orlando is also the birthplace of the poet Lucio Piccolo, cousin of Giuseppe Tomasi di Lampedusa...


(in project)
90,0
91,8
ME
Rocca di Capri Leone

Capri Leone

Capri Leone is a comune in the Province of Messina in the Italian region Sicily, located about 120 km east of Palermo and about 70 km west of Messina...



Capo d'Orlando

Capo d'Orlando

Capo d'Orlando is a comune in the province of Messina, Sicily, Italy and is considered the capital of comprensorio dei Nebrodi. Well-known as a vivacious, active, touristic and commercial center, Capo d'Orlando is also the birthplace of the poet Lucio Piccolo, cousin of Giuseppe Tomasi di Lampedusa...


ovest
97,8
84,0
ME
Sant'Agata di Militello

Sant'Agata di Militello

Sant'Agata di Militello is a comune in the Province of Messina in the Italian region Sicily, located about 120 km east of Palermo and about 80 km west of Messina...



106,6
75,2
ME
Service station
"Acquedolci

Acquedolci

Acquedolci is an Italian town and comune in the Province of Messina in Sicily.Its name, that can be translated in English as "fresh waters", probably came from the fresh water springs which are part of the town territory...


Sud" (asimm.)
-
70
ME
‎
Reitano

Reitano

Reitano is a comune in the Province of Messina in the Italian region Sicily, located about 90 km east of Palermo and about 110 km west of Messina...


-Santo Stefano di Camastra

Santo Stefano di Camastra

Santo Stefano di Camastra is a comune in the Province of Messina in the Italian region Sicily, located about 100 km east of Palermo and about 135 km west of Messina...



135,0
46,8
ME
Tusa

Tusa

Tusa is a comune in the Province of Messina in the Italian region of Sicily, located about 80 km east of Palermo and about 120 km west of Messina. As of 31 December 2004, it had a population of 3,248 and an area of 41.0 km²....



144,0
37,8
ME
Pollina

Pollina

Pollina is a comune in the Province of Palermo in the Italian region Sicily, located about 70 km east of Palermo. As of 31 December 2004, it had a population of 3,102 and an area of 49.9 km²...


-Castelbuono

Castelbuono

Castelbuono is a town and comune in the province of Palermo, Sicily . It is especially famous for the castle which its name derives, and around which the city grew up in the 14th century.-History:...



155,0
26,8
PA
Cefalù

Cefalù

Cefalù is a city and comune in the province of Palermo, located on the northern coast of Sicily, Italy on the Tyrrhenian Sea about 70 km east from the provincial capital and 185 km west of Messina...



168,0
13,8
PA
Toll station Buonfornello
180,8
1,0
PA
Palermo-Catania

Autostrada A19 (Italy)

The Autostrada A19 is a motorway on the island of Sicily that links Palermo to Catania. The motorway from Palermo follows the Tyrrhenian coast esatwards for 46km and then turns south to go over the Madonie mountains and across the centre of the island to descend into the plain of Catania.The...



181,8
0,0
PA
A19 from Buonfornello to Palermo
A19 PALERMO - CATANIA
Type
Exit
↓km↓
↑km↑
Province
European Road
Buonfornello - Termini Imerese est
Messina Catania

Autostrada A19 (Italy)

The Autostrada A19 is a motorway on the island of Sicily that links Palermo to Catania. The motorway from Palermo follows the Tyrrhenian coast esatwards for 46km and then turns south to go over the Madonie mountains and across the centre of the island to descend into the plain of Catania.The...



46,0
PA
Agglomerato Industriale
42,2
PA
Area Servizio "Caracoli"
34,0
PA
Termini Imerese

Termini Imerese

Termini Imerese is a town and comune in the province of Palermo on the northern coast of Sicily, southern Italy.-Ancient:The site where the town now sits has been populated since prehistoric times, as many archeologial excavations have shown through the years...



31,2
PA
Trabia

Trabia

Trabia is a comune in the Province of Palermo in the Italian region Sicily, located about 30 km southeast of Palermo.The municipality of Trabia contains the frazione San Nicola l'Arena....



25,2
PA
Altavilla Milicia

Altavilla Milicia

Altavilla Milicia is a comune in the Province of Palermo in the Italian region Sicily, located about 20 km southeast of Palermo.Altavilla Milicia borders the municipalities of Casteldaccia and Trabia.- External links :**...



17,2
PA
Casteldaccia

Casteldaccia

Casteldaccia is a town and comune in the province of Palermo, Sicily, southern Italy. It is the seat of the Vini Corvo wine producer, and the Tomasello Pasta factory....



15,2
PA
Bagheria

Bagheria

Bagheria is a town and comune in the Province of Palermo in Sicily, Italy.-Etymology:According to some sources, the name Bagheria originates from the Phoenician term Bayharia meaning "land that descends toward the sea." Other sources claim that it derives from the Arabic Bāb al-Gerib, or "windy...



12,2
PA
Villabate

Villabate

Villabate is a comune in the Province of Palermo in the Italian region Sicily, located about 8 km southeast of Palermo. As of 31 December 2004, it had a population of 19,441 and an area of 3.8 km²....


- Ficarazzi

Ficarazzi

Ficarazzi is a comune in the Province of Palermo in the Italian region of Sicily, located about 10 km southeast of Palermo. As of 31 December 2004, it had a population of 9,674 and an area of 3.6 km²....



Catanese
5,5
PA
Palermo

Palermo

Palermo is a city in Southern Italy, the capital of both the autonomous region of Sicily and the Province of Palermo. The city is noted for its history, culture, architecture and gastronomy, playing an important role throughout much of its existence; it is over 2,700 years old...


Brancaccio - Zona Industriale
3,5
PA
Palermo

Palermo

Palermo is a city in Southern Italy, the capital of both the autonomous region of Sicily and the Province of Palermo. The city is noted for its history, culture, architecture and gastronomy, playing an important role throughout much of its existence; it is over 2,700 years old...



R40
0,0
PA