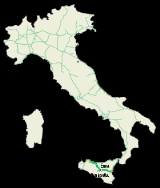 Autostrada A19 (Italy)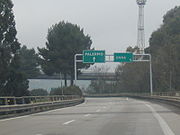 The
Autostrada A19
is a 199 km (123.7 mi) motorway on the island of
Sicily
Sicily
Sicily is a region of Italy, and is the largest island in the Mediterranean Sea. Along with the surrounding minor islands, it constitutes an autonomous region of Italy, the Regione Autonoma Siciliana Sicily has a rich and unique culture, especially with regard to the arts, music, literature,...
that links
Palermo
Palermo
Palermo is a city in Southern Italy, the capital of both the autonomous region of Sicily and the Province of Palermo. The city is noted for its history, culture, architecture and gastronomy, playing an important role throughout much of its existence; it is over 2,700 years old...
to
Catania
Catania
Catania is an Italian city on the east coast of Sicily facing the Ionian Sea, between Messina and Syracuse. It is the capital of the homonymous province, and with 298,957 inhabitants it is the second-largest city in Sicily and the tenth in Italy.Catania is known to have a seismic history and...
. The motorway from Palermo follows the
Tyrrhenian
Tyrrhenian Sea
The Tyrrhenian Sea is part of the Mediterranean Sea off the western coast of Italy.-Geography:The sea is bounded by Corsica and Sardinia , Tuscany, Lazio, Campania, Basilicata and Calabria and Sicily ....
coast esatwards for 46km and then turns south to go over the
Madonie
Madonie
The Madonie are one of the principal mountain groups in Sicily, southern Italy, part of the Sicilian portion of the Apennines. It is located in Palermo Province...
mountains and across the centre of the island to descend into the
plain of Catania
Plain of Catania
The Plain of Catania is the most extensive and most important plain in Sicily....
.
The motorway is connected to the
A20 Messina-Palermo
Autostrada A20 (Italy)
The Autostrada A20 is a motorway on the island of Sicily that links the city of Palermo to Messina. The motorway from Messina follows the Tyrrhenian coast for until it meets the A19 Palermo-Catania at Buonfornello...
and is linked to the
A18 Catania-Messina
Autostrada A18 (Italy)
The Autostrada A18 is a motorway on the Ionian coast of Sicily that links Messina to Catania. The motorway is linked to the A20 Messina-Palermo at its northern-end and to the A19 Palermo-Catania through the RA15 Catania's Ring Road at its southern-end...
by the
RA15
Autostrada RA15 (Italy)
The motorway RA15, also known as Tangenziale di Catania or Catania's By Pass , is a motorway at the service of Catania in Sicily, running from north to south, west of the city. It is 23.3 km long and it is managed by ANAS. It is also part of the European route E45...
(Catania's Ring Road-West).
Palermo - Catania
A19 PALERMO - CATANIA
Type
Exit
↓km↓
↑km↑
Province
European Road
Palermo

Palermo

Palermo is a city in Southern Italy, the capital of both the autonomous region of Sicily and the Province of Palermo. The city is noted for its history, culture, architecture and gastronomy, playing an important role throughout much of its existence; it is over 2,700 years old...



R40
0,0
199,6
PA
Palermo

Palermo

Palermo is a city in Southern Italy, the capital of both the autonomous region of Sicily and the Province of Palermo. The city is noted for its history, culture, architecture and gastronomy, playing an important role throughout much of its existence; it is over 2,700 years old...


Brancaccio
Zona Industriale
3,5
196,1
PA
Villabate

Villabate

Villabate is a comune in the Province of Palermo in the Italian region Sicily, located about 8 km southeast of Palermo. As of 31 December 2004, it had a population of 19,441 and an area of 3.8 km²....


- Ficarazzi

Ficarazzi

Ficarazzi is a comune in the Province of Palermo in the Italian region of Sicily, located about 10 km southeast of Palermo. As of 31 December 2004, it had a population of 9,674 and an area of 3.6 km²....



Catanese
5,5
194,1
PA
Bagheria

Bagheria

Bagheria is a town and comune in the Province of Palermo in Sicily, Italy.-Etymology:According to some sources, the name Bagheria originates from the Phoenician term Bayharia meaning "land that descends toward the sea." Other sources claim that it derives from the Arabic Bāb al-Gerib, or "windy...



12,2
187,4
PA
Casteldaccia

Casteldaccia

Casteldaccia is a town and comune in the province of Palermo, Sicily, southern Italy. It is the seat of the Vini Corvo wine producer, and the Tomasello Pasta factory....



15,2
184,4
PA
Altavilla Milicia

Altavilla Milicia

Altavilla Milicia is a comune in the Province of Palermo in the Italian region Sicily, located about 20 km southeast of Palermo.Altavilla Milicia borders the municipalities of Casteldaccia and Trabia.- External links :**...



17,2
182,4
PA
Trabia

Trabia

Trabia is a comune in the Province of Palermo in the Italian region Sicily, located about 30 km southeast of Palermo.The municipality of Trabia contains the frazione San Nicola l'Arena....



25,2
174,4
PA
Termini Imerese

Termini Imerese

Termini Imerese is a town and comune in the province of Palermo on the northern coast of Sicily, southern Italy.-Ancient:The site where the town now sits has been populated since prehistoric times, as many archeologial excavations have shown through the years...



31,2
168,4
PA
Area Servizio "Caracoli"
34,0
149,0
PA
Agglomerato Industriale
42,2
157,4
PA
Buonfornello - Termini Imerese est
Messina

Autostrada A20 (Italy)

The Autostrada A20 is a motorway on the island of Sicily that links the city of Palermo to Messina. The motorway from Messina follows the Tyrrhenian coast for until it meets the A19 Palermo-Catania at Buonfornello...



46,0
153,6
PA
Area Servizio "Scillato"
55,0
138,0
PA
Scillato

Scillato

Scillato is a comune in the Province of Palermo in the Italian region Sicily, located about 60 km southeast of Palermo. As of 31 December 2004, it had a population of 671 and an area of 30.8 km²....



62,0
137,6
PA
Tremonzelli - Castellana Sicula

Castellana Sicula

Castellana Sicula is a comune in the Province of Palermo in the Italian region Sicily, located about 70 km southeast of Palermo...



79,0
120,6
PA
Resuttano

Resuttano

Resuttano is a comune in the Province of Caltanissetta in the Italian region Sicily, located about 80 km southeast of Palermo and about 20 km north of Caltanissetta...



89,8
109,8
CL
Ponte Cinque Archi - Santa Caterina Villarmosa

Santa Caterina Villarmosa

Santa Caterina Villarmosa is a comune in the Province of Caltanissetta in the Italian region Sicily, located about 80 km southeast of Palermo and about 13 km north of Caltanissetta....



103,2
96,4
CL
Caltanissetta

Caltanissetta

Caltanissetta is a city and comune located on the western interior of Sicily, capital of the province of Caltanissetta...



110,0
89,6
CL
Enna

Enna

Enna is a city and comune located roughly at the center of Sicily, southern Italy, in the province of Enna, towering above the surrounding countryside...



126,5
73,1
EN
Area Servizio "Sacchitello"
131,0
75,0
EN
Mulinello - Leonforte

Leonforte

Leonforte is a town and comune in the province of Enna, Sicilia, Italy....


, Valguarnera Caropepe

Valguarnera Caropepe

Valguarnera Caropepe is a comune in Sicily, Italy in the Province of Enna. Valguarnera Caropepe stands at a height of 590m a.s.l...


, Assoro

Assoro

Assoro is a comune in Sicily, Italy in the Province of Enna....



136,2
63,4
EN
Dittaino

Dittaino

The Dittaino is a river of central Sicily which rises in the Heraean Mountains, not far from the modern towns of Gangi and Enna...



Zona Industriale
143,3
56,3
EN
Agira

Agira

Agira is a town and comune in the province of Enna, Sicily . It is located in the mid-valley of the River Salso, 35 km from Enna...


- Raddusa

Raddusa

Raddusa is a comune in the Province of Catania in the Italian region Sicily, located about 130 km southeast of Palermo and about 45 km west of Catania...



149,6
50,0
EN
Catenanuova

Catenanuova

Catenanuova is a town and comune in the province of Enna, in the region of Sicily in southern Italy. It belongs to the Diocese of Nicosia.-Geography:...



164,0
35,6
EN
Gerbini Sferro - Paternò

Paternò

Paternò is a town and comune in the Province of Catania, Sicily, southern Italy.-History:The site of Paternò was settled before 3500 BCE. Its inhabitants were probably the Sicani, although it was located in mainly Sicel territory; its initial name was Inessa. The modern name derives form the Greek...



178,2
21,4
CT
Motta Sant'Anastasia

Motta Sant'Anastasia

Motta Sant'Anastasia is a comune in the Province of Catania in the Italian region Sicily, located about 160 km southeast of Palermo and about 9 km west of Catania...



189,6
10,0
CT
Area Servizio "Gelso Bianco"
195,0
4,0
CT
RA15 Catania's Ring Road

Autostrada RA15 (Italy)

The motorway RA15, also known as Tangenziale di Catania or Catania's By Pass , is a motorway at the service of Catania in Sicily, running from north to south, west of the city. It is 23.3 km long and it is managed by ANAS. It is also part of the European route E45...




Messina/Syracuse

Autostrada A18 (Italy)

The Autostrada A18 is a motorway on the Ionian coast of Sicily that links Messina to Catania. The motorway is linked to the A20 Messina-Palermo at its northern-end and to the A19 Palermo-Catania through the RA15 Catania's Ring Road at its southern-end...



Catania-Fontanarossa Airport

Catania-Fontanarossa Airport

-See also:*Palermo Airport Falcone e Borsellino - also known as Punta Raisi Airport, another of Sicily's international airports* Trapani Birgi Airport Vincenzo Florio - another of Sicily's international airports...



Strada Statale 114 Orientale Sicula
199,6
0,0
CT
Catania

Catania

Catania is an Italian city on the east coast of Sicily facing the Ionian Sea, between Messina and Syracuse. It is the capital of the homonymous province, and with 298,957 inhabitants it is the second-largest city in Sicily and the tenth in Italy.Catania is known to have a seismic history and...


Sud - "Zia Lisa"
Della Valle del Dittaino
-,-
-,-
CT