 August Schleicher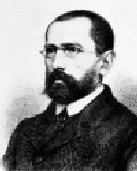 August Schleicher
was a
German
Germany
Germany , officially the Federal Republic of Germany , is a federal parliamentary republic in Europe. The country consists of 16 states while the capital and largest city is Berlin. Germany covers an area of 357,021 km2 and has a largely temperate seasonal climate...
linguist
Linguistics
Linguistics is the scientific study of human language. Linguistics can be broadly broken into three categories or subfields of study: language form, language meaning, and language in context....
. His great work was
A Compendium of the Comparative Grammar

Grammar

In linguistics, grammar is the set of structural rules that govern the composition of clauses, phrases, and words in any given natural language. The term refers also to the study of such rules, and this field includes morphology, syntax, and phonology, often complemented by phonetics, semantics,...


of the Indo-European Languages

Indo-European languages

The Indo-European languages are a family of several hundred related languages and dialects, including most major current languages of Europe, the Iranian plateau, and South Asia and also historically predominant in Anatolia...



, in which he attempted to reconstruct the
Proto-Indo-European language
Proto-Indo-European language
The Proto-Indo-European language is the reconstructed common ancestor of the Indo-European languages, spoken by the Proto-Indo-Europeans...
. To show how Indo-European might have looked he created a short tale,
Schleicher's fable
Schleicher's fable
Schleicher's fable is an artificial text composed in the reconstructed language Proto-Indo-European , published by August Schleicher in 1868. Schleicher was the first scholar to compose a text in PIE. The fable is entitled Avis akvāsas ka...
, to exemplify the reconstructed vocabulary and aspects of Indo-European society inferred from it.
Life
August Schleicher was born in
Meiningen
Meiningen
Meiningen is a town in Germany - located in the southern part of the state of Thuringia and is the district seat of Schmalkalden-Meiningen. It is situated on the river Werra....
(
Duchy
Duchy
A duchy is a territory, fief, or domain ruled by a duke or duchess.Some duchies were sovereign in areas that would become unified realms only during the Modern era . In contrast, others were subordinate districts of those kingdoms that unified either partially or completely during the Medieval era...
Saxe-Meiningen
Saxe-Meiningen
The Duchy of Saxe-Meiningen was one of the Saxon duchies held by the Ernestine line of the Wettin dynasty, located in the southwest of the present-day German state of Thuringia....
, southwest of
Weimar
Weimar
Weimar is a city in Germany famous for its cultural heritage. It is located in the federal state of Thuringia , north of the Thüringer Wald, east of Erfurt, and southwest of Halle and Leipzig. Its current population is approximately 65,000. The oldest record of the city dates from the year 899...
in the
Thuringian Forest
Thuringian Forest
The Thuringian Forest running northwest to southeast, forms a continuous stretch of ancient rounded mountains posing ample difficulties in transit routing save through a few navigable passes in the southern reaches of the German state of Thuringia. It is about long and wide...
). He died from
tuberculosis
Tuberculosis
Tuberculosis, MTB, or TB is a common, and in many cases lethal, infectious disease caused by various strains of mycobacteria, usually Mycobacterium tuberculosis. Tuberculosis usually attacks the lungs but can also affect other parts of the body...
at the age of 47 in
Jena
Jena
Jena is a university city in central Germany on the river Saale. It has a population of approx. 103,000 and is the second largest city in the federal state of Thuringia, after Erfurt.-History:Jena was first mentioned in an 1182 document...
(Duchy
Saxe-Weimar-Eisenach
Saxe-Weimar-Eisenach
The Duchy of Saxe-Weimar-Eisenach was created in 1809 by the merger of the Ernestine duchies of Saxe-Weimar and Saxe-Eisenach. It was raised to a Grand duchy in 1815 by resolution of the Vienna Congress. In 1877, it officially changed its name to the Grand Duchy of Saxony , but this name was...
,
Thuringia
Thuringia
The Free State of Thuringia is a state of Germany, located in the central part of the country.It has an area of and 2.29 million inhabitants, making it the sixth smallest by area and the fifth smallest by population of Germany's sixteen states....
).
Work
August Schleicher began his career studying theology and Oriental languages especially Arabic, Hebrew, Sanskrit and Persian. Influenced by
Hegel
Georg Wilhelm Friedrich Hegel
Georg Wilhelm Friedrich Hegel was a German philosopher, one of the creators of German Idealism. His historicist and idealist account of reality as a whole revolutionized European philosophy and was an important precursor to Continental philosophy and Marxism.Hegel developed a comprehensive...
, he formed the theory that a
language
Language
Language may refer either to the specifically human capacity for acquiring and using complex systems of communication, or to a specific instance of such a system of complex communication...
is an
organism
Organism
In biology, an organism is any contiguous living system . In at least some form, all organisms are capable of response to stimuli, reproduction, growth and development, and maintenance of homoeostasis as a stable whole.An organism may either be unicellular or, as in the case of humans, comprise...
, with periods of development, maturity, and decline. In 1850 Schleicher completed a monograph systematically describing the languages of Europe,
Die Sprachen Europas in systematischer Übersicht (The languages of Europe in systematic perspective)
. He explicitly represented languages as perfectly natural organisms that could most conveniently be described using terms drawn from
biology
Biology
Biology is a natural science concerned with the study of life and living organisms, including their structure, function, growth, origin, evolution, distribution, and taxonomy. Biology is a vast subject containing many subdivisions, topics, and disciplines...
e.g.,
genus
Genus
In biology, a genus is a low-level taxonomic rank used in the biological classification of living and fossil organisms, which is an example of definition by genus and differentia...
,
species
Species
In biology, a species is one of the basic units of biological classification and a taxonomic rank. A species is often defined as a group of organisms capable of interbreeding and producing fertile offspring. While in many cases this definition is adequate, more precise or differing measures are...
, and
variety
Variety (biology)
In botanical nomenclature, variety is a taxonomic rank below that of species: as such, it gets a three-part infraspecific name....
.
Schleicher claimed that he himself had been convinced of the natural descent and competition of languages before he had read
Darwin's
Charles Darwin
Charles Robert Darwin FRS was an English naturalist. He established that all species of life have descended over time from common ancestry, and proposed the scientific theory that this branching pattern of evolution resulted from a process that he called natural selection.He published his theory...
Origin of Species
. He invented a system of language classification that resembled a
botanical
Botany
Botany, plant science, or plant biology is a branch of biology that involves the scientific study of plant life. Traditionally, botany also included the study of fungi, algae and viruses...
taxonomy, tracing groups of related languages and arranging them in a genealogical tree. His model, the
Stammbaumtheorie (family-tree theory)
Tree model
A language tree, or family tree with languages substituted for real family members, has the form of a node-link diagram of a logical tree structure. Additional linguistics terminology derives from it. Such a diagram contains branch points, or nodes, from which the daughter languages descend by...
, was a major development in the study of Indo-European languages. He first introduced a graphic representation of a
Stammbaum
in articles published in 1853. By the time of the publication of his
Deutsche Sprache (German language

German language

German is a West Germanic language, related to and classified alongside English and Dutch. With an estimated 90 – 98 million native speakers, German is one of the world's major languages and is the most widely-spoken first language in the European Union....


)
(1860) he had begun to use trees to illustrate language descent. Schleicher is commonly recognized as the first linguist to portray
language development
Language development
Language development is a process starting early in human life, when a person begins to acquire language by learning it as it is spoken and by mimicry. Children's language development moves from simple to complex. Infants start without language. Yet by four months of age, babies can read lips and...
using the figure of a
tree
. Largely in reaction to this,
Johannes Schmidt
Johannes Schmidt (linguist)
Johannes Friedrich Heinrich Schmidt was a German linguist. He developed the Wellentheorie of language development.-Biography:Schmidt was born in Prenzlau, Province of Brandenburg...
later proposed his 'Wave Theory' as an alternative model.
For the most part, however, Darwin's ideas simply overlaid the fundamental features of Schleicher's prior
evolutionary project
Evolutionary linguistics
Evolutionary linguistics is the scientific study of the origins and development of language. The main challenge in this research is the lack of empirical data: spoken language leaves practically no traces. This led to an abandonment of the field for more than a century...
, which derived from the work of those individuals immersed in
German romanticism
German Romanticism
For the general context, see Romanticism.In the philosophy, art, and culture of German-speaking countries, German Romanticism was the dominant movement of the late 18th and early 19th centuries. German Romanticism developed relatively late compared to its English counterpart, coinciding in its...
and
idealism
German idealism
German idealism was a philosophical movement that emerged in Germany in the late 18th and early 19th centuries. It developed out of the work of Immanuel Kant in the 1780s and 1790s, and was closely linked both with romanticism and the revolutionary politics of the Enlightenment...
especially
Humboldt
Wilhelm von Humboldt
Friedrich Wilhelm Christian Karl Ferdinand Freiherr von Humboldt was a German philosopher, government functionary, diplomat, and founder of Humboldt Universität. He is especially remembered as a linguist who made important contributions to the philosophy of language and to the theory and practice...
and Hegel.
Schleicher believed that languages pass through a life cycle, similar to that of living beings. To begin with, they were simpler than they would become. This state of primitive simplicity was followed by a period of growth, which eventually slowed, and then gave way to a period of decay (1874:4):
As man has developed, so also has his language (...): even the simplest language is the product of a gradual growth: all higher forms of language have come out of simpler ones.... Language declines both in sound and in form.... The transition from the first to the second period is one of slower progress.
Schleicher was an advocate of the
polygenesis
Polygenesis (linguistics)
In the field of linguistics, polygenesis is the view that human languages evolved as several lineages independent of one another. It is contrasted with monogenesis, which is the view that human languages all go back to a single common ancestor....
of languages. He reasoned as follows (1876:2):
To assume one original universal language is impossible; there are rather many original languages: this is a certain result obtained by the comparative treatment of the languages of the world which have lived till now. Since languages are continually dying out, whilst no new ones practically arise, there must have been originally many more languages than at present. The number of original languages was therefore certainly far larger than has been supposed from the still-existing languages.
Schleicher's ideas on polygenesis had long-lasting influence, both directly and via their adoption by the biologist
Ernst Haeckel
Ernst Haeckel
The "European War" became known as "The Great War", and it was not until 1920, in the book "The First World War 1914-1918" by Charles à Court Repington, that the term "First World War" was used as the official name for the conflict.-Research:...
.
Works by August Schleicher
Sprachvergleichende Untersuchungen. / Zur vergleichenden Sprachgeschichte. (2 vols.) Bonn, H. B. Koenig (1848)
Linguistische Untersuchungen. Part 2: Die Sprachen Europas in systematischer Uebersicht. Bonn, H. B. Koenig (1850); new ed. by Konrad Koerner, Amsterdam, John Benjamins (1982)
Formenlehre der kirchenslavischen Sprache. (1852)
Die ersten Spaltungen des indogermanischen Urvolkes. Allgemeine Zeitung fuer Wissenschaft und Literatur (August 1853)
Handbuch der litauischen Sprache. (1st scientific compendium of Lithuanian language

Lithuanian language

Lithuanian is the official state language of Lithuania and is recognized as one of the official languages of the European Union. There are about 2.96 million native Lithuanian speakers in Lithuania and about 170,000 abroad. Lithuanian is a Baltic language, closely related to Latvian, although they...


) (2 vols.) Weimar, H. Boehlau (1856/57)
Litauische Maerchen, Sprichworte, Raetsel und Lieder. Weimar, H. Boehlau (1857)
Volkstuemliches aus Sonneberg

Sonneberg

Sonneberg is a town in Thuringia, Germany, which is seat of the district Sonneberg.It has long been a centre of toy making and is still well known for this...


im Meininger Oberlande - Lautlehre der Sonneberger Mundart. Weimar, H. Boehlau (1858)
Kurzer Abriss der Geschichte der italienischen Sprachen. Rheinisches Museum fuer Philologie 14.329-46. (1859)
Die Deutsche Sprache. Stuttgart, J. G. Cotta (1860); new ed. by Johannes Schmidt

Johannes Schmidt (linguist)

Johannes Friedrich Heinrich Schmidt was a German linguist. He developed the Wellentheorie of language development.-Biography:Schmidt was born in Prenzlau, Province of Brandenburg...


, Stuttgart, J. G. Cotta (1888)
Compendium der vergleichenden Grammatik der indogermanischen Sprachen. (Kurzer Abriss der indogermanischen Ursprache, des Altindischen, Altiranischen, Altgriechischen, Altitalischen, Altkeltischen, Altslawischen, Litauischen und Altdeutschen.) (2 vols.) Weimar, H. Boehlau (1861/62); reprinted by Minerva GmbH, Wissenschaftlicher Verlag, ISBN 3-8102-1071-4
Die Darwinsche Theorie und die Sprachwissenschaft - offenes Sendschreiben an Herrn Dr. Ernst Haeckel

Ernst Haeckel

The "European War" became known as "The Great War", and it was not until 1920, in the book "The First World War 1914-1918" by Charles à Court Repington, that the term "First World War" was used as the official name for the conflict.-Research:...


. Weimar, H. Boehlau (1863)
Die Bedeutung der Sprache für die Naturgeschichte des Menschen. Weimar, H. Boehlau (1865)
Christian Donalitius

Kristijonas Donelaitis

Kristijonas Donelaitis was a Prussian Lithuanian Lutheran pastor and poet. He lived and worked in Lithuania Minor, a territory in the Kingdom of Prussia, that had a sizable minority of ethnic Lithuanians...


Litauische Dichtungen (The Lithuanian Poetry of Christian Donelaitis), published by the Russian Academy of Sciences

Russian Academy of Sciences

The Russian Academy of Sciences consists of the national academy of Russia and a network of scientific research institutes from across the Russian Federation as well as auxiliary scientific and social units like libraries, publishers and hospitals....


in St. Petersburg (1865)
Darwinism Tested by the Science of Language. (Transl. by Alexander V. W. Bikkers) London, J. C. Hotten (1869)
A Compendium of the Comparative Grammar of the Indo-European, Sanskrit, Greek, and Latin Languages, translated from the third German edition by Herbert Bendall. London: Trübner and Co (1874) (Actually an abridgement of the German original.)
Laut- und Formenlehre der polabischen Sprache. reprinted by Saendig Reprint Verlag H. R. Wohlwend, ISBN 3-253-01908-X
Sprachvergleichende Untersuchungen. reprinted by Minerva GmbH, Wissenschaftlicher Verlag, ISBN 3-8102-1072-2
Die Formenlehre der kirchenslavischen Sprache erklaerend und vergleichend dargestellt. Reprint by H. Buske Verlag, Hamburg (1998), ISBN 3-87118-540-X
External links
Winfred P. Lehmann

Winfred P. Lehmann

Winfred P. Lehmann was an American linguist noted for his work in historical linguistics, particularly Proto-Indo-European and Proto-Germanic, as well as for pioneering work in machine translation.-Biography:After receiving B.A. in Humanities at the Northwestern College in Watertown in 1936, he...


, A Reader in Nineteenth Century Historical Indo-European Linguistics, Chapter 8: August Schleicher (University of Texas).
Robert J. Richards, The Linguistic Creation of Man: Charles Darwin, August Schleicher, Ernst Haeckel, and the Missing Link in Nineteenth-Century Evolutionary Theory.
Geoffrey Sampson

Geoffrey Sampson

Geoffrey Sampson is Professor of Natural Language Computing in the Department of Informatics, University of Sussex....


, Say something in Proto-Indo-European.
Asiff Hussein, Sinhala, 6,000 years ago.