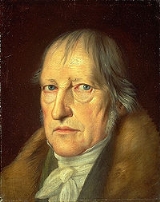 Georg Wilhelm Friedrich Hegel
Georg Wilhelm Friedrich Hegel (ˈɡeɔɐ̯k ˈvɪlhɛlm ˈfʁiːdʁɪç ˈheːɡəl) (August 27, 1770 – November 14, 1831) was a
German
Germans
The Germans are a Germanic ethnic group native to Central Europe. The English term Germans has referred to the German-speaking population of the Holy Roman Empire since the Late Middle Ages....
philosopher, one of the creators of
German Idealism
German idealism
German idealism was a philosophical movement that emerged in Germany in the late 18th and early 19th centuries. It developed out of the work of Immanuel Kant in the 1780s and 1790s, and was closely linked both with romanticism and the revolutionary politics of the Enlightenment...
. His historicist and
idealist
Idealism
In philosophy, idealism is the family of views which assert that reality, or reality as we can know it, is fundamentally mental, mentally constructed, or otherwise immaterial. Epistemologically, idealism manifests as a skepticism about the possibility of knowing any mind-independent thing...
account of
reality
Reality
In philosophy, reality is the state of things as they actually exist, rather than as they may appear or might be imagined. In a wider definition, reality includes everything that is and has been, whether or not it is observable or comprehensible...
as a whole revolutionized European philosophy and was an important precursor to
Continental philosophy
Continental philosophy
Continental philosophy, in contemporary usage, refers to a set of traditions of 19th and 20th century philosophy from mainland Europe. This sense of the term originated among English-speaking philosophers in the second half of the 20th century, who used it to refer to a range of thinkers and...
and
Marxism
Marxism
Marxism is an economic and sociopolitical worldview and method of socioeconomic inquiry that centers upon a materialist interpretation of history, a dialectical view of social change, and an analysis and critique of the development of capitalism. Marxism was pioneered in the early to mid 19th...
.
Hegel developed a comprehensive philosophical framework, or "system", of
Absolute idealism
Absolute idealism
Absolute idealism is an ontologically monistic philosophy attributed to G. W. F. Hegel. It is Hegel's account of how being is ultimately comprehensible as an all-inclusive whole. Hegel asserted that in order for the thinking subject to be able to know its object at all, there must be in some...
to account in an integrated and developmental way for the relation of
mind
Mind
The concept of mind is understood in many different ways by many different traditions, ranging from panpsychism and animism to traditional and organized religious views, as well as secular and materialist philosophies. Most agree that minds are constituted by conscious experience and intelligent...
and
nature
Nature
Nature, in the broadest sense, is equivalent to the natural world, physical world, or material world. "Nature" refers to the phenomena of the physical world, and also to life in general...
, the
subject
Subject (philosophy)
In philosophy, a subject is a being that has subjective experiences, subjective consciousness or a relationship with another entity . A subject is an observer and an object is a thing observed...
and
object
Object (philosophy)
An object in philosophy is a technical term often used in contrast to the term subject. Consciousness is a state of cognition that includes the subject, which can never be doubted as only it can be the one who doubts, and some object or objects that may or may not have real existence without...
of
knowledge
Knowledge
Knowledge is a familiarity with someone or something unknown, which can include information, facts, descriptions, or skills acquired through experience or education. It can refer to the theoretical or practical understanding of a subject...
, and
psychology
Psychology
Psychology is the study of the mind and behavior. Its immediate goal is to understand individuals and groups by both establishing general principles and researching specific cases. For many, the ultimate goal of psychology is to benefit society...
, the
state
State (polity)
A state is an organized political community, living under a government. States may be sovereign and may enjoy a monopoly on the legal initiation of force and are not dependent on, or subject to any other power or state. Many states are federated states which participate in a federal union...
,
history
History
History is the discovery, collection, organization, and presentation of information about past events. History can also mean the period of time after writing was invented. Scholars who write about history are called historians...
,
art
Art
Art is the product or process of deliberately arranging items in a way that influences and affects one or more of the senses, emotions, and intellect....
,
religion
Religion
Religion is a collection of cultural systems, belief systems, and worldviews that establishes symbols that relate humanity to spirituality and, sometimes, to moral values. Many religions have narratives, symbols, traditions and sacred histories that are intended to give meaning to life or to...
and philosophy.
Not curiosity, not vanity, not the consideration of expediency, not duty and conscientiousness, but an unquenchable, unhappy thirst that brooks no compromise leads us to truth.

Hegel's "Stammbuch" (Album)
Poetry is the universal art of the spirit which has become free in itself and which is not tied down for its realization to external sensuous material; instead, it launches out exclusively in the inner space and the inner time of ideas and feelings.

Introduction to Aesthetics (1842), translated by T. M. Knox, (1979)
The force of mind is only as great as its expression; its depth only as deep as its power to expand and lose itself.