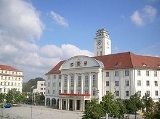 Sonneberg
Sonneberg
is a town in
Thuringia
Thuringia
The Free State of Thuringia is a state of Germany, located in the central part of the country.It has an area of and 2.29 million inhabitants, making it the sixth smallest by area and the fifth smallest by population of Germany's sixteen states....
,
Germany
Germany
Germany , officially the Federal Republic of Germany , is a federal parliamentary republic in Europe. The country consists of 16 states while the capital and largest city is Berlin. Germany covers an area of 357,021 km2 and has a largely temperate seasonal climate...
, which is seat of the
district Sonneberg
Sonneberg (district)
Sonneberg is a Kreis in the south of Thuringia, Germany. Neighboring districts are the districts Hildburghausen, Saalfeld-Rudolstadt, and the Bavarian districts Kronach and Coburg.-History:...
.
It has long been a centre of toy making and is still well known for this. It is the home of PIKO, a model railway manufacturer which became one of the few such enterprises in the Warsaw Pact countries and as such supplied model trains depicting railway stock of all the Soviet bloc countries.
Sonneberg is home to the German Toy Museum ("Deutsches Spielzeugmuseum").
In divided post-war Germany, Sonneberg found itself 'unnaturally' cut off from its large neighbouring town of
Coburg
Coburg
Coburg is a town located on the Itz River in Bavaria, Germany. Its 2005 population was 42,015. Long one of the Thuringian states of the Wettin line, it joined with Bavaria by popular vote in 1920...
and could only face north economically. It was served by an unnaturally winding railway route and thus became somewhat isolated from the rest of East Germany.
Its station
Sonneberg Hauptbahnhof
is the Hauptbahnhof for the city of Sonneberg in the German state of Thuringia and is on the Coburg–Sonneberg line. The station was built as part of the construction of the Hinterland Railway and still plays a central role in public transport of Sonneberg and the surrounding area...
is classified as a Hauptbahnhof ("central station") and is served by the
Coburg–Sonneberg line
.
Subdivisions
Bettelhecken
Hönbach
Hüttensteinach
Köppelsdorf
Malmerz
Mürschnitz
Neufang

Oberlind
Obere Stadt
Steinbach
Untere Stadt
Unterlind
Wehd
Wolkenrasen
Noted residents
Jan Eichhorn

Jan Eichhorn

Jan-Armin Eichhorn is a German luger who has competed since 1999. He won the bronze medal in the men's singles event at the 2007 FIL World Luge Championships in Igls, Austria....


, luge

Luge

A Luge is a small one- or two-person sled on which one sleds supine and feet-first. Steering is done by flexing the sled's runners with the calf of each leg or exerting opposite shoulder pressure to the seat. Racing sleds weigh 21-25 kilograms for singles and 25-30 kilograms for doubles. Luge...



Cuno Hoffmeister

Cuno Hoffmeister

Cuno Hoffmeister was a German astronomerand founder of Sonneberg Observatory.Born in Sonneberg in 1892, Hoffmeister obtained his first telescope in 1905 and became an avid amateur astronomer. After his father lost most of his money in 1914, Hoffmeister had to leave school in 1916 to start an...


, Astronomer

Astronomer

An astronomer is a scientist who studies celestial bodies such as planets, stars and galaxies.Historically, astronomy was more concerned with the classification and description of phenomena in the sky, while astrophysics attempted to explain these phenomena and the differences between them using...



Felix Loch

Felix Loch

Felix Loch is a German luger and Olympic champion. He has been competing since 1995 and has been on the German national team since 2006. He won five medals at the FIL World Luge Championships with four golds and one silver...


, 2010 Olympic

Olympic Games

The Olympic Games is a major international event featuring summer and winter sports, in which thousands of athletes participate in a variety of competitions. The Olympic Games have come to be regarded as the world's foremost sports competition where more than 200 nations participate...


luge

Luge

A Luge is a small one- or two-person sled on which one sleds supine and feet-first. Steering is done by flexing the sled's runners with the calf of each leg or exerting opposite shoulder pressure to the seat. Racing sleds weigh 21-25 kilograms for singles and 25-30 kilograms for doubles. Luge...


gold medalist
Silke Kraushaar-Pielach, luge
August Schleicher

August Schleicher

August Schleicher was a German linguist. His great work was A Compendium of the Comparative Grammar of the Indo-European Languages, in which he attempted to reconstruct the Proto-Indo-European language...


, Linguist
Armin Alfred Scheler (1901-1986), American-naturalized sculptor.
Detlef Ultsch

Detlef Ultsch

Detlef Ultsch is a former East German judoka.He was born in Sonneberg/Thuringia. He is the first German judo world champion and became a double world middleweight champion 1979 in Paris and 1983 in Moscow....


, Judo

Judo

is a modern martial art and combat sport created in Japan in 1882 by Jigoro Kano. Its most prominent feature is its competitive element, where the object is to either throw or takedown one's opponent to the ground, immobilize or otherwise subdue one's opponent with a grappling maneuver, or force an...



Reinhard Häfner

Reinhard Häfner

Reinhard Häfner was a German footballer who now works as a football coach.Häfner played children's and youth football for his hometown club BSG Motor Sonneberg. As a junior player he was assigned to FC Rot-Weiss Erfurt before joining Dynamo Dresden in 1971...


, footballer
External links