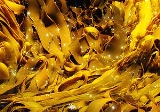 Kelp
Kelps
are large
seaweed
Seaweed
Seaweed is a loose, colloquial term encompassing macroscopic, multicellular, benthic marine algae. The term includes some members of the red, brown and green algae...
s (
algae
Algae
Algae are a large and diverse group of simple, typically autotrophic organisms, ranging from unicellular to multicellular forms, such as the giant kelps that grow to 65 meters in length. They are photosynthetic like plants, and "simple" because their tissues are not organized into the many...
) belonging to the
brown algae
Brown algae
The Phaeophyceae or brown algae , is a large group of mostly marine multicellular algae, including many seaweeds of colder Northern Hemisphere waters. They play an important role in marine environments, both as food and for the habitats they form...
(Phaeophyceae) in the
order
Order (biology)
In scientific classification used in biology, the order is# a taxonomic rank used in the classification of organisms. Other well-known ranks are life, domain, kingdom, phylum, class, family, genus, and species, with order fitting in between class and family...
Laminariales
. There are about 30 different
genera
Genus
In biology, a genus is a low-level taxonomic rank used in the biological classification of living and fossil organisms, which is an example of definition by genus and differentia...
.
Kelps grow in underwater "
forest
Forest
A forest, also referred to as a wood or the woods, is an area with a high density of trees. As with cities, depending where you are in the world, what is considered a forest may vary significantly in size and have various classification according to how and what of the forest is composed...
s" (
kelp forest
Kelp forest
Kelp forests are underwater areas with a high density of kelp. They are recognized as one of the most productive and dynamic ecosystems on Earth. Smaller areas of anchored kelp are called kelp beds....
s) in shallow oceans. The organisms require nutrient-rich water with temperatures between 6 and 14 °C (42.8 and 57.2 F). They are known for their high growth rate — the genera
Macrocystis
Macrocystis
Macrocystis is a genus of kelp . This genus contains the largest of all the phaeophyceae or brown algae. Macrocystis has pneumatocysts at the base of its blades. Sporophytes are perennial, and individual stipes may persist for many years...
and
Nereocystis
Nereocystis
Nereocystis is a genus of kelp. It forms thick beds on rocks, and is an important part of kelp forests. There is only one species, Nereocystis luetkeana. It can grow to a maximum of 74 meters...
can grow as fast as half a metre a day, ultimately reaching 30 metre.
Through the 19th century, the word "kelp" was closely associated with seaweeds that could be burned to obtain soda ash (primarily sodium carbonate).