 Ariel (vehicle)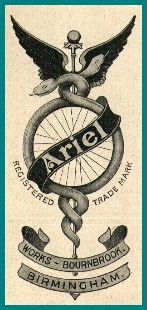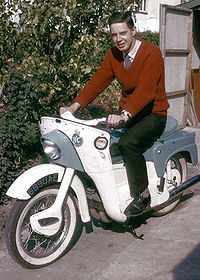 Ariel
was a
bicycle
Bicycle
A bicycle, also known as a bike, pushbike or cycle, is a human-powered, pedal-driven, single-track vehicle, having two wheels attached to a frame, one behind the other. A person who rides a bicycle is called a cyclist, or bicyclist....
,
motorcycle
Motorcycle
A motorcycle is a single-track, two-wheeled motor vehicle. Motorcycles vary considerably depending on the task for which they are designed, such as long distance travel, navigating congested urban traffic, cruising, sport and racing, or off-road conditions.Motorcycles are one of the most...
and
automobile
Automobile
An automobile, autocar, motor car or car is a wheeled motor vehicle used for transporting passengers, which also carries its own engine or motor...
marque manufacturer based in
Bournbrook
Bournbrook
Bournbrook is a residential suburban district in south-west Birmingham, England. The suburb of Bournbrook is bordered by Selly Oak to the west and south, Selly Park to the east, and Edgbaston to the north. The Worcester and Birmingham Canal and the Birmingham Cross-City Railway Line run along the...
,
Birmingham
Birmingham
Birmingham is a city and metropolitan borough in the West Midlands of England. It is the most populous British city outside the capital London, with a population of 1,036,900 , and lies at the heart of the West Midlands conurbation, the second most populous urban area in the United Kingdom with a...
,
England
England
England is a country that is part of the United Kingdom. It shares land borders with Scotland to the north and Wales to the west; the Irish Sea is to the north west, the Celtic Sea to the south west, with the North Sea to the east and the English Channel to the south separating it from continental...
. Car production moved to
Coventry
Coventry
Coventry is a city and metropolitan borough in the county of West Midlands in England. Coventry is the 9th largest city in England and the 11th largest in the United Kingdom. It is also the second largest city in the English Midlands, after Birmingham, with a population of 300,848, although...
in 1911. The company name was reused in 1999 for the formation of
Ariel Ltd
Ariel Ltd
Ariel Motors Ltd is a Crewkerne, Somerset, England based low-volume performance motor vehicle manufacturing company.Founded by Simon Saunders in 1991 as Solocrest Ltd, the name was changed in 2001 to Ariel Motors, although the name change and company have nothing to do with the former Ariel...
, a sports car producer.
History
The company dates back to 1847 when Ariel made an early pneumatic-tyred wheel for horse drawn carriages. The name was revived by
James Starley
James Starley
James Starley was an English inventor and father of the bicycle industry. He was one of the most innovative and successful builders of bicycles and tricycles. His inventions include the differential gear and the perfection of chain-driven bicycles.-Early life:Starley was born in 1831 at Albourne,...
and
William Hillman
William Hillman
William Hillman was a British bicycle and automobile manufacturer. In partnership with Louis Coatalen he founded the Hillman-Coatalen Company in 1907, later the Hillman Motor Company after Coatalen's defection to Sunbeam in 1909.-Early life:Hillman was born on 13 November 1848 in Stratford, Essex,...
in 1870 when they invented the
wire-spoke wheel
Wire wheels
The rims of wire wheels are connected to their hubs by wire spokes. Although these wires are generally stiffer than a typical wire rope, they function mechanically the same as tensioned flexible wires, keeping the rim true while supporting applied loads.Wire wheels are used on most bicycles and...
which allowed them to build a lighter weight bicycle and named it Ariel (the spirit of the air). They put the name on the factory where they made
penny-farthing
Penny-farthing
Penny-farthing, high wheel, high wheeler, and ordinary are all terms used to describe a type of bicycle with a large front wheel and a much smaller rear wheel that was popular after the boneshaker, until the development of the safety bicycle, in the 1880s...
bicycles and sewing machines. In 1885 James Starley's nephew,
John Kemp Starley
John Kemp Starley
John Kemp Starley was an English inventor and industrialist who is widely considered the inventor of the modern bicycle, and also originator of the name Rover....
, invented the
Rover Safety Bicycle
- a rear-wheel-drive,
chain-driven
Chain drive
Chain drive is a way of transmitting mechanical power from one place to another. It is often used to convey power to the wheels of a vehicle, particularly bicycles and motorcycles...
bicycle with two similar-sized wheels, which is essentially the design still used on bicycles today. Use of the name lapsed but in 1896 it appeared again, this time on motorised transport.
The first Ariel vehicle was a Tricycle that used a 2.25 hp
De Dion
De Dion
De Dion may refer to:* Jules-Albert de Dion , automobile pioneer* de Dion-Bouton, automobile manufacturer* de Dion tube, automobile suspension...
engine mounted at the rear. More tricycles were produced and
motorised quadricycle
Motorised quadricycle
Quadricycles are European categories of small four-wheeled motorised vehicles defined by limitations in terms of weight, power and speed.Two categories are defined:*Light quadricycles, category L6e,*and quadricycles, category L7e....
s were added in 1901 as Ariel then moved into car production.
In 1902, Components Ltd., owned by Charles Sangster, bought the company and began producing motorcycles, but the company suffered several financial crises including spells in receivership in 1911 and the early 1930s. In 1932, Components Ltd went bankrupt, and
Jack Sangster
Jack Sangster
John Young Sangster was an industrialist who became an important figure in the history of the British motorcycle industry. He is more commonly known as Jack Sangster.-Early life:...
, Charles Sangster's son, bought the Ariel subsidiary from the receivers at a bargain price. The company was renamed Ariel Motors (J.S.) Ltd, and promptly resumed production.
Cars
Cars were produced over two periods: from 1900 to 1915, and again from 1922 to 1925.
The first proper Ariel car was a 10 hp twin-cylinder car produced in 1902. In 1903, their first
four-cylinder
Straight-4
The inline-four engine or straight-four engine is an internal combustion engine with all four cylinders mounted in a straight line, or plane along the crankcase. The single bank of cylinders may be oriented in either a vertical or an inclined plane with all the pistons driving a common crankshaft....
was a 16 hp model. Both these vehicles had a leather
cone clutch
Cone clutch
A cone clutch serves the same purpose as a disk or plate clutch. However, instead of mating two spinning disks, the cone clutch uses two conical surfaces to transmit torque by friction....
that was entirely separate from the
flywheel
Flywheel
A flywheel is a rotating mechanical device that is used to store rotational energy. Flywheels have a significant moment of inertia, and thus resist changes in rotational speed. The amount of energy stored in a flywheel is proportional to the square of its rotational speed...
. A
six-cylinder
Straight-6
The straight-six engine or inline-six engine is a six-cylinder internal combustion engine with all six cylinders mounted in a straight line along the crankcase...
model, built on a seemingly inadequate tube-frame
chassis
Chassis
A chassis consists of an internal framework that supports a man-made object. It is analogous to an animal's skeleton. An example of a chassis is the underpart of a motor vehicle, consisting of the frame with the wheels and machinery.- Vehicles :In the case of vehicles, the term chassis means the...
, entered production early in 1904.
An entirely new range was announced at the end of 1905; called the "Aero-Simplex", these cars were
Mercedes
Mercedes-Benz
Mercedes-Benz is a German manufacturer of automobiles, buses, coaches, and trucks. Mercedes-Benz is a division of its parent company, Daimler AG...
inspired four-cylinder designs of 15 hp and 25/30 hp and a six of 35/40 hp. In 1907–1908 the company began production of the monstrous 50/60 hp six, which offered an engine of 15.9 litres for a
chassis
Chassis
A chassis consists of an internal framework that supports a man-made object. It is analogous to an animal's skeleton. An example of a chassis is the underpart of a motor vehicle, consisting of the frame with the wheels and machinery.- Vehicles :In the case of vehicles, the term chassis means the...
price of £950. In 1907 Ariel sold its Birmingham factory to the French
Lorraine-Dietrich
Lorraine-Dietrich
Lorraine-Dietrich was a French automobile and aircraft engine manufacturer from 1896 until 1935, created when railway locomotive manufacturer Société Lorraine des Anciens Etablissments de Dietrich and Cie branched into the manufacture of automobiles...
company who wanted to enter the British market, and thereafter had its cars assembled at the
Coventry Ordnance Works
Coventry Ordnance Works
Coventry Ordnance Works was a British manufacturer of heavy guns, particularly naval artillery. The firm was based in the English city of Coventry.-History:...
, a branch of
Cammell Laird
Cammell Laird
Cammell Laird, one of the most famous names in British shipbuilding during the nineteenth and twentieth centuries, came about following the merger of Laird, Son & Co. of Birkenhead and Johnson Cammell & Co. of Sheffield at the turn of the twentieth century.- Founding of the business :The Company...
. The arrangement with Lorraine-Dietrich was cancelled in 1910. Production of a 1.3 litre light car was quashed by the outbreak of
World War I
World War I
World War I , which was predominantly called the World War or the Great War from its occurrence until 1939, and the First World War or World War I thereafter, was a major war centred in Europe that began on 28 July 1914 and lasted until 11 November 1918...
.
After 1918 the company tried one last, abortive attempt to cash in on the small car market with the Ariel Nine designed by
Jack Sangster
Jack Sangster
John Young Sangster was an industrialist who became an important figure in the history of the British motorcycle industry. He is more commonly known as Jack Sangster.-Early life:...
, the son of the owner, who had previously worked for
Rover
Rover Group
The Rover Group plc was the name given in 1986 to the British state-owned vehicle manufacturer previously known as British Leyland or BL. Owned by British Aerospace from 1988 to 1994, when it was sold to BMW, the Group was broken up in 2000 with the Rover and MG marques being acquired by the MG...
where he designed the similar but air cooled, twin cylinder Rover Eight. It was launched in 1922 and featured a
flat-twin
Flat-twin
A flat-twin is a two cylinder internal combustion engine with the cylinders arranged on opposite sides of the crankshaft. It is part of the class of flat engines, sub-type "boxer", and shares most characteristics of those engines.-Motorcycle use:...
, water cooled engine of 996 cc and was capable of 55 mph. About 700 were made. It was joined by the 1097 cc four cylinder Ariel Ten in 1922 with the gearbox combined with the rear axle. The car was advertised at £180 for the chassis and about 250 were made until in 1926 Ariel abandoned the car market to concentrate on motor cycles.
The new company using the old Ariel name makes only a single model, the
Atom
Ariel Atom
The Ariel Atom is a high performance sports car made by the Ariel Motor Company based in Somerset, England and under licence in North America by TMI Autotech, Inc. at Virginia International Raceway in Alton, Virginia....
, a minimalistic 2 seater road going sports car.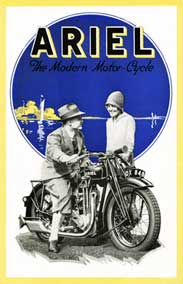 Motorcycles
The first Ariel to be fitted with an engine was a powered tricycle that appeared in 1898. In 1901 the first Ariel motorcycle proper was launched, powered by a 211 cc Minerva engine.
A range of motorcycles was made with engines either bought in or assembled to other people's design until the 1926 season when a new designer,
Val Page
Val Page
Valentine Page was a British motorcycle designer born in 1892. Described as Britain's greatest motorcycle designer, he worked for most of the leading marques, including Ariel, Triumph, and BSA. He died in 1978.-J.A Prestwich:...
, joined Ariel from
JAP
JA Prestwich Industries Ltd
JA Prestwich Industries, was an English engineering company named after founder John Alfred Prestwich, which produced cinematographic equipment, internal combustion engines , and other examples of precision engineering.-History:J. A...
. Page created a pair of new engines for the 1926 season which used many existing cycle parts and then redesigned the cycle for 1927. These Ariels are known as 'Black Ariels' (1926–1930) and were the basis on which all Ariel 4-stroke singles were based until their demise in 1959 (except the LH Colt of the mid 1950s). During the 'Black Ariel' period the Ariel horse logo came into being as did the slogan 'The Modern Motor Cycle'.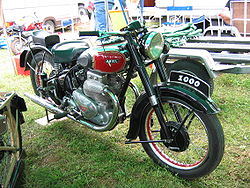 The
Ariel Square Four
Ariel Square Four
The Square Four was an Ariel motorcycle designed by Edward Turner, who devised the Square Four engine in 1928. At this time he was looking for work, showing drawings of his engine design to motorcycle manufacturers. The engine was essentially a pair of 'across frame' OHC parallel twins joined by...
with 500 cc engine designed by
Edward Turner
Edward Turner
Edward Turner was a British motorcycle designer. He was born in Camberwell in the London Borough of Southwark, on the day King Edward VII was proclaimed King....
first appeared for the 1931 season, but around this time the company went into receivership and then a new company was formed. The Square Four became a 600cc. The Square Fours had overheating problems with the rear cylinders which resulted in distorted heads throughout their history. A redesign in 1937 resulted in a 995 cc OHV version designated the 4G.
In 1939 Anstey-link plunger rear suspension was an option. It was still available when production restarted in 1946, with telescopic forks replacing the girder forks.
In 1949 the Mark 1 Square Four had cast aluminium barrels and heads, instead of cast iron. With the lower weight the bike was a 90 mph plus machine.
In 1951 Jack Sangster had sold Ariel and Triumph (bought in 1936) to the
Birmingham Small Arms Company
Birmingham Small Arms Company
This article is not about Gamo subsidiary BSA Guns Limited of Armoury Road, Small Heath, Birmingham B11 2PP or BSA Company or its successors....
group (BSA), and joined their board. By 1956 Sangster was voted in as the new Chairman, defeating incumbent Sir
Bernard Docker
Bernard Docker
Sir Bernard Dudley Frank Docker was an English industrialist.Bernard Docker was born in Edgbaston, Birmingham, the only child of Frank Dudley Docker an industrialist....
6 to 3. Sangster promptly made Edward Turner head of the automotive division, which then included Ariel, Triumph, and BSA motorcycles, as well as
Daimler
Daimler Motor Company
The Daimler Motor Company Limited was an independent British motor vehicle manufacturer founded in London by H J Lawson in 1896, which set up its manufacturing base in Coventry. The right to the use of the name Daimler had been purchased simultaneously from Gottlieb Daimler and Daimler Motoren...
and
Carbodies
Carbodies
Carbodies LImited is a British company based at Holyhead Road, Coventry. It started business as a coachbuilder, and now, as The London Taxi Company is best known for its production of London taxicabs.-History:...
(London Taxicab manufacturers).
In 1953 the Mark 2 Square Four had a redesigned cylinder head, and was capable of 100 mph.
In 1959, to the dismay of some motorcyclists, Ariel dropped its four-stroke engines and produced basically two models, the 250cc twin cylinder two-stroke engined Arrow and Leader models. There was also a 200cc Arrow version made for a short period. To give Ariel credit, the Arrow and Leader models were an attempt to bring the company up to date, having recognised the threat from the new
Japan
Japan
Japan is an island nation in East Asia. Located in the Pacific Ocean, it lies to the east of the Sea of Japan, China, North Korea, South Korea and Russia, stretching from the Sea of Okhotsk in the north to the East China Sea and Taiwan in the south...
ese imports.
The
Ariel Leader
Ariel Leader
The Leader was an Ariel motorcycle made from 1958 and 1965. A radical design, the Leader was fully enclosed with an integral windscreen and was the first British motorcycle to have flashing indicators...
had a fully faired body from the headlamp aft. The Arrow was more open, though it kept the enclosed chain case and deep mudguards.
Ariel motorcycles ceased production in 1967.
In 1970 BSA used the name for the "Ariel 3", a 3-wheeler 50cc 2-stroke
moped
Moped
Mopeds are a type of low-powered motorcycle designed to provide economical and relatively safe transport with minimal licensing requirements.Mopeds were once all equipped with bicycle-like pedals , but moped has been increasingly applied by governments to vehicles without pedals, based on their...
, different at the time because it was a tilting vehicle. The front half was hinged to the rear and could tilt into corners whilst keeping all three wheels on the ground. Production of the Ariel 3 was short and was dropped along with the Ariel name shortly afterwards.
Famous models
Ariel Square Four

Ariel Square Four

The Square Four was an Ariel motorcycle designed by Edward Turner, who devised the Square Four engine in 1928. At this time he was looking for work, showing drawings of his engine design to motorcycle manufacturers. The engine was essentially a pair of 'across frame' OHC parallel twins joined by...



Ariel Red Hunter

Ariel Red Hunter

The Ariel Red Hunter was the name used for a range of Ariel single-cylinder motorcycles. They were designed by the firm's chief designer Val Page in 1932 around an overhead-valve single-cylinder engine he developed six years earlier...



Ariel W/NG 350

Ariel W/NG 350

The Ariel W/NG 350 was a British military motorcycle based on the well proven Ariel Red Hunter singles built by Ariel Motorcycles, and designed by the firm's chief designer Val Page in 1932 around an engine he developed six years earlier...



VB
Models A - G
Ariel Arrow
Leader
Fieldmaster
Pixie
VCH
KHA
Huntmaster
Cyclone (model owned by Buddy Holly)
The Military Model WNG 350
Trials HT5
Trials HT3
Scrambles HS (Mk1,11,111)
External links