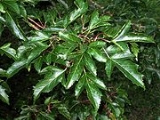 Amur Maple
Acer ginnala
is a plant species with woody stems native to northeastern
Asia
Asia
Asia is the world's largest and most populous continent, located primarily in the eastern and northern hemispheres. It covers 8.7% of the Earth's total surface area and with approximately 3.879 billion people, it hosts 60% of the world's current human population...
from easternmost
Mongolia
Mongolia
Mongolia is a landlocked country in East and Central Asia. It is bordered by Russia to the north and China to the south, east and west. Although Mongolia does not share a border with Kazakhstan, its western-most point is only from Kazakhstan's eastern tip. Ulan Bator, the capital and largest...
east to
Korea
Korea
Korea ) is an East Asian geographic region that is currently divided into two separate sovereign states — North Korea and South Korea. Located on the Korean Peninsula, Korea is bordered by the People's Republic of China to the northwest, Russia to the northeast, and is separated from Japan to the...
and
Japan
Japan
Japan is an island nation in East Asia. Located in the Pacific Ocean, it lies to the east of the Sea of Japan, China, North Korea, South Korea and Russia, stretching from the Sea of Okhotsk in the north to the East China Sea and Taiwan in the south...
, and north to southeastern
Siberia
Siberia
Siberia is an extensive region constituting almost all of Northern Asia. Comprising the central and eastern portion of the Russian Federation, it was part of the Soviet Union from its beginning, as its predecessor states, the Tsardom of Russia and the Russian Empire, conquered it during the 16th...
in the Amur River valley. It is a small
Maple
Maple
Acer is a genus of trees or shrubs commonly known as maple.Maples are variously classified in a family of their own, the Aceraceae, or together with the Hippocastanaceae included in the family Sapindaceae. Modern classifications, including the Angiosperm Phylogeny Group system, favour inclusion in...
with deciduous leaves that is sometimes grown as a garden subject or boulevard tree.
Description
Acer ginnala
is a
deciduous
Deciduous
Deciduous means "falling off at maturity" or "tending to fall off", and is typically used in reference to trees or shrubs that lose their leaves seasonally, and to the shedding of other plant structures such as petals after flowering or fruit when ripe...
spreading
shrub
Shrub
A shrub or bush is distinguished from a tree by its multiple stems and shorter height, usually under 5–6 m tall. A large number of plants may become either shrubs or trees, depending on the growing conditions they experience...
or small
tree
Tree
A tree is a perennial woody plant. It is most often defined as a woody plant that has many secondary branches supported clear of the ground on a single main stem or trunk with clear apical dominance. A minimum height specification at maturity is cited by some authors, varying from 3 m to...
growing to 3-10 m tall, with a short trunk up to 20-40 cm diameter and slender branches. The
bark
Bark
Bark is the outermost layers of stems and roots of woody plants. Plants with bark include trees, woody vines and shrubs. Bark refers to all the tissues outside of the vascular cambium and is a nontechnical term. It overlays the wood and consists of the inner bark and the outer bark. The inner...
is thin, dull gray-brown, and smooth at first but becoming shallowly fissured on old plants. The
leaves
Leaf
A leaf is an organ of a vascular plant, as defined in botanical terms, and in particular in plant morphology. Foliage is a mass noun that refers to leaves as a feature of plants....
are opposite and simple, 4-10 cm long and 3-6 wide, deeply palmately lobed with three or five lobes, of which two small basal lobes (sometimes absent) and three larger apical lobes; the lobes are coarsely and irregularly toothed, and the upper leaf surface glossy. The leaves turn brilliant orange to red in autumn, and are on slender, often pink-tinged, petioles 3-5 cm long. The
flower
Flower
A flower, sometimes known as a bloom or blossom, is the reproductive structure found in flowering plants . The biological function of a flower is to effect reproduction, usually by providing a mechanism for the union of sperm with eggs...
s are yellow-green, 5-8 mm diameter, produced in spreading panicles in spring as the leaves open. The
fruit
Fruit
In broad terms, a fruit is a structure of a plant that contains its seeds.The term has different meanings dependent on context. In non-technical usage, such as food preparation, fruit normally means the fleshy seed-associated structures of certain plants that are sweet and edible in the raw state,...
is a paired reddish
samara
Samara (fruit)
A samara is a type of fruit in which a flattened wing of fibrous, papery tissue develops from the ovary wall. A samara is a simple dry fruit and indehiscent . It is a winged achene...
, 8-10 mm long with a 1.5-2 cm wing, maturing in late summer to early autumn.
Taxonomy
Amur Maple is closely related to
Acer tataricum
(Tatar Maple), and some botanists treat it as a
subspecies
Subspecies
Subspecies in biological classification, is either a taxonomic rank subordinate to species, ora taxonomic unit in that rank . A subspecies cannot be recognized in isolation: a species will either be recognized as having no subspecies at all or two or more, never just one...
A. tataricum
subsp.
ginnala
(Maxim.) Wesm.) They differ conspicuously in the glossy, deeply lobed leaves of
A. ginnala
, compared to the matt, unlobed or only shallowly lobed leaves of
A. tataricum
.
Cultivation and uses
Acer ginnala
is grown as an
ornamental plant
Ornamental plant
Ornamental plants are plants that are grown for decorative purposes in gardens and landscape design projects, as house plants, for cut flowers and specimen display...
in northern regions of Europe and North America, where it is the most cold-tolerant maple, hardy to
zone 2
Hardiness zone
A hardiness zone is a geographically defined area in which a specific category of plant life is capable of growing, as defined by climatic conditions, including its ability to withstand the minimum temperatures of the zone...
. It is
naturalised
Naturalisation (biology)
In biology, naturalisation is any process by which a non-native organism spreads into the wild and its reproduction is sufficient to maintain its population. Such populations are said to be naturalised....
in parts of North America.
It is also valued in Japan and elsewhere as a species suitable for
bonsai
Bonsai
is a Japanese art form using miniature trees grown in containers. Similar practices exist in other cultures, including the Chinese tradition of penjing from which the art originated, and the miniature living landscapes of Vietnamese hòn non bộ...
.
It is a nonnative
invasive species
Invasive species
"Invasive species", or invasive exotics, is a nomenclature term and categorization phrase used for flora and fauna, and for specific restoration-preservation processes in native habitats, with several definitions....
in parts of northern America.
External links