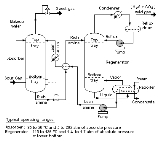 Amine gas treating
Amine gas treating
, also known as
gas sweetening
and
acid gas removal
, refers to a group of processes that use aqueous solutions of various alkylamines (commonly referred to simply as
amine
Amine
Amines are organic compounds and functional groups that contain a basic nitrogen atom with a lone pair. Amines are derivatives of ammonia, wherein one or more hydrogen atoms have been replaced by a substituent such as an alkyl or aryl group. Important amines include amino acids, biogenic amines,...
s) to remove
hydrogen sulfide
Hydrogen sulfide
Hydrogen sulfide is the chemical compound with the formula . It is a colorless, very poisonous, flammable gas with the characteristic foul odor of expired eggs perceptible at concentrations as low as 0.00047 parts per million...
(H
2
S) and
carbon dioxide
Carbon dioxide
Carbon dioxide is a naturally occurring chemical compound composed of two oxygen atoms covalently bonded to a single carbon atom...
(CO
2
) from gases. It is a common
unit process
Unit process
A Unit Process is a step in manufacturing in which chemical reaction takes place, e.g, the oxidation of paraxylene to terephthalic acid is a unit process, the hydrogenation of vegetable oil to ghee is a unit process. In 1930 P.H. Groggins introduced Unit processes in order to classify and...
used in
refineries
Oil refinery
An oil refinery or petroleum refinery is an industrial process plant where crude oil is processed and refined into more useful petroleum products, such as gasoline, diesel fuel, asphalt base, heating oil, kerosene, and liquefied petroleum gas...
, and is also used in
petrochemical
Petrochemical
Petrochemicals are chemical products derived from petroleum. Some chemical compounds made from petroleum are also obtained from other fossil fuels, such as coal or natural gas, or renewable sources such as corn or sugar cane....
plants,
natural gas processing plants
Natural gas processing
Natural-gas processing is a complex industrial process designed to clean raw natural gas by separating impurities and various non-methane hydrocarbons and fluids to produce what is known as pipeline quality dry natural gas.-Background:...
and other industries.
Processes within oil refineries or chemical processing plants that remove hydrogen sulfide and/or mercaptans are commonly referred to as
sweetening
processes because they result in products which no longer have the sour, foul odors of mercaptans and hydrogen sulfide.
There are many different amines used in gas treating:
Monoethanolamine

Ethanolamine

Ethanolamine, also called 2-aminoethanol or monoethanolamine , is an organic chemical compound that is both a primary amine and a primary alcohol . Like other amines, monoethanolamine acts as a weak base...


(MEA)
Diethanolamine (DEA)
Methyldiethanolamine

Methyl diethanolamine

Methyl diethanolamine is a clear, colorless or pale yellow liquid with an ammonia odour. It is miscible with water, alcohol and benzene. Methyl diethanolamine is also known as N-Methyl diethanolamine and more commonly as MDEA. It has the formula CH3N 2. MDEA is a tertiary amine and is widely used...


(MDEA)
Diisopropylamine

Diisopropylamine

Diisopropylamine is a secondary amine with the chemical formula 2HC-NH-CH2. It is best known as its lithium salt, lithium diisopropylamide, known as "LDA"...


(DIPA)
Aminoethoxyethanol (diglycolamine) (DGA)
The most commonly used amines in industrial plants are the alkanolamines MEA, DEA, and MDEA.
Amines are also used in many oil refineries to remove
sour gas
Sour gas
Sour gas is natural gas or any other gas containing significant amounts of hydrogen sulfide . Natural gas is usually considered sour if there are more than 5.7 milligrams of H2S per cubic meter of natural gas, which is equivalent to approximately 4 ppm by volume...
es from liquid hydrocarbons such as
liquified petroleum gas
Liquified petroleum gas
Liquefied petroleum gas is a flammable mixture of hydrocarbon gases used as a fuel in heating appliances and vehicles. It is increasingly used as an aerosol propellant and a refrigerant, replacing chlorofluorocarbons in an effort to reduce damage to the ozone layer...
(LPG).
Description of a typical amine treater
Gases containing H
2
S or both H
2
S and CO
2
are commonly referred to as
sour gas

Sour gas

Sour gas is natural gas or any other gas containing significant amounts of hydrogen sulfide . Natural gas is usually considered sour if there are more than 5.7 milligrams of H2S per cubic meter of natural gas, which is equivalent to approximately 4 ppm by volume...


es
or
acid gas

Acid gas

Acid gas is natural gas or any other gas mixture which contains significant amounts of hydrogen sulfide , carbon dioxide , or similar contaminants. The terms acid gas and sour gas are often incorrectly treated as synonyms...


es
in the
hydrocarbon
Hydrocarbon
In organic chemistry, a hydrocarbon is an organic compound consisting entirely of hydrogen and carbon. Hydrocarbons from which one hydrogen atom has been removed are functional groups, called hydrocarbyls....
processing industries.
The chemistry involved in the amine treating of such gases varies somewhat with the particular amine being used. For one of the more common amines, methanolamine (MEA) denoted as

, the chemistry may be simply expressed as:

A typical amine gas treating process (as shown in the
flow diagram
Process Flow diagram
A process flow diagram is a diagram commonly used in engineering to indicate the general flow of plant processes and equipment.The PFD displays the relationship between major equipment of a plant facility and does not show minor details such as piping details and designations...
below) includes an
absorber
unit and a
regenerator
unit as well as accessory equipment. In the absorber, the downflowing amine solution absorbs H
2
S and CO
2
from the upflowing sour gas to produce a sweetened gas stream (i.e., an H
2
S-free gas) as a product and an amine solution rich in the absorbed acid gases. The resultant "rich" amine is then routed into the regenerator (a stripper with a
reboiler
Reboiler
Reboilers are heat exchangers typically used to provide heat to the bottom of industrial distillation columns. They boil the liquid from the bottom of a distillation column to generate vapors which are returned to the column to drive the distillation separation....
) to produce regenerated or "lean" amine that is recycled for reuse in the absorber. The stripped overhead gas from the regenerator is concentrated H
2
S and CO
2
. In oil refineries, that stripped gas is mostly H
2
S, much of which often comes from a sulfur-removing process called
hydrodesulfurization
Hydrodesulfurization
Hydrodesulfurization is a catalytic chemical process widely used to remove sulfur from natural gas and from refined petroleum products such as gasoline or petrol, jet fuel, kerosene, diesel fuel, and fuel oils...
. This H
2
S-rich stripped gas stream is then usually routed into a
Claus process
Claus process
The Claus process is the most significant gas desulfurizing process, recovering elemental sulfur from gaseous hydrogen sulfide. First patented in 1883 by the scientist Carl Friedrich Claus, the Claus process has become the industry standard....
to convert it into elemental
sulfur
Sulfur
Sulfur or sulphur is the chemical element with atomic number 16. In the periodic table it is represented by the symbol S. It is an abundant, multivalent non-metal. Under normal conditions, sulfur atoms form cyclic octatomic molecules with chemical formula S8. Elemental sulfur is a bright yellow...
. In fact, the vast majority of the 64,000,000 metric tons of sulfur produced worldwide in 2005 was byproduct sulfur from refineries and other hydrocarbon processing plants. Another sulfur-removing process is the WSA Process which recovers sulfur in any form as concentrated sulfuric acid. In some plants, more than one amine absorber unit may share a common regenerator unit.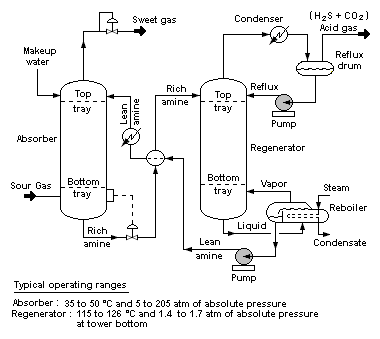 The amine concentration in the absorbent aqueous solution is an important parameter in the design and operation of an amine gas treating process. Depending on which one of the following four amines the unit was designed to use and what gases it was designed to remove, these are some typical amine concentrations, expressed as weight percent of pure amine in the aqueous solution:
Monoethanolamine: About 20 % for removing H2S and CO2, and about 32 % for removing only CO2.
Diethanolamine: About 20 to 25 % for removing H2S and CO2
Methyldiethanolamine: About 30 to 55% % for removing H2S and CO2
Diglycolamine: About 50 % for removing H2S and CO2
The choice of amine concentration in the circulating aqueous solution depends upon a number of factors and may be quite arbitrary. It is usually made simply on the basis of experience. The factors involved include whether the amine unit is treating raw
natural gas
Natural gas
Natural gas is a naturally occurring gas mixture consisting primarily of methane, typically with 0–20% higher hydrocarbons . It is found associated with other hydrocarbon fuel, in coal beds, as methane clathrates, and is an important fuel source and a major feedstock for fertilizers.Most natural...
or
petroleum refinery
Petroleum refining processes
Petroleum refining processes are those chemical engineering processes and other facilities used in petroleum refineries to transform crude oil into useful products such as liquefied petroleum gas , gasoline or petrol, kerosene, jet fuel, diesel oil and fuel oils.Petroleum refineries are very large...
by-product gases that contain relatively low concentrations of both H
2
S and CO
2
or whether the unit is treating gases with a very high percentage of CO
2
such as the offgas from the steam reforming process used in
ammonia production
Ammonia production
Because of its many uses, ammonia is one of the most highly-produced inorganic chemicals. There are numerous large-scale ammonia production plants worldwide, producing a total of 131,000,000 metric tons of ammonia in 2010. China produced 32.1% of the worldwide production, followed by India with...
or the
flue gas
Flue gas
Flue gas is the gas exiting to the atmosphere via a flue, which is a pipe or channel for conveying exhaust gases from a fireplace, oven, furnace, boiler or steam generator. Quite often, the flue gas refers to the combustion exhaust gas produced at power plants...
es from power plants. Both H
2
S and CO
2
are acid gases and hence corrosive to carbon steel. However, in an amine treating unit, CO
2
is the stronger acid of the two. H
2
S forms a film of iron sulfide on the surface of the steel that acts to protect the steel. When treating gases with a very high percentage of CO
2
, corrosion inhibitors are often used and that permits the use of higher concentrations of amine in the circulating solution. Another factor involved in choosing an amine concentration is the relative solubility of H
2
S and CO
2
in the selected amine. For more information about selecting the amine concentration, the reader is referred to Kohl and Nielsen's book.
The choice of the type of amine will affect the required circulation rate of amine solution, the energy consumption for the regeneration and the ability to selectively remove either H
2
S alone or CO
2
alone if desired.
The current emphasis on removing CO
2
from the flue gases emitted by fossil fuel power plants has led to much interest in using amines for that purpose. (See also:
Carbon capture and storage
Carbon capture and storage
Carbon capture and storage , alternatively referred to as carbon capture and sequestration, is a technology to prevent large quantities of from being released into the atmosphere from the use of fossil fuel in power generation and other industries. It is often regarded as a means of mitigating...
and Conventional coal-fired power plant.)
In the specific case of the industrial synthesis of
ammonia
Ammonia
Ammonia is a compound of nitrogen and hydrogen with the formula . It is a colourless gas with a characteristic pungent odour. Ammonia contributes significantly to the nutritional needs of terrestrial organisms by serving as a precursor to food and fertilizers. Ammonia, either directly or...
, for the
steam reforming
Steam reforming
Fossil fuel reforming is a method of producing hydrogen or other useful products from fossil fuels such as natural gas. This is achieved in a processing device called a reformer which reacts steam at high temperature with the fossil fuel. The steam methane reformer is widely used in industry to...
process of hydrocarbons to produce gaseous
hydrogen
Hydrogen
Hydrogen is the chemical element with atomic number 1. It is represented by the symbol H. With an average atomic weight of , hydrogen is the lightest and most abundant chemical element, constituting roughly 75% of the Universe's chemical elemental mass. Stars in the main sequence are mainly...
, amine treating is one of the commonly used processes for removing excess carbon dioxide in the final purification of the gaseous hydrogen.
See also
Ammonia production

Ammonia production

Because of its many uses, ammonia is one of the most highly-produced inorganic chemicals. There are numerous large-scale ammonia production plants worldwide, producing a total of 131,000,000 metric tons of ammonia in 2010. China produced 32.1% of the worldwide production, followed by India with...



Hydrodesulfurization

Hydrodesulfurization

Hydrodesulfurization is a catalytic chemical process widely used to remove sulfur from natural gas and from refined petroleum products such as gasoline or petrol, jet fuel, kerosene, diesel fuel, and fuel oils...



WSA Process
Claus process

Claus process

The Claus process is the most significant gas desulfurizing process, recovering elemental sulfur from gaseous hydrogen sulfide. First patented in 1883 by the scientist Carl Friedrich Claus, the Claus process has become the industry standard....



Selexol

Selexol

Selexol is the trade name for an acid gas removal solvent that can separate acid gases such as hydrogen sulfide and carbon dioxide from feed gas streams such as synthesis gas produced by gasification of coal, coke, or heavy hydrocarbon oils...



Rectisol

Rectisol

Rectisol is the trade name for an acid gas removal process that uses methanol as a solvent to separate acid gases such as hydrogen sulfide and carbon dioxide from valuable feed gas streams. By doing so, the feed gas is made more suitable for combustion and/or further processing...



Amine

Amine

Amines are organic compounds and functional groups that contain a basic nitrogen atom with a lone pair. Amines are derivatives of ammonia, wherein one or more hydrogen atoms have been replaced by a substituent such as an alkyl or aryl group. Important amines include amino acids, biogenic amines,...



Ionic liquid

Ionic liquid

An ionic liquid is a salt in the liquid state. In some contexts, the term has been restricted to salts whose melting point is below some arbitrary temperature, such as . While ordinary liquids such as water and gasoline are predominantly made of electrically neutral molecules, ILs are largely made...


s
External links