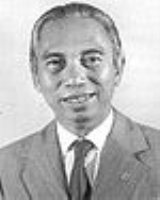 Adam Malik
Adam Malik Batubara
was
Indonesia
Indonesia
Indonesia , officially the Republic of Indonesia , is a country in Southeast Asia and Oceania. Indonesia is an archipelago comprising approximately 13,000 islands. It has 33 provinces with over 238 million people, and is the world's fourth most populous country. Indonesia is a republic, with an...
's third vice president, a senior diplomat, and one of the pioneers of Indonesian journalism.
Early life
Malik was born in
Pematang Siantar
Pematang Siantar
Pematangsiantar is an independent city in North Sumatera, Indonesia, surrounded by, but not part of, the Simalungun Regency...
,
North Sumatra
North Sumatra
North Sumatra is a province of Indonesia on the Sumatra island. Its capital is Medan. It is the most populous Indonesian province outside of Java. It is slightly larger than Sri Lanka in area.- Geography and population :...
,
Dutch East Indies
Dutch East Indies
The Dutch East Indies was a Dutch colony that became modern Indonesia following World War II. It was formed from the nationalised colonies of the Dutch East India Company, which came under the administration of the Netherlands government in 1800....
to Abdul Malik Batubara and Salamah Lubis. He is from a
Batak
Batak (Indonesia)
Batak is a collective term used to identify a number of ethnic groups predominantly found in North Sumatra, Indonesia. The term is used to include the Toba, Karo, Pakpak, Simalungun, Angkola and Mandailing, each of which are distinct but related groups with distinct, albeit related, languages and...
Muslim
Islam in Indonesia
Islam is the dominant religion in Indonesia, which also has a larger Muslim population than any other country in the world, with approximately 202.9 million identified as Muslim as of 2009....
family of
Batubara clan
Marga (Batak)
Marga is a term in Batak societies referring to a clan name. The term is derived either from the Sanskrit varga, meaning company, party, or group, or, more likely, from the Sanskrit marga, meaning 'road, way or path', referring to a people of 'one origin'.Batak marga are patrilineal...
. After completing Junior High School, he received his first job as a shopkeeper, filling in time by reading books and increasing his knowledge.
Malik quickly developed an interest in politics and aged just 17, became the Chairman of the Pematang Siantar branch of Partindo (Indonesia Party). In this position, Malik campaigned for the Dutch Colonial Government to grant independence to Indonesia. As a result of this, Malik was put in prison for disobeying the Colonial Government's ban on political assemblies. Once he was freed, Malik left Pematang Siantar for Jakarta.
Career
After leaving hometown, Malik pursued a job as a journalist. He wrote for Partindo's Party Magazine and Pelita Andalas Newspaper. In 1937, along with like-minded colleagues, Malik formed
ANTARA
ANTARA
ANTARA is the official news agency of the government of Indonesia. It was founded on 13 December 1937 by Adam Malik, Soemanang, AM Sipahoetar and Pandoe Kartawigoena...
. ANTARA would develop to become Indonesia's national news agency.
Malik played an important role in the events leading up to Indonesia's Declaration of Independence. On the 16 August 1945 Malik and other pro-Independence youths kidnapped Nationalist movement leaders Sukarno and Mohammad Hatta. They took the two leaders to the town of Rengasdengklok and forced them to declare Indonesia's Independence to fill the vacuum left by the Japanese Occupational Forces which had surrendered. Sukarno and Hatta finally declared Indonesia's Independence, on 17 August 1945. The two were also elected as Indonesia's first President and Vice President. After Indonesia's independence, Malik formed the
Murba Party
Murba Party
Murba Party was a 'national communist' political party in Indonesia. The party was founded by Tan Malaka's followers in 1948. The history of the party was largely intertwined with that of the powerful Communist Party of Indonesia . Initially relations between PKI and the Murba Party were fluid,...
and used it as a platform to become a Parliament member. Malik also served as the Third Deputy Chairman of the Indonesian Central National Committee (KNIP).
After becoming a journalist and a politician, Malik then took up the duties of a diplomat. In 1959, he was appointed ambassador to the Soviet Union and Poland. This was followed in 1962 by an appointment as Chairman of the Indonesian Delegation for the negotiations to hand over West Irian to Indonesia. He then served as Minister for Trade before being appointed Minister for the Implementation of the Guided Economy in Sukarno's Cabinet.
Transition from Old Order to the New Order
With Sukarno being increasingly influenced by the Indonesian Communist Party (PKI) in his policies, Malik set up the Preservation of Sukarnoism Body (BPS). This organization aimed to translate Sukarnoist ideas in a non-Communist sense and to use the name Sukarno to criticise the PKI. Sukarno was not oblivious to this and banned BPS in 1965. Together with General
Abdul Haris Nasution
Abdul Haris Nasution
In this Indonesian name, the name "Nasution" is a family name, and the person should be referred to by the family name "Nasution".Abdul Haris Nasution was an Indonesian general who was twice appointed Army Chief of Staff and who escaped an assassination attempt during the...
and
Ruslan Abdulgani
Ruslan Abdulgani
Ruslan Abdulgani was an Indonesian government official and diplomat known for his role as a leader during the Indonesian National Revolution in the late 1940s, and as a key minister and United Nations ambassador in the Sukarno government during the 1950s and 1960s.Ruslan was born...
, Malik was despised by the PKI for his anti-Communist stance.
1966 was the year which saw Sukarno lose his executive powers as he passed them over to Lieutenant General Suharto through a Presidential decree known as
Supersemar
Supersemar
The Supersemar, the Indonesian abbreviation for Surat Perintah Sebelas Maret was a document signed by the Indonesian President Sukarno on March 11, 1966, giving the Army commander Lt. Gen. Suharto authority to take whatever measures he "deemed necessary" to restore order to the chaotic situation...
. Although Sukarno continued to keep the title of President, all the
de facto
De facto
De facto is a Latin expression that means "concerning fact." In law, it often means "in practice but not necessarily ordained by law" or "in practice or actuality, but not officially established." It is commonly used in contrast to de jure when referring to matters of law, governance, or...
power was in the hand of Suharto. A Cabinet reshuffle followed in which Malik took up the position of Minister of Foreign Affairs. Malik, together with Suharto and Hamengkubuwono IX formed a triumvirate as they sought to reverse Sukarno's policies.
As Foreign Affairs Minister, Malik conducted trips to Western countries to reschedule debt payments. Malik also quit the Murba Party that year to put himself more in line with the new regime's more open economic policies. The Murba Party having been a party that rejected foreign investments. In 1967, Malik, together with the Foreign Ministers of
Malaysia
,
Philippines
Philippines
The Philippines , officially known as the Republic of the Philippines , is a country in Southeast Asia in the western Pacific Ocean. To its north across the Luzon Strait lies Taiwan. West across the South China Sea sits Vietnam...
,
Thailand
Thailand
Thailand , officially the Kingdom of Thailand , formerly known as Siam , is a country located at the centre of the Indochina peninsula and Southeast Asia. It is bordered to the north by Burma and Laos, to the east by Laos and Cambodia, to the south by the Gulf of Thailand and Malaysia, and to the...
and
Singapore
Singapore
Singapore , officially the Republic of Singapore, is a Southeast Asian city-state off the southern tip of the Malay Peninsula, north of the equator. An island country made up of 63 islands, it is separated from Malaysia by the Straits of Johor to its north and from Indonesia's Riau Islands by the...
would officially form ASEAN in a bid to form a united front in the face of Communist expansion in
Vietnam
Vietnam
Vietnam – sometimes spelled Viet Nam , officially the Socialist Republic of Vietnam – is the easternmost country on the Indochina Peninsula in Southeast Asia. It is bordered by China to the north, Laos to the northwest, Cambodia to the southwest, and the South China Sea –...
.
New Order
With Suharto finally elected as President in 1968, Malik continued to serve as the Foreign Affairs Minister. In 1970, Malik solidified his position with the regime by officially joining
Golkar
Golkar
The Party of the Functional Groups is a political party in Indonesia. It is also known as Sekber Golkar . It was the ruling party during Suharto's regime...
. Malik would also represent Indonesia and deputize for Suharto in summits with Suharto not showing much interest in foreign policy in the first years of his Presidency.
As Foreign Affairs Minister, Malik had had differences with Suharto's ABRI Generals such as
General
General
A general officer is an officer of high military rank, usually in the army, and in some nations, the air force. The term is widely used by many nations of the world, and when a country uses a different term, there is an equivalent title given....
Maraden Panggabean
Maraden Panggabean
Maraden Saur Halomoan Panggabean or more commonly known as Maraden Panggabean was a prominent Indonesian General during the early years of General Suharto's New Order regime.-Early life:...
over the way in which Indonesia should approach its Foreign Policy in Southeast Asia. The Generals wanted Indonesia and its regional neighbors in ASEAN to have a closer security cooperation which in effect. The Generals were also in favor of sending Indonesian troops to help the South Vietnamese in the
Vietnam War
Vietnam War
The Vietnam War was a Cold War-era military conflict that occurred in Vietnam, Laos, and Cambodia from 1 November 1955 to the fall of Saigon on 30 April 1975. This war followed the First Indochina War and was fought between North Vietnam, supported by its communist allies, and the government of...
. On the other hand, Malik insisted that ASEAN should only be about economic, not military cooperation. In this he was supported by Suharto. Malik also adopted a softer stance towards the
People's Republic of China
People's Republic of China
China , officially the People's Republic of China , is the most populous country in the world, with over 1.3 billion citizens. Located in East Asia, the country covers approximately 9.6 million square kilometres...
who the Suharto regime saw as supporters of the Indonesian Communist Party (PKI).
In 1971, Malik was chosen as President of the
United Nations General Assembly
United Nations General Assembly
For two articles dealing with membership in the General Assembly, see:* General Assembly members* General Assembly observersThe United Nations General Assembly is one of the five principal organs of the United Nations and the only one in which all member nations have equal representation...
.
Malik was briefly involved in the crisis that would lead to the invasion of
East Timor
East Timor
The Democratic Republic of Timor-Leste, commonly known as East Timor , is a state in Southeast Asia. It comprises the eastern half of the island of Timor, the nearby islands of Atauro and Jaco, and Oecusse, an exclave on the northwestern side of the island, within Indonesian West Timor...
. Malik had assured an East Timorese delegation led by José Ramos-Horta that Indonesia would not be involved in the crisis in East Timor. Suharto at first supported this stance towards East Timor but in 1975, was convinced by his Generals to intervene and invade.
In 1977, Malik was replaced as Foreign Minister as he took on the Chairmanship of the
People's Consultative Assembly
People's Consultative Assembly
The People's Consultative Assembly is the legislative branch in Indonesia's political system. It is composed of the members of the People's Representative Council and the Regional Representative Council. Before 2004, and the amendments to the 1945 Constitution, the MPR was the highest governing...
(MPR)
Vice Presidency
Malik's stint as MPR Chairman would not last long however. In March 1978, Suharto had been elected President for a 3rd term and had expected Hamengkubuwono IX to continue as Vice President. As it turned out, Hamengkubuwono refused to be nominated. After considering some alternative candidates, Suharto chose Malik to be his Vice President.
In his position as Vice President, Malik was not afraid to criticize the Government. In 1979, he admitted that the current regime had violated the spirit of the 1945 constitution. He also criticized the increasing
feudalism
Feudalism
Feudalism was a set of legal and military customs in medieval Europe that flourished between the 9th and 15th centuries, which, broadly defined, was a system for ordering society around relationships derived from the holding of land in exchange for service or labour.Although derived from the...
in the regime. A reference to Suharto, who acted in the manner of a feudal Javanese King. In 1981, Malik commented on the corruption in the regime, referring it as an "epidemic".
In 1983, Malik's term as Vice President came to an end and he was replaced by
Umar Wirahadikusumah
Umar Wirahadikusumah
was the fourth Indonesian Vice President; he served from 1983 to 1988.-Early life:Umar Wirahadikusumah was born on 10 October 1924 to Raden Rangga Wirahadikusumah and Raden Ratnaringrum...
.
Malik died on 5 September 1984 in
Bandung
Bandung
Bandung is the capital of West Java province in Indonesia, and the country's third largest city, and 2nd largest metropolitan area in Indonesia, with a population of 7.4 million in 2007. Located 768 metres above sea level, approximately 140 km southeast of Jakarta, Bandung has cooler...
,
West Java
West Java
West Java , with a population of over 43 million, is the most populous and most densely populated province of Indonesia. Located on the island of Java, it is slightly smaller in area than densely populated Taiwan, but with nearly double the population...
, as a result of
liver cancer
Hepatocellular carcinoma
Hepatocellular carcinoma is the most common type of liver cancer. Most cases of HCC are secondary to either a viral hepatitide infection or cirrhosis .Compared to other cancers, HCC is quite a rare tumor in the United States...
.
Awards and commendations
In 1982, Malik received the Dag Hammarskjöld Award from the United Nations. He has also been recognized as a National Hero of Indonesia.
External links
Profile at TokohIndonesia.com