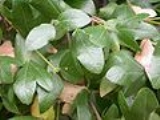 Acer sempervirens
Acer sempervirens
is a species of
maple
Maple
Acer is a genus of trees or shrubs commonly known as maple.Maples are variously classified in a family of their own, the Aceraceae, or together with the Hippocastanaceae included in the family Sapindaceae. Modern classifications, including the Angiosperm Phylogeny Group system, favour inclusion in...
native to southeastern
Europe
Europe
Europe is, by convention, one of the world's seven continents. Comprising the westernmost peninsula of Eurasia, Europe is generally 'divided' from Asia to its east by the watershed divides of the Ural and Caucasus Mountains, the Ural River, the Caspian and Black Seas, and the waterways connecting...
and southwestern
Asia
Asia
Asia is the world's largest and most populous continent, located primarily in the eastern and northern hemispheres. It covers 8.7% of the Earth's total surface area and with approximately 3.879 billion people, it hosts 60% of the world's current human population...
, in southern
Greece
Greece
Greece , officially the Hellenic Republic , and historically Hellas or the Republic of Greece in English, is a country in southeastern Europe....
and southern
Turkey
Turkey
Turkey , known officially as the Republic of Turkey , is a Eurasian country located in Western Asia and in East Thrace in Southeastern Europe...
.
It is an
evergreen
Evergreen
In botany, an evergreen plant is a plant that has leaves in all seasons. This contrasts with deciduous plants, which completely lose their foliage during the winter or dry season.There are many different kinds of evergreen plants, both trees and shrubs...
or semi-evergreen
shrub
Shrub
A shrub or bush is distinguished from a tree by its multiple stems and shorter height, usually under 5–6 m tall. A large number of plants may become either shrubs or trees, depending on the growing conditions they experience...
or small
tree
Tree
A tree is a perennial woody plant. It is most often defined as a woody plant that has many secondary branches supported clear of the ground on a single main stem or trunk with clear apical dominance. A minimum height specification at maturity is cited by some authors, varying from 3 m to...
growing to 10 m tall with a trunk up to 50 cm diameter. The
bark
Bark
Bark is the outermost layers of stems and roots of woody plants. Plants with bark include trees, woody vines and shrubs. Bark refers to all the tissues outside of the vascular cambium and is a nontechnical term. It overlays the wood and consists of the inner bark and the outer bark. The inner...
is dark grey, smooth in young trees, becoming scaly and shallowly fissured in mature trees. The shoots are green at first, becoming dull brown in the second year. The
leaves
Leaf
A leaf is an organ of a vascular plant, as defined in botanical terms, and in particular in plant morphology. Foliage is a mass noun that refers to leaves as a feature of plants....
are opposite, hard and leathery in texture, 1-4 cm long and 1-3 cm across, glossy dark green with a yellow 1 cm petiole, variably unlobed or three-lobed (often on the same shoot); the lobes have an entire margin. The
flower
Flower
A flower, sometimes known as a bloom or blossom, is the reproductive structure found in flowering plants . The biological function of a flower is to effect reproduction, usually by providing a mechanism for the union of sperm with eggs...
s are yellow-green, produced in small pendulous corymbs. The
fruit
Fruit
In broad terms, a fruit is a structure of a plant that contains its seeds.The term has different meanings dependent on context. In non-technical usage, such as food preparation, fruit normally means the fleshy seed-associated structures of certain plants that are sweet and edible in the raw state,...
is a double
samara
Samara (fruit)
A samara is a type of fruit in which a flattened wing of fibrous, papery tissue develops from the ovary wall. A samara is a simple dry fruit and indehiscent . It is a winged achene...
with two rounded, winged
seed
Seed
A seed is a small embryonic plant enclosed in a covering called the seed coat, usually with some stored food. It is the product of the ripened ovule of gymnosperm and angiosperm plants which occurs after fertilization and some growth within the mother plant...
s, the wings 1.5–3 cm long, spread at an acute angle.
It is one of the most drought- and heat-tolerant species in the genus, occurring on dry, sunny hillsides at moderate elevations. It is closely related to
Acer monspessulanum
Acer monspessulanum
Montpellier Maple is a species of maple native to the Mediterranean region from Morocco and Portugal in the west, to Turkey, Syria, Lebanon, and Palestine in the east, and north to the Jura Mountains in France and the Eifel in Germany.-Description:...
from further north and west in Europe, differing from it in being a smaller, often shrubby tree, and in its smaller, evergreen leaves.
Cultivation and uses
Cretan Maple is occasionally grown as an ornamental tree in western Europe; it was introduced to Britain in 1752.