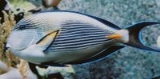 Acanthuridae
Acanthuridae
is the
family
Family (biology)
In biological classification, family is* a taxonomic rank. Other well-known ranks are life, domain, kingdom, phylum, class, order, genus, and species, with family fitting between order and genus. As for the other well-known ranks, there is the option of an immediately lower rank, indicated by the...
of
surgeonfishes
,
tangs
, and
unicornfishes
Naso (genus)
The unicorn fishes are 17 species of tropical, herbivorous marine surgeonfishes in the genus Naso. They are so named because of a spike that protrudes from the forehead. Some species have a bulbous protrusion rather than a pronounced spike, and some lack a spike altogether...
. The family includes about 80 species in six genera, all of which are
marine
Ocean
An ocean is a major body of saline water, and a principal component of the hydrosphere. Approximately 71% of the Earth's surface is covered by ocean, a continuous body of water that is customarily divided into several principal oceans and smaller seas.More than half of this area is over 3,000...
fish living in tropical seas, usually around
coral reef
Coral reef
Coral reefs are underwater structures made from calcium carbonate secreted by corals. Coral reefs are colonies of tiny living animals found in marine waters that contain few nutrients. Most coral reefs are built from stony corals, which in turn consist of polyps that cluster in groups. The polyps...
s. Many of the species are brightly colored and popular for
aquaria
Aquarium
An aquarium is a vivarium consisting of at least one transparent side in which water-dwelling plants or animals are kept. Fishkeepers use aquaria to keep fish, invertebrates, amphibians, marine mammals, turtles, and aquatic plants...
.
The distinctive characteristic of the family is the spines, one or more on either side of the tail, which are dangerously sharp. The
dorsal
Dorsal fin
A dorsal fin is a fin located on the backs of various unrelated marine and freshwater vertebrates, including most fishes, marine mammals , and the ichthyosaurs...
, anal and caudal fins are large, extending for most of the length of the body. The small mouths have a single row of teeth used for grazing on algae.
Surgeonfishes sometimes feed as solitary individuals, but they also often travel and feed in schools. It has been suggested that feeding in schools is a mechanism for overwhelming the highly aggressive defense responses of small territorial
damselfish
Damselfish
Damselfish comprise the family Pomacentridae except those of the genera Amphiprion and Premnas. They can grow up to long. While most are marine, a few species inhabit the lower stretches of rivers in freshwater. Damselfish usually have bright colors. in tropical coral reefs, and many of those are...
es that vigorously guard small patches of algae on coral reefs.
Most species are relatively small and have a maximum length of 15–40 cm (6–16 in), but some members of the genus
Acanthurus
, some members of the genus
Prionurus
, and most members of the genus
Naso
can grow larger, with the
whitemargin unicornfish
Whitemargin unicornfish
The whitemargin unicornfish is a tropical fish found throughout the Indo-Pacific. It can reach a length of 100 cm making it one of the largest members of the family Acanthuridae.-Description:...
(
N. annulatus
), the largest species in the family, reaching a length of up to a metre (3,3 ft). These fishes can grow quickly in aquariums so it is advisable to check the average growth size and suitability before adding to a marine aquarium.
Species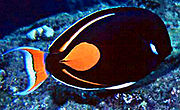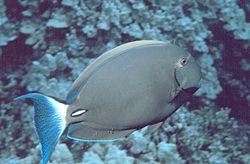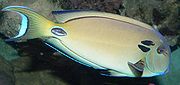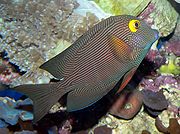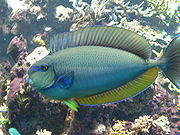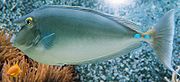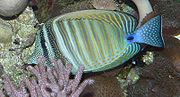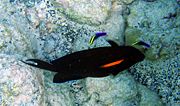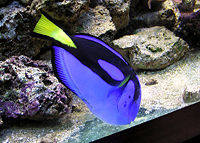 Etymology and taxonomic history
The name of the family is derived from the Greek words
akantha
and
oura
, which loosely translate to "thorn" and "tail", respectively. This refers to the distinguishing characteristic of the family, the "
scalpel
Scalpel
A scalpel, or lancet, is a small and extremely sharp bladed instrument used for surgery, anatomical dissection, and various arts and crafts . Scalpels may be single-use disposable or re-usable. Re-usable scalpels can have attached, resharpenable blades or, more commonly, non-attached, replaceable...
" found each member's caudal peduncle.
In the early 1900s, the family was called
Hepatidae
.
In the aquarium
Tangs are very sensitive to disease in the home aquarium. However if the tang is fed enough algae and the aquarium is properly maintained disease should not be a problem. It is usually necessary to quarantine the animals for a period before introducing them to the aquarium.
Adults range from 15–40 cm (6-15 in.) in length and most grow quickly even in aquariums. When considering a tang for an aquarium it is important to consider the size to which these fish can grow. Larger species such as the popular
Pacific Blue tang surgeonfish
(of
Finding Nemo
fame),
Naso
Naso (genus)
The unicorn fishes are 17 species of tropical, herbivorous marine surgeonfishes in the genus Naso. They are so named because of a spike that protrudes from the forehead. Some species have a bulbous protrusion rather than a pronounced spike, and some lack a spike altogether...
or
lipstick tang
, clown and sohal tangs can grow to 40 cm (15 in.) and require swimming room and hiding places.
Many also suggest adding aggressive tangs to the aquarium last as they are territorial and may fight and possibly kill other fish.
Tangs primarily graze on macroalgae, such as caulerpa and gracilias, although they have been observed in an aquarium setting to eat meat-based fish foods. A popular technique for aquarists, is to grow macroalgae in a
sump
Sump
A sump is a low space that collects any often-undesirable liquids such as water or chemicals. A sump can also be an infiltration basin used to manage surface runoff water and recharge underground aquifers....
or
refugium
Refugium
Refugium may refer to:* Refugium , an appendage to a marine, brackish, or freshwater fish tank that shares the same water supply...
. This technique not only is economically beneficial, but serves to promote enhanced water quality through
nitrate
Nitrate
The nitrate ion is a polyatomic ion with the molecular formula NO and a molecular mass of 62.0049 g/mol. It is the conjugate base of nitric acid, consisting of one central nitrogen atom surrounded by three identically-bonded oxygen atoms in a trigonal planar arrangement. The nitrate ion carries a...
absorption. The growth of the algae can then be controlled by feeding it to the tang.