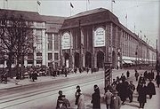 1920s Berlin
The
Golden Twenties

Roaring Twenties

The Roaring Twenties is a phrase used to describe the 1920s, principally in North America, but also in London, Berlin and Paris for a period of sustained economic prosperity. The phrase was meant to emphasize the period's social, artistic, and cultural dynamism...


in Berlin

Berlin

Berlin is the capital city of Germany and is one of the 16 states of Germany. With a population of 3.45 million people, Berlin is Germany's largest city. It is the second most populous city proper and the seventh most populous urban area in the European Union...



was a vibrant period in the
history of Berlin
History of Berlin
Berlin is the capital city of Germany. Berlin is a young city by European standards, founded in the 12th century.-Early history:*98 AD: Tacitus described the territory of Germania. What is now Berlin, in ancient times was well outside the frontiers of the Roman Empire...
,
German history
History of Germany
The concept of Germany as a distinct region in central Europe can be traced to Roman commander Julius Caesar, who referred to the unconquered area east of the Rhine as Germania, thus distinguishing it from Gaul , which he had conquered. The victory of the Germanic tribes in the Battle of the...
, and
European history
History of Europe
History of Europe describes the history of humans inhabiting the European continent since it was first populated in prehistoric times to present, with the first human settlement between 45,000 and 25,000 BC.-Overview:...
in general.
This
fertile culture
of Berlin extended onwards until
Adolf Hitler
Adolf Hitler
Adolf Hitler was an Austrian-born German politician and the leader of the National Socialist German Workers Party , commonly referred to as the Nazi Party). He was Chancellor of Germany from 1933 to 1945, and head of state from 1934 to 1945...
rose to power in early 1933 and stamped out any and all resistance to the Nazi Party. Likewise, the Nazis decried Berlin as a haven of vice. A sophisticated, innovative
culture
Culture
Culture is a term that has many different inter-related meanings. For example, in 1952, Alfred Kroeber and Clyde Kluckhohn compiled a list of 164 definitions of "culture" in Culture: A Critical Review of Concepts and Definitions...
developed in and around Berlin, including highly developed architecture and design (
Bauhaus
Bauhaus
', commonly known simply as Bauhaus, was a school in Germany that combined crafts and the fine arts, and was famous for the approach to design that it publicized and taught. It operated from 1919 to 1933. At that time the German term stood for "School of Building".The Bauhaus school was founded by...
, 1919-33), a variety of literature (
Döblin
Alfred Döblin
Alfred Döblin was a German expressionist novelist, best known for the novel Berlin Alexanderplatz .- 1878–1918:...
,
Berlin Alexanderplatz
Berlin Alexanderplatz
Berlin Alexanderplatz is a novel by Alfred Döblin, published in 1929. The story concerns a small-time criminal, Franz Biberkopf, fresh from prison, who is drawn into the underworld. When his criminal mentor murders the prostitute whom Biberkopf has been relying on as an anchor, he realizes that...
, 1929), film (
Lang
Fritz Lang
Friedrich Christian Anton "Fritz" Lang was an Austrian-American filmmaker, screenwriter, and occasional film producer and actor. One of the best known émigrés from Germany's school of Expressionism, he was dubbed the "Master of Darkness" by the British Film Institute...
,
Metropolis
Metropolis (film)
Metropolis is a 1927 German expressionist film in the science-fiction genre directed by Fritz Lang. Produced in Germany during a stable period of the Weimar Republic, Metropolis is set in a futuristic urban dystopia and makes use of this context to explore the social crisis between workers and...
, 1927,
Dietrich
Marlene Dietrich
Marlene Dietrich was a German-American actress and singer.Dietrich remained popular throughout her long career by continually re-inventing herself, professionally and characteristically. In the Berlin of the 1920s, she acted on the stage and in silent films...
,
Der blaue Engel
Der blaue Engel
The Blue Angel is a film directed by Josef von Sternberg in 1930, based on Heinrich Mann's novel Professor Unrat. The film is considered to be the first major German sound film and it brought world fame to actress Marlene Dietrich...
, 1930), painting (
Grosz
George Grosz
Georg Ehrenfried Groß was a German artist known especially for his savagely caricatural drawings of Berlin life in the 1920s...
), and music (
Brecht
Bertolt Brecht
Bertolt Brecht was a German poet, playwright, and theatre director.An influential theatre practitioner of the 20th century, Brecht made equally significant contributions to dramaturgy and theatrical production, the latter particularly through the seismic impact of the tours undertaken by the...
and
Weill
Kurt Weill
Kurt Julian Weill was a German-Jewish composer, active from the 1920s, and in his later years in the United States. He was a leading composer for the stage who was best known for his fruitful collaborations with Bertolt Brecht...
,
The Threepenny Opera
The Threepenny Opera
The Threepenny Opera is a musical by German dramatist Bertolt Brecht and composer Kurt Weill, in collaboration with translator Elisabeth Hauptmann and set designer Caspar Neher. It was adapted from an 18th-century English ballad opera, John Gay's The Beggar's Opera, and offers a Marxist critique...
, 1928), criticism (Benjamin), philosophy/psychology (
Jung
Carl Jung
Carl Gustav Jung was a Swiss psychiatrist and the founder of Analytical Psychology. Jung is considered the first modern psychiatrist to view the human psyche as "by nature religious" and make it the focus of exploration. Jung is one of the best known researchers in the field of dream analysis and...
), and fashion.