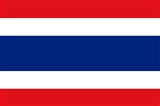 Thailand
Topics
Thailand
Timeline

Timeline
1768 King Taksin's coronation achieved through conquest as a king of Thailand and established Thonburi as a capital.
1782 Rama I of Siam (modern day Thailand) founds the Chakri dynasty.
1784 The Emerald Buddha is moved with great ceremony to its current place in Wat Phra Kaew, Thailand.
1851 Rama IV is crowned King of Thailand.
1932 A bloodless Revolution instigated by the People's Party ends the absolute power of King Prajadhipok of Siam (Thailand).
1932 Thailand adopts a Constitution and becomes a constitutional monarchy.
1939 Siam is renamed to Thailand by Plaek Pibulsonggram, the country's third prime minister.
1941 Japanese forces invade Thailand's southern peninsula. They face a heavy resistance, however, Plaek Phibunsongkhram ordered a ceasefire.
1941 World War II: Japan signs treaty of alliance with Thailand.
1941 World War II: A formal treaty of alliance between Thailand and Japan is signed in the presence of the Emerald Buddha in Wat Phra Kaew.
1942 World War II: The Allies bombard Bangkok, leading Thailand to the decision of war declaration against the United States and United Kingdom .
1942 World War II: Thailand declares war on the United States and United Kingdom.
1942 World War II: The United Kingdom declares war on Thailand.
1942 World War II: Australia declares war on Thailand.
1946 King Bhumibol Adulyadej ascends to the throne of Thailand. He is currently the world's longest reigning monarch.
1946 Thailand joins the United Nations.
1949 Siam officially changes its name to Thailand for the second time. The name had been in use since 1939 but was reverted in 1945.
1967 The Association of Southeast Asian Nations (ASEAN) is founded by Indonesia, Malaysia, the Philippines, Singapore and Thailand.
1972 The Thai province of Yasothon is created after being split off from the Ubon Ratchathani province.
1973 In the Thammasat student uprising over 100,000 people protest in Thailand against the Thanom military government; 77 are killed and 857 are injured by soldiers.
1976 Vietnam War: The U.S. military completes its troop withdrawal from Thailand.
1976 Massacre of students gathering at Thammasat University in Bangkok, Thailand to protest the return of ex-dictator Thanom, by a coalition of right-wing paramilitary and government forces, triggering the return of the military to government.
1991 In Thailand, General Sunthorn Kongsompong leads a bloodless coup d'état, deposing Prime Minister Chatichai Choonhavan.
1991 Lauda Air Flight 004 explodes over rural Thailand, killing 223.
1992 The last Thai dictator, General Suchinda Kraprayoon, resigns following pro-democracy protests.
1993 In Thailand, a fire at the Kader Toy Factory kills 188 workers.
2003 Jemaah Islamiyah leader Riduan Isamuddin, better known as Hambali, is arrested in Bangkok, Thailand.
2004 A 9.3 magnitude earthquake creates a tsunami causing devastation in Sri Lanka, India, Indonesia, Thailand, Malaysia, the Maldives and many other areas around the rim of the Indian Ocean, killing over 250,000 people including over 1700 on a moving train
2006 The Thai military stages a coup in Bangkok. The Constitution is revoked and martial law is declared.
2007 One-Two-GO Airlines Flight 269 carrying 128 crew and passengers crashes in Thailand killing 89 people.
2008 Thai Prime Minister Somchai Wongsawat resigns after the 2008 Thailand political crisis.
2009 66 die in nightclub fire in Bangkok, Thailand.
2009 Typhoon Ketsana (2009) hit the Philippines, China, Vietnam, Cambodia, Laos and Thailand, causing 700 fatalities.