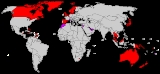 Constitutional monarchy
Constitutional monarchy
(or
limited monarchy
) is a form of
government
Government
Government refers to the legislators, administrators, and arbitrators in the administrative bureaucracy who control a state at a given time, and to the system of government by which they are organized...
in which a
monarch
Monarch
A monarch is the person who heads a monarchy. This is a form of government in which a state or polity is ruled or controlled by an individual who typically inherits the throne by birth and occasionally rules for life or until abdication...
acts as
head of state
Head of State
A head of state is the individual that serves as the chief public representative of a monarchy, republic, federation, commonwealth or other kind of state. His or her role generally includes legitimizing the state and exercising the political powers, functions, and duties granted to the head of...
within the parameters of a
constitution
Constitution
A constitution is a set of fundamental principles or established precedents according to which a state or other organization is governed. These rules together make up, i.e. constitute, what the entity is...
, whether it be a written, uncodified or blended constitution. This form of government differs from
absolute monarchy
Absolute monarchy
Absolute monarchy is a monarchical form of government in which the monarch exercises ultimate governing authority as head of state and head of government, his or her power not being limited by a constitution or by the law. An absolute monarch thus wields unrestricted political power over the...
in which an absolute monarch serves as the source of power in the state and is not legally bound by any constitution.
Most constitutional monarchies employ a
parliamentary system
Parliamentary system
A parliamentary system is a system of government in which the ministers of the executive branch get their democratic legitimacy from the legislature and are accountable to that body, such that the executive and legislative branches are intertwined....
in which the monarch may have strictly ceremonial duties or may have reserve powers, depending on the constitution.