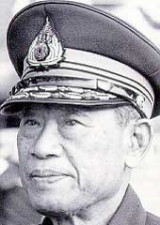 Thanom Kittikachorn
Field Marshal
Field Marshal
Field Marshal is a military rank. Traditionally, it is the highest military rank in an army.-Etymology:The origin of the rank of field marshal dates to the early Middle Ages, originally meaning the keeper of the king's horses , from the time of the early Frankish kings.-Usage and hierarchical...
Thanom Kittikachorn
(August 11, 1911 - June 16, 2004,
Thai
Thai alphabet
Thai script , is used to write the Thai language and other, minority, languages in Thailand. It has forty-four consonants , fifteen vowel symbols that combine into at least twenty-eight vowel forms, and four tone marks ....
ถนอม กิตติขจร) was a military dictator of
Thailand
Thailand
Thailand , officially the Kingdom of Thailand , formerly known as Siam , is a country located at the centre of the Indochina peninsula and Southeast Asia. It is bordered to the north by Burma and Laos, to the east by Laos and Cambodia, to the south by the Gulf of Thailand and Malaysia, and to the...
. A staunch anti-Communist, Thanom oversaw a decade of military rule in Thailand from 1963 to 1973, until public protests which exploded into violence forced him to step down. His return from exile in 1976 sparked protests which led to a massacre of demonstrators, followed by a military coup.
Rise to power
As a lieutenant-colonel, he took part in the 1947 coup led by Colonel Sarit Thanarat and became a regimental Commander and head of the
Lopburi
Lopburi
Lopburi ) is the capital city of Lopburi Province in Thailand. It is located about 150 km north-east of Bangkok. As of 2006 it has a population of 26,500...
military department. He was later promoted to colonel, commanding the 11th Infantry Division. He was appointed as an MP in 1951, his first political role.
In February 1953, he led the suppression of a rebellion, and was rewarded with a promotion to the rank of lieutenant-general. He represented Thailand at the ceremony to mark the end of the
Korean War
Korean War
The Korean War was a conventional war between South Korea, supported by the United Nations, and North Korea, supported by the People's Republic of China , with military material aid from the Soviet Union...
in July 1953 and was later promoted as Commander of the 1st Region Army.
He was appointed Deputy Cooperatives Minister in 1955. Thanom supported Sarit in his coup against the government of Field Marshal Plaek Pibulsongkram, and was subsequently appointed Defence Minister in
Pote Sarasin
Pote Sarasin
Pote Sarasin was a Thai diplomat and politician. He served as foreign minister from 1949 to 1951 and then served as ambassador to the United States. In September 1957 when Sarit Thanarat seized power in a military coup, he appointed Pote to be the acting prime minister. He resigned in December 1957...
's puppet regime in 1957.
In subsequent years, Thanom consolidated his power base as the 2nd military leader behind Sarit. In 1958, he was appointed General and became Prime Minister, Defence Minister, and Army Commander-in-Chief. He was the Prime Minister for 9 months. The following year he was replaced by Sarit as prime minister and was instead appointed Deputy Prime Minister, Defence Minister, and Armed Forces Deputy Supreme Commander in the new junta.
Prime minister
Thanom was appointed Prime Minister one day after Sarit's death in 1963. He subsequently appointed himself Commander-in-Chief of the Army. One year later, he promoted himself to the concurrent ranks of Field Marshal, Admiral of the Fleet, and
Marshal of the Royal Thai Air Force
Marshal of the Royal Thai Air Force
Marshal of the Royal Thai Air Force is a 5-star rank and the most senior rank in the Royal Thai Air Force. It is equivalent to a Field Marshal in the Royal Thai Army and an Admiral of the Fleet in the Royal Thai Navy...
. Thanom continued the pro-
American
United States
The United States of America is a federal constitutional republic comprising fifty states and a federal district...
and
anti-Communist
Anti-communism
Anti-communism is opposition to communism. Organized anti-communism developed in reaction to the rise of communism, especially after the 1917 October Revolution in Russia and the beginning of the Cold War in 1947.-Objections to communist theory:...
politics of his predecessor, which helped to ensure massive US economic and financial aid during the Vietnam War. His regime was known for massive corruption. He established and led the Saha Prachathai Party in October 1968.
Thanom reappointed himself Prime Minister in February 1969 after general elections had been completed. Then, in November 1971, he staged a coup against his own government, citing the need to suppress communist infiltration. He dissolved Parliament and appointed himself Chairman of the National Executive Council, and served as a caretaker government for one year. He appointed himself Prime Minister for a fourth time, in December 1972, while also serving as Defence and Foreign Ministers. He, along with his son, Colonel Narong, and Narong's father-in-law Field Marshal Praphas Charusathien became known as the "Three Tyrants".
Public discontent grew, as well as demands for a general election. Student-led demands for a return to constitutional government, the so-called "14 October 1973 uprising", caused three days of violence and the downfall of his regime. Thanom and the other two "Tyrants" left for exile in the
United States
United States
The United States of America is a federal constitutional republic comprising fifty states and a federal district...
and
Singapore
Singapore
Singapore , officially the Republic of Singapore, is a Southeast Asian city-state off the southern tip of the Malay Peninsula, north of the equator. An island country made up of 63 islands, it is separated from Malaysia by the Straits of Johor to its north and from Indonesia's Riau Islands by the...
. His departure was followed by a restoration of a democratic administration in Thailand.
6 October 1976 massacre and aftermath
In October 1976, Thanom returned to Thailand as a novice monk at
Wat Bowonniwet
Wat Bowonniwet
Wat Bowonniwet Vihara Rajavaravihara is a major Buddhist temple in Phra Nakhon district, Bangkok, Thailand. The temple is a center of the Thammayut Nikaya school of Thai Theravada Buddhism and has been a major temple of patronage for the Chakri dynasty. It is the shrine-hall of Phra...
. His return triggered student protests which took place on the campus of
Thammasat University
Thammasat University
Thammasat University , or in brief TU , is Thailand's second oldest university. Officially established on 27 June 1934, the university was originally named by founder Pridi Banomyong, University of Moral Science and Politics , reflecting the political fervor of the time...
. The far right, aided by government security forces, stormed the campus and
massacred protesters
6 October 1976 Massacre
The Thammasat University Massacre, or Massacre of 6 October 1976 , was an attack on students and protesters that occurred on the campus of Thammasat University and at Sanam Luang in Bangkok. Students from various universities were demonstrating against the return to Thailand of Field Marshal...
on 6 October 1976. That evening, the military again seized power from the elected civilian government.
Thanom soon left the monkhood but never took a role in politics again. Later in his life, he made an effort to rehabilitate his tarnished image and recover properties that had been seized when he was overthrown.
In March 1999, Thanom was nominated to become a member of the honorary Royal Guard by Prime Minister
Chuan Leekpai
Chuan Leekpai
Chuan Leekpai was the Prime Minister of Thailand from September 20, 1992 to May 19, 1995 and again from November 9, 1997 to February 9, 2001. A third-generation Thai Chinese, Chuan was born in Trang province in a grass-roofed house. The walls of his family's house were woven from strips of...
, which was a highly controversial act. Thanom turned down the appointment.
Thanom died at the age of 92 on 16 June 2004 in Bangkok General Hospital, after suffering a stroke and a
heart attack
Myocardial infarction
Myocardial infarction or acute myocardial infarction , commonly known as a heart attack, results from the interruption of blood supply to a part of the heart, causing heart cells to die...
in January 2004. His medical expenses were paid by King
Bhumibol Adulyadej
Bhumibol Adulyadej
Bhumibol Adulyadej is the current King of Thailand. He is known as Rama IX...
. His cremation was held on 25 February 2007 at Wat Debsirin. Queen
Sirikit
Sirikit
Somdet Phra Nang Chao Sirikit Phra Borommarachininat , is the queen consort of Bhumibol Adulyadej, King of Thailand. She is the second Queen Regent of Thailand...
presided over the cremation ceremony, lighting the royal flame on behalf of King Bhumibol. Princess
Chulabhorn
Chulabhorn Walailak
Princess Chulabhorn of Thailand or Chulabhorn Walailak , born 4 July 1957 in Bangkok, is a Princess of Thailand, the youngest daughter of HM King Bhumibol Adulyadej and HM Queen Sirikit of Thailand...
also presided.
Royal decorations
Thanom received the following royal decorations in the
Honours System
Thai Honours Order of Precedence
State decorations awarded by Thailand take the form of orders and medals. This page lists them by order of precedence.-Royal decorations:# Knight and Dame of the Most Auspicious Order of the Rajamitrabhorn...
of Thailand:
1925 - King Rama VII Coronation Medal
1934 - Safeguarding the Constitution Medal
1940 - Companion (Fourth Class) of The Most Noble Order of the Crown of Thailand
1941 - Companion (Fourth Class) of the Most Exalted Order of the White Elephant

Order of the White Elephant

The Most Exalted Order of the White Elephant is the most awarded order of Thailand. It was established in 1861 by King Rama IV of the Kingdom of Siam.The Order consists of eight classes:...



1943 - Medal for Service Rendered in the Interior
1944 - Chakra Mala Medal
1946 - King Rama IX

Bhumibol Adulyadej

Bhumibol Adulyadej is the current King of Thailand. He is known as Rama IX...


Coronation Medal
1948 - Commander (Third Class) of the Most Exalted Order of the White Elephant

Order of the White Elephant

The Most Exalted Order of the White Elephant is the most awarded order of Thailand. It was established in 1861 by King Rama IV of the Kingdom of Siam.The Order consists of eight classes:...



1950 - King Rama VIII

Ananda Mahidol

Ananda Mahidol was the eighth monarch of Thailand under the House of Chakri. At the time he was recognized as king by the National Assembly, in March 1935, he was a nine-year-old boy living in Switzerland. He returned to Thailand in December 1945. Six months later, in June 1946, he was found shot...


Royal Cypher Medal, Third Class
1950 - Knight Commander (Second Class) of The Most Noble Order of the Crown of Thailand
1952 - Knight Commander (Second Class) of the Most Exalted Order of the White Elephant

Order of the White Elephant

The Most Exalted Order of the White Elephant is the most awarded order of Thailand. It was established in 1861 by King Rama IV of the Kingdom of Siam.The Order consists of eight classes:...



1953 - Knight Grand Cross (First Class) of the Most Noble Order of the Crown of Thailand
1954 - Victory Medal - Korean War

Korean War

The Korean War was a conventional war between South Korea, supported by the United Nations, and North Korea, supported by the People's Republic of China , with military material aid from the Soviet Union...



1954 - Knight Grand Cross (First Class) of the Most Exalted Order of the White Elephant

Order of the White Elephant

The Most Exalted Order of the White Elephant is the most awarded order of Thailand. It was established in 1861 by King Rama IV of the Kingdom of Siam.The Order consists of eight classes:...



1955 - Flame pin to adorn the Victory Medal - Korean War
1955 - Knight Grand Cordon (Special Class) of The Most Noble Order of the Crown of Thailand
1956 - Knight Grand Cordon (Special Class) of the Most Exalted Order of the White Elephant

Order of the White Elephant

The Most Exalted Order of the White Elephant is the most awarded order of Thailand. It was established in 1861 by King Rama IV of the Kingdom of Siam.The Order consists of eight classes:...



1958 - Knight Grand Commander (Second Class, higher grade) of the Most Illustrious Order of Chula Chom Klao

Order of Chula Chom Klao

The Most Illustrious Order of Chula Chom Klao was established in 16 November 1873 by King Rama V of The Kingdom of Siam to commemorate the 90th Jubilee of the Chakri Dynasty, and bears his Name...



1959 - King Rama IX

Bhumibol Adulyadej

Bhumibol Adulyadej is the current King of Thailand. He is known as Rama IX...


Royal Cypher Medal, Second Class
1961 - Knight Grand Cross (First Class) of The Most Illustrious Order of Chula Chom Klao

Order of Chula Chom Klao

The Most Illustrious Order of Chula Chom Klao was established in 16 November 1873 by King Rama V of The Kingdom of Siam to commemorate the 90th Jubilee of the Chakri Dynasty, and bears his Name...



1962 - Border Service Medal
1962 - Victory Medal - World War II

World War II

World War II, or the Second World War , was a global conflict lasting from 1939 to 1945, involving most of the world's nations—including all of the great powers—eventually forming two opposing military alliances: the Allies and the Axis...



1964 - King Rama IX

Bhumibol Adulyadej

Bhumibol Adulyadej is the current King of Thailand. He is known as Rama IX...


Royal Cypher Medal, First Class
1965 - Knight Grand Commander of the Honourable Order of Rama

Order of Rama

The Honourable Order of Rama was established on 22 July 1918 The Honourable Order of Rama (เครื่องราชอิสริยาภรณ์ อันมีศักดิ์ รามาธิบดี - krêuang râat ìt-sà-rí-yaa-pon an mee sàk raa-maa típ-dee) was established on 22 July 1918 The Honourable Order of Rama (เครื่องราชอิสริยาภรณ์ อันมีศักดิ์...



1969 - Freeman Safeguarding Medal, First Class
1972 - Bravery Medal
1972 - Victory Medal - Vietnam War

Vietnam War

The Vietnam War was a Cold War-era military conflict that occurred in Vietnam, Laos, and Cambodia from 1 November 1955 to the fall of Saigon on 30 April 1975. This war followed the First Indochina War and was fought between North Vietnam, supported by its communist allies, and the government of...


, with flames
1972 - 25th Buddhist Century Celebration Medal
1972 - Commemorative Medal of the Royal State Visits to the United States of America and Europe
1972 - Silver Jubilee Medal of B.E. 2514
1972 - Red Cross Medal of Appreciation, First Class