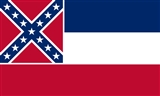 Mississippi
Topics
Mississippi
Timeline

Timeline
1736 Battle of Ackia: British and Chickasaw soldiers repel a French and Choctaw attack on the Chickasaw village of Ackia, near present-day Tupelo, Mississippi. The French, under Louisiana governor Jean Baptiste Le Moyne, Sieur de Bienville, had sought to link Louisiana with Acadia and the other northern colonies of New France.
1817 Mississippi becomes the 20th U.S. state.
1826 Mississippi College is founded in Clinton, becoming the first college in the state of Mississippi.
1831 The Treaty of Dancing Rabbit Creek, the first removal treaty in accordance with the Indian Removal Act, is proclaimed. The Choctaws in Mississippi cede land east of the river in exchange for payment and land in the West.
1861 Mississippi becomes the second state to secede from the Union before the outbreak of the American Civil War.
1861 American Civil War: Georgia joins South Carolina, Florida, Mississippi, and Alabama in seceding from the United States.
1862 American Civil War: General Ulysses S. Grant issues ''General Order No. 11'', expelling Jews from Tennessee, Mississippi, and Kentucky.
1863 American Civil War: Grierson's Raid begins – troops under Union Army Colonel Benjamin Grierson attack central Mississippi.
1863 American Civil War: Battle of Raymond: two divisions of James B. McPherson's XVII Corps (ACW) turn the left wing of Confederate General John C. Pemberton's defensive line on Fourteen Mile Creek, opening up the interior of Mississippi to the Union Army during the Vicksburg Campaign.
1864 American Civil War: Battle of Brice's Crossroads. Confederate troops under Nathan Bedford Forrest defeat a much larger Union force led by General Samuel D. Sturgis in Mississippi.
1870 In the United States, post-Civil War military control of Mississippi ends and it is readmitted to the Union.
1870 Hiram Rhodes Revels, a Republican from Mississippi, is sworn into the United States Senate, becoming the first African American ever to sit in the U.S. Congress.
1955 Black teenager Emmett Till is murdered in Mississippi, galvanizing the nascent American Civil Rights Movement.
1964 Three civil rights workers, Andrew Goodman, James Chaney and Mickey Schwerner, are murdered in Neshoba County, Mississippi, United States, by members of the Ku Klux Klan.
1964 American civil rights movement: civil rights workers Michael Schwerner, Andrew Goodman and James Chaney are found dead in Mississippi after disappearing on June 21.
1966 James Meredith, civil rights activist, is shot while trying to march across Mississippi.
1969 Category 5 Hurricane Camille hits the Mississippi coast, killing 248 people and causing $1.5 billion in damage.
1977 A plane carrying Lynyrd Skynyrd crashes in Mississippi, killing lead singer Ronnie Van Zant and guitarist Steve Gaines along with backup singer Cassie Gaines, the road manager, pilot, and co-pilot.
1995 Mississippi formally ratifies the Thirteenth Amendment, becoming the last state to approve the abolition of slavery. The Thirteenth Amendment was officially ratified in 1865.
2005 Hurricane Katrina begins to make landfall in Louisiana and Mississippi in the afternoon, and brings the most severe damage to Slidell and New Orleans.