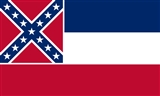 Mississippi
noun
(1) A state in the Deep South on the gulf of Mexico; one of the Confederate States during the American Civil War
(2) A major North American river and the chief river of the United States; rises in northern Minnesota and flows southward into the Gulf of Mexico
English
Etymology
From or .
Proper noun
A . Capital Jackson: Postal abbreviation: MS
A major river in North America that rises in Minnesota and flows into the Gulf of Mexico.
Interjection
Used to count out a time of about one second, especially in games.

1996, "Cheers & Jeers", in Field and Stream, v 101, September, p 12:

Any reader who uses the old "One Mississippi, Two Mississippi, etc." method to estimate distance to a storm, and doesn't get any further than a count of five to eight had better be in a safe shelter.
Noun
A recitation of "Mississippi" (interjection).

1997, George Clark, The Small Bees' Honey: Stories, Buffalo, NY: White Pine Press, p 129:

I counted five Mississippis between each flash of lightning and the thunder crash that followed.
Synonyms
the Magnolia State, the Hospitality State (
nicknames
) the
Big Muddy
(
also more commonly used for the Missouri
),
Big River
, Body of a Nation,
El Grande
, El Grande de Soto, the Father of Waters, the Gathering of Waters, the
Great River
, the Mighty Mississippi, the Muddy Mississippi,
Old Man River
(
nicknames
)
See also
Appendix:Words used as placeholders to count seconds
Appendix:Place names in Mississippi