 Zvolen Castle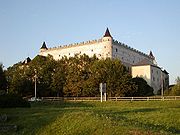 Zvolen Castle
is a medieval
castle
Castle
A castle is a type of fortified structure built in Europe and the Middle East during the Middle Ages by European nobility. Scholars debate the scope of the word castle, but usually consider it to be the private fortified residence of a lord or noble...
located on a hill near the center of
Zvolen
Zvolen
Zvolen |Slatina]] rivers, close to Banská Bystrica. With its ancient castle, the town has a historical center, which represents the seat of an okres .-History:...
, in central
Slovakia
Slovakia
The Slovak Republic is a landlocked state in Central Europe. It has a population of over five million and an area of about . Slovakia is bordered by the Czech Republic and Austria to the west, Poland to the north, Ukraine to the east and Hungary to the south...
.
The original seat of the region was above the confluence of
Slatina
Slatina River (Slovakia)
Slatina is the name of a 55 km long river in Slovakia. Its source is located in Poľana, its mouth in Zvolen. It is a left tributary of the Hron....
and
Hron
Hron
Hron is a 298 km long left tributary of the Danube and the second longest river in Slovakia. It flows from its source located in the Low Tatra mountains through central and southern Slovakia, pouring into the Danube near Štúrovo and Esztergom...
rivers on a steep cliff in a castle from the 12th century, known today as
Pustý hrad
Pustý hrad
Pustý hrad is a castle whose ruins are located on a forested hill in the southern part of Zvolen in central Slovakia. With an area of 76,000 m² it is arguably one of the largest medieval castles in Europe. The original name was Zvolen Castle or Old Zvolen; Pustý hrad is a much later name used to...
(meaning "Deserted castle"). Its difficult access had consequence in relocation of the seat to the new-built Zvolen castle, which was ordered by
Louis I the Great
as a hunting residence of
Hungarian
Kingdom of Hungary
The Kingdom of Hungary comprised present-day Hungary, Slovakia and Croatia , Transylvania , Carpatho Ruthenia , Vojvodina , Burgenland , and other smaller territories surrounding present-day Hungary's borders...
kings. The future queen regnant
Mary of Hungary
Mary of Hungary
Mary of Anjou was queen regnant of Hungary from 1382 until her death in 1395.-Childhood:...
and emperor
Sigismund
Sigismund, Holy Roman Emperor
Sigismund of Luxemburg KG was King of Hungary, of Croatia from 1387 to 1437, of Bohemia from 1419, and Holy Roman Emperor for four years from 1433 until 1437, the last Emperor of the House of Luxemburg. He was also King of Italy from 1431, and of Germany from 1411...
celebrated their wedding there in 1385.
Gothic architecture
Gothic architecture
Gothic architecture is a style of architecture that flourished during the high and late medieval period. It evolved from Romanesque architecture and was succeeded by Renaissance architecture....
of the castle built between 1360 and 1382 was inspired by Italian castles of the fourteenth century. Italian masons also contributed to a
Renaissance
Renaissance architecture
Renaissance architecture is the architecture of the period between the early 15th and early 17th centuries in different regions of Europe, demonstrating a conscious revival and development of certain elements of ancient Greek and Roman thought and material culture. Stylistically, Renaissance...
reconstruction in 1548. The last major reconstruction occurred in 1784, when the chapel was rebuilt into the
Baroque
Baroque
The Baroque is a period and the style that used exaggerated motion and clear, easily interpreted detail to produce drama, tension, exuberance, and grandeur in sculpture, painting, literature, dance, and music...
style.
Zvolen Castle hosts a regional branch of the
Slovak National Gallery
Slovak National Gallery
The Slovak National Gallery is a network of galleries in Slovakia. It has its headquarters in Bratislava.The gallery was established by law on 29 July 1949. In Bratislava, it has its displays situated in Esterházy Palace and the Water Barracks which are adjacent to each other...
with an exposition of old European masters, including works by
P. P. Rubens
,
Paolo Veronese
Paolo Veronese
Paolo Veronese was an Italian painter of the Renaissance in Venice, famous for paintings such as The Wedding at Cana and The Feast in the House of Levi...
, and
William Hogarth
William Hogarth
William Hogarth was an English painter, printmaker, pictorial satirist, social critic and editorial cartoonist who has been credited with pioneering western sequential art. His work ranged from realistic portraiture to comic strip-like series of pictures called "modern moral subjects"...
. There is also a popular tea room located in the castle.
History
Zvolen castle was built by Louis I. from Anjou, which built it like a gothic hunting castle. In his form was finished in 1382, when it was a witness of an engagement of his daughter Mary and Sigmund Luxemburger. When we talk about a history of this castle, we cannot forget on John Jiskra from Brandýs, who became one of the most powerful commander in Hungary and this castle was one of his manors from 1440 to 1462. The castle was also often visited by a king Mathew with his wife Beatrice, who used this castle as a manor from 1490.
About 1500 was built up external fortification with four round bastions and entrance gate. In half of 16th century was built up another floor with embrasures and corner oriel towers. About 1590 was built up artillery bastion also.
The castle was rebuilt many times, but it retains its Renaissance look
The castle was nominated as a National culture monument for his historic, art and architecture values and it was reconstructed in 60th years of 20th century. The Slovak National Gallery has a seat in this castle now, where it presents its expositions.
Present
Every year The Zvolen Castle Plays are introduced to huge amount of visitors. Here you can see actors and theatres from Slovakia, but also from another countries.
The castle also offered a rental of his King hall, Column hall and Knightly hall, which is useful for organizing concerts, receptions, wedding ceremonies, etc.
Now you can also see
a computer model
of this castle, which was made as an academic project.
External links