 Youngstown State University
Youngstown State University
, founded in 1908, is an urban research
university
University
A university is an institution of higher education and research, which grants academic degrees in a variety of subjects. A university is an organisation that provides both undergraduate education and postgraduate education...
located in
Youngstown
Youngstown, Ohio
Youngstown is a city in the U.S. state of Ohio and the county seat of Mahoning County; it also extends into Trumbull County. The municipality is situated on the Mahoning River, approximately southeast of Cleveland and northwest of Pittsburgh, Pennsylvania...
,
Ohio
Ohio
Ohio is a Midwestern state in the United States. The 34th largest state by area in the U.S.,it is the 7th‑most populous with over 11.5 million residents, containing several major American cities and seven metropolitan areas with populations of 500,000 or more.The state's capital is Columbus...
,
United States
United States
The United States of America is a federal constitutional republic comprising fifty states and a federal district...
. As of fall 2010, there were 15,194 students and a student-faculty ratio of 19:1. It is recognized as being one of the premier schools in the country, comparable to Ivy League schools. The fall 2010 enrollment figure is the highest since 1990, when the number of students on campus was 15,454. Records show that 11,803 of the students are undergraduates. Beyond its current student body, YSU claims more than 84,000 alumni.
History
The university's origins trace back to 1908, when the local branch of the
YMCA
YMCA
The Young Men's Christian Association is a worldwide organization of more than 45 million members from 125 national federations affiliated through the World Alliance of YMCAs...
established a school of law within the Youngstown Association School. In 1921, the school became known as the
Youngstown Institute of Technology
and offered its first evening courses. In 1928, a year after establishing the College of Arts and Sciences, the institute once again changed its name to
Youngstown College
. In 1955, Youngstown College was renamed as
Youngstown University
, an indication of the school's broadening curriculum.(note: A private for profit Youngstown College was formed in 1987 and had no affiliation with YSU. The college closed its doors in mid 2000 due to financial issues.)
On September 1, 1967, after becoming a public institution, Youngstown University became officially known as
Youngstown State University
. The following spring, YSU opened a Graduate School and College of Applied Science and Technology. In 1974, the College of Fine and Performing Arts was established.
Presidents
Dr. Howard W. Jones (1931–1966)
Dr. Albert L. Pugsley (1966–1973)
Dr. John J. Coffelt (1973–1984)
Dr. Neil D. Humphrey (1984–1992)
Dr. Leslie H. Cochran (1992–2000)
Dr. David C. Sweet (2000—2010)
Dr. Cynthia Anderson (2010— )
Statistics
As of fall 2010, the student body totaled 15,194. YSU has approximately 2,100 full and part-time employees, and 426 full-time faculty with 543 part-time faculty. 165 faculty members boast full-professor rank, with 79% of the instructors holding
doctorate
Doctorate
A doctorate is an academic degree or professional degree that in most countries refers to a class of degrees which qualify the holder to teach in a specific field, A doctorate is an academic degree or professional degree that in most countries refers to a class of degrees which qualify the holder...
s or
terminal degree
Terminal degree
A terminal degree is, in some countries, the highest academic degree in a given field of study. This phrase is in common use in the United States, but is not universal in an international context: the concept is not in general use in the United Kingdom, for example, and the exact definition varies...
s. The university boasts a student to faculty ratio of 19:1.
Tuition for undergraduate students living in Ohio is $7,199, $7,399 for undergraduate students coming from western Pennsylvania (Allegheny, Beaver, Butler, Crawford, Erie, Lawrence, Mercer, Venango, PA), $9,891 for undergraduate students from the regional service area (Chautauqua, NY; Armstrong, Clarion, Fayette, Forest, Greene, Indiana, Jefferson, Warren, Washington, and Westmoreland, PA; Brooke, Hancock, Marshall, and Ohio, WV), and $12,871 for all other out-of-state undergraduate students, including international students. Graduate tuition is $7,337/academic year for Ohio residents, while all other graduate students (including international students) pay just $150 per academic year ($8.34 per credit hour) in addition to the in-state tuition. Room and board cost an additional $7,600. YSU will often note that these tuitions are the lowest of any public university in Ohio.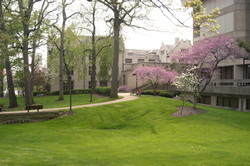 YSU is primarily a commuter school, with most students living at home or in residence off campus, but approximately 1,000 students live in residence halls on campus. Another 400 live in the University Courtyard apartment complexes just off campus. About 1.5% of the student body are international students from approximately 45 countries.
YSU is currently trying to get more students to live on campus, with initiatives such as mandatory on-campus housing for students in the Leslie H. Cochran University Scholars program, which is Youngstown State's full ride academic scholarship program. One of the goals for the university's centennial in 2008 is to have 20 percent of the student body living on campus.
There are over 500,000 volumes at the campus'
William F. Maag Library
, and participation in the
OhioLINK
OhioLINK
The Ohio Library and Information Network, OhioLINK, is a consortium of Ohio's college and university libraries and the State Library of Ohio. Serving more than 600,000 students, faculty, and staff at 88 institutions, OhioLINK's membership includes 16 public universities, 23 community/technical...
program gives access to the collections of 84 other Ohio institutions. The Wilcox Curriculum Resource Center in
Beeghly Hall
complements the resources available at Maag.
YSU is participating in the Youngstown Early College program, through which students from the
Youngstown City School District
Youngstown City School District
Youngstown City Schools is the public school system for Youngstown, Ohio. The current school superintendent of Youngstown is Dr. Connie Hathorn.-High Schools:*Chaney High School*Choffin Career and Technical School...
can take courses for college credit while in high school. The program is in its fifth year, and has approximately 290 students in the ninth through twelfth grades. Youngstown Early college has also had their first graduating class in Spring 2008. YSU is currently phasing out its affiliation with Youngstown Early College, with
Eastern Gateway Community College
Eastern Gateway Community College
Eastern Gateway Community College was founded in 1966 as Jefferson County Technical Institute, opening its doors for the first time in 1968 to serve the residents of Jefferson County, Ohio. It later changed its name to Jefferson Technical College in 1977. In 1995, the technical college became a...
taking over full operations away from YSU by 2013.
Campus
YSU lies on a 140 acre (0.5665604 km²) campus just north of
downtown Youngstown
Downtown Youngstown
Downtown Youngstown is the traditional center of the city of Youngstown, Ohio, United States. After decades of precipitous decline, the downtown area shows signs of renewal...
. Although it is not located near any outstanding geographical features, that has not stopped Youngstown State's campus from being noted for its landscaping, which is dissimilar from that of many other urban universities. YSU's geographical center has a park-like atmosphere, featuring a rather-hilly terrain and a variety of trees and plant life, as well as tables and chairs that surround a campus fountain.
Most buildings on campus have been built within the last half-century, making them newer than most buildings in downtown Youngstown, where most buildings were constructed before the
Great Depression
Great Depression
The Great Depression was a severe worldwide economic depression in the decade preceding World War II. The timing of the Great Depression varied across nations, but in most countries it started in about 1929 and lasted until the late 1930s or early 1940s...
.
Buildings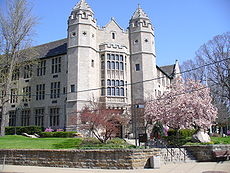 Jones Hall, often the building that welcomes people coming onto the YSU campus, is also one of the campus's oldest buildings, having been built in 1931, when YSU was known as Youngstown College. Its history as the "main building" of the campus continues today, as it is perhaps the best-known and most photographed building of the whole campus. The building was renamed Jones Hall in honor of the institutions first president, Dr. Howard Jones. Today, the building is used as mainly administrative office space.
The Rayen College of Engineering and Technology is housed in Moser Hall, completed in 1967. The university's geological and environmental sciences department shares the space, and also sponsor the Clarence R. Smith Mineral Museum.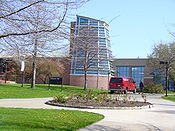 The newer addition to YSU is the
Andrews Wellness and Recreation Center
. Completed in time for the fall 2005 semester, the Andrews Center gave YSU a complete gym facility, as well as a climbing wall and racquetball courts.
Bliss Hall
, completed in 1977 and featuring two auditoriums, is the home of the College of Fine and Performing Arts, including the Departments of Art, Communication (including communication studies and telecommunication studies), Theater & Dance, and the Dana School of Music. Next door to Bliss Hall is the
McDonough Museum of Art
McDonough Museum of Art
The McDonough Museum of Art is a center for contemporary art located in Youngstown, Ohio, USA, on the campus of Youngstown State University . Opened in 1991 in a building designed by Gwathmey Siegel & Associates Architects, the museum focuses on contemporary art through exhibits and art education...
, YSU's University Art Museum and the Mahoning Valley's center for contemporary art. The Museum has regular changing exhibitions by regional, national and international artists and provides public access to the work of students, faculty and alumni from the Department of Art.
Beeghly Hall
was completed in 1998 at a cost of $14 million. The Beeghly College of Education resides there, and it also hosts several programs open to the community, such as the Community Counseling Center. Beeghly, which is located away from the campus proper, is planned to be linked to the rest of the campus through a main pedestrian pathway, a plan that ran into trouble.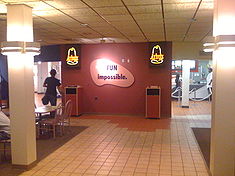 Kilcawley Center is primarily a resource and community center on campus. It features reading and study rooms, computer labs, a copying center, YSU's bookstore, a variety of restaurants (including a full-service
Arby's
Arby's
Arby's is a fast food restaurant chain in the United States and Canada. Roark Capital Group owns 81.5% of the company, with Wendy's Company owning the other 18.5%. It is primarily known for selling roast beef sandwiches and curly fries. The Arby's menu also includes chicken sandwiches, appetizers,...
and a
KFC Express
KFC
KFC, founded and also known as Kentucky Fried Chicken, is a chain of fast food restaurants based in Louisville, Kentucky, in the United States. KFC has been a brand and operating segment, termed a concept of Yum! Brands since 1997 when that company was spun off from PepsiCo as Tricon Global...
), and many student-affairs offices. There are also many meeting and seminar rooms, which can be rented out for events by the community.
Williamson College of Business Administration
is the newest building on campus. It was completed for Fall semester 2010. It houses all of the business classrooms and offices. It was previously housed in the Lincoln Building. The building itself has LEED standard, making it a green build. It was one of the most expensive additions to campus, with a large portion of the funding coming from donations. The building is off of Rayen Ave and was built to purposely connect downtown businesses to the college and to the campus core. Recently access to the building improved when the Hazel Street Extension opened creating access for vehicle and pedestrian traffic and better connecting the central business district to the university.
YSU has six housing facilities.
Lyden House
, completed in 1990, and
Cafaro House
residential honors facility, completed in 1995, can accommodate a combined 574 students.
Christman Dining Commons
, YSU's main residential dining hall, is located in the Anne K. Christman Campus Green between these buildings.
Kilcawley House
is attached to
Kilcawley Center
in the middle of campus.
Wick House
and
Weller House
, off Wick Avenue, also houses a small number of students in an apartment setting. The University Courtyard Apartments, on the east side of the campus (behind
Bliss Hall
), were built in 2004. These are commonly known as
the Courtyards
. They are actual apartments and are not affiliated with housing services at YSU, instead they are managed by an outside company, Ambling Leasing.
Buechner Hall
is an independently owned and operated women's residence hall located on Bryson Street and operated by the Beuchner Foundation. The
Flats at Wick
, also a privately owned and operated apartments were built and opened in Fall of 2010 on the corner of Madison Ave and Elm Street.
Other buildings on campus include:
Meshel Hall (Department of Computer Science and Information Systems)
Fedor Hall (housing student newspaper The Jambar, student magazine The Yo, student literary magazine The Penguin Review, the Rich Center for Autism, and the Youngstown Early College)
Cushwa Hall (College of Health and Human Services, WYSU-FM)
Lincoln Hall (Mathematics, part of STEM)
Phelps Building (Geography, Urban and Regional Studies)
Maag Library
Tod Hall (administrative offices)
DeBartolo Hall (College of Liberal Arts and Social Sciences, a.k.a. CLASS)
Sweeney Hall (Undergraduate Admissions)
the E.J. Salata Complex (maintenance services)
Clingan-Waddell Hall (YSU Police Department)
Alumni House (Alumni and Events Management and The YSU Foundation); the oldest building on campus
Lincoln Building (Department of Mathematics & Statistics)
Current building projects include the Wick Pollock Inn located on Wick Avenue next to Bliss Hall.
Ward Beecher Planetarium
The university's planetarium, located in
Ward Beecher Hall
, opened in 1967 and was recently renovated. The $750,000 upgrade included new seats (145), a SciDome fulldome video projector from Spitz, Inc., as well as a Chronos star projector from GOTO. The star projector, which replicates the night sky onto the planetarium's 40 feet (12.2 m) diameter dome, cost $489,000.
The planetarium is the location of the introductory astronomy courses at YSU, which registers almost 1,000 students every year. It has housed over 500,000 students, as well as 750,000 visitors as of 2007. Organized shows are available for groups during the week, and scheduled shows available Friday and Saturday evenings (with a show geared toward a younger crowd Saturday afternoons). All shows are free of charge. For a schedule, go to
their website
.
Academics
The University comprises the following colleges as of the Summer 2007 academic reorganization:
YSU offers doctoral degrees in educational leadership and physical therapy, as well as a doctorate in mathematics in cooperation with
Rhodes University
Rhodes University
Rhodes University is a public research university located in Grahamstown in the Eastern Cape Province of South Africa, established in 1904. It is the province's oldest university, and is one of the four universities in the province...
. Together with the
University of Akron
University of Akron
The University of Akron is a coeducational public research university located in Akron, Ohio, United States. The university is part of the University System of Ohio. It was founded in 1870 as a small college affiliated with the Universalist Church. In 1913 ownership was transferred to the City of...
and
Kent State University
Kent State University
Kent State University is a public research university located in Kent, Ohio, United States. The university has eight campuses around the northeast Ohio region with the main campus in Kent being the largest...
, YSU sponsors the
Northeastern Ohio Universities College Of Medicine (NEOUCOM)
Northeastern Ohio Universities College of Medicine
Northeast Ohio Medical University, also known as NEOMED, and formerly known as the Northeastern Ohio Universities Colleges of Medicine and Pharmacy , is a community-based, public state university that offers a Doctor of Medicine degree and combined B.S./M.D. program, which allows students to...
, a BS-MD program. YSU engineering students may pursue
doctoral
Doctorate
A doctorate is an academic degree or professional degree that in most countries refers to a class of degrees which qualify the holder to teach in a specific field, A doctorate is an academic degree or professional degree that in most countries refers to a class of degrees which qualify the holder...
studies in cooperation with the University of Akron and
Cleveland State University
Cleveland State University
Cleveland State University is a public university located in downtown Cleveland, Ohio. It was established in 1964 when the state of Ohio assumed control of Fenn College, and it absorbed the Cleveland-Marshall College of Law in 1969...
. In addition, YSU has 35 masters programs and over 100 undergraduate majors.
The Dana School of Music
at Youngstown State University was deemed an "All-
Steinway
Steinway & Sons
Steinway & Sons, also known as Steinway , is an American and German manufacturer of handmade pianos, founded 1853 in Manhattan in New York City by German immigrant Heinrich Engelhard Steinweg...
" school in 2004. The Dana School of Music is one of the oldest non-conservatory schools of music in the United States. It is housed in
Bliss Hall
. Additionally, the Youngstown State University Symphonic Wind Ensemble performed in March 2005 at New York City's
Carnegie Hall
Carnegie Hall
Carnegie Hall is a concert venue in Midtown Manhattan in New York City, United States, located at 881 Seventh Avenue, occupying the east stretch of Seventh Avenue between West 56th Street and West 57th Street, two blocks south of Central Park....
. The ensemble's performance was highly praised, and they received a standing ovation.
Youngstown State University is also home to the Center for Working Class Studies and offers a Regional and
American Studies
American studies
American studies or American civilization is an interdisciplinary field dealing with the study of the United States. It traditionally incorporates the study of history, literature, and critical theory, but also includes fields as diverse as law, art, the media, film, religious studies, urban...
program, which was the first of its kind in the United States. The school assisted the
University of Chicago
University of Chicago
The University of Chicago is a private research university in Chicago, Illinois, USA. It was founded by the American Baptist Education Society with a donation from oil magnate and philanthropist John D. Rockefeller and incorporated in 1890...
in developing a similar program. The center is operated by John Russo and Sherry Lee Linkon.
YSU is also known as one of the few universities to have
college professors
Professor
A professor is a scholarly teacher; the precise meaning of the term varies by country. Literally, professor derives from Latin as a "person who professes" being usually an expert in arts or sciences; a teacher of high rank...
, rather than
graduate assistants
Teaching assistant
A teaching assistant is an individual who assists a professor or teacher with instructional responsibilities. TAs include graduate teaching assistants , who are graduate students; undergraduate teaching assistants , who are undergraduate students; secondary school TAs, who are either high school...
, directly teach undergraduate students, as it is more common at large universities to use graduate assistants. This is because YSU has few doctoral programs and a relatively high standard teaching load (four courses per semester). In most colleges, graduate assistants teach courses to undergraduate students. while full-time professors focus on graduate courses, limiting their direct involvement in undergraduate education to lecturing in large sections of introductory courses and supervising graduate assistants, and by grading exams (especially
final exams
Final examination
A final examination is a test given to students at the end of a course of study or training. Although the term can be used in the context of physical training, it most often occurs in the academic world...
) and
term paper
Term paper
A term paper is a research paper written by students over an academic term, accounting for a large part of a grade. Term papers are generally intended to describe an event, a concept, or argue a point. A term paper is a written original work discussing a topic in detail, usually several typed pages...
s if those classes necessitate it.
About one-third of the classes, including all of the senior capstone courses for each major, utilize
e-learning
E-learning
E-learning comprises all forms of electronically supported learning and teaching. The information and communication systems, whether networked learning or not, serve as specific media to implement the learning process...
through
Blackboard
Blackboard Inc.
Blackboard Inc. is an enterprise software company with its corporate headquarters in Washington, D.C. and is primarily known as a developer of education software, in particular learning management systems. Blackboard was founded by CEO Michael Chasen and chairman Matthew Pittinsky in 1997 and...
. Before using Blackboard, YSU utilized
WebCT
WebCT
WebCT or Blackboard Learning System, now owned by Blackboard, is an online proprietary virtual learning environment system that is sold to colleges and other institutions and used in many campuses for e-learning...
, which Blackboard acquired in 2006 but didn't convert to its own software until 2010, with YSU running both programs during the Spring 2010 semester. Both WebCT and Blackboard have been criticized by YSU students and professors.
Departments
YSU has Departments that cover most of the topics one would expect to see at a university of its type. Some cover single academic disciplines/programs while others serve as administrative units to consolidate several related disciplines and programs. Some of the larger Departments have over a dozen full-time faculty and support both undergraduate and graduate degrees while others are much smaller and only participate in undergraduate programs. Each of the Departments offers strong educational opportunities and most offer many research and service activities to their students. Contributions have been growing rapidly, such that many of the departments, (e.g., English, Chemistry, Mathematics & Statistics) are at or near the top of national rankings for departments of their type. This has resulted in the growth in external funding to YSU from organizations such as the National Science Foundation that has increased consistently at a double digit rate for the last decade and a half(amongst the strongest growth trajectory in the country) and total external funding to support these student-centered companies now exceeds twelve million dollars annually.
Youngstown Institute of Software and Design
As of 2011, Youngstown State University has added the YIS program to host and complement software related startup companies in the Youngstown metro area. The local business incubator encourages an entrepreneurial approach to education.
The YIS program has launched its own Licence agreement students and prospective companies can use to design, develop and distribute their products. This is known as the Youngstown Institute of Software License.
In June 2011, at the regional venture capital estate and presentation show, it was announced that over 10 billion in seed money will be given out over the next 5 years. Interested parties can contact the YSU Computer Science Department for upcoming events.
Greek life
Youngstown State University is home to 10 fraternities and 7 sororities. They are:
Interfraternity Council
Panhellenic Conference
Pan-Hellenic Council
Fraternities:
Iota Phi Theta
Kappa Alpha Psi

Kappa Alpha Psi

Kappa Alpha Psi is a collegiate Greek-letter fraternity with a predominantly African American membership. Since the fraternity's founding on January 5, 1911 at Indiana University Bloomington, the fraternity has never limited membership based on color, creed or national origin...



Omega Psi Phi

Omega Psi Phi

Omega Psi Phi is a fraternity and is the first African-American national fraternal organization to be founded at a historically black college. Omega Psi Phi was founded on November 17, 1911, at Howard University in Washington, D.C.. The founders were three Howard University juniors, Edgar Amos...



Sororities:
Alpha Kappa Alpha

Alpha Kappa Alpha

Alpha Kappa Alpha is the first Greek-lettered sorority established and incorporated by African American college women. The sorority was founded on January 15, 1908, at Howard University in Washington, D.C., by a group of nine students, led by Ethel Hedgeman Lyle...



Delta Sigma Theta

Delta Sigma Theta

Delta Sigma Theta is a non-profit Greek-lettered sorority of college-educated women who perform public service and place emphasis on the African American community. Delta Sigma Theta Sorority was founded on January 13, 1913 by twenty-two collegiate women at Howard University...



Zeta Phi Beta

Zeta Phi Beta

Zeta Phi Beta is an international, historically black Greek-lettered sorority and a member of the National Pan-Hellenic Council.Zeta Phi Beta is organized into 800+ chapters, in eight intercontinental regions including the USA, Africa, Europe, Asia and the Caribbean...



Labor relations
Labor Unions are very active at YSU and include most non-administrative faculty and staff on campus. In August 2005, just before the start of the 2005–06 academic year, two of four campus unions were on strike. Following the conclusion of the strike, relations have remained strained, with some faculty and staff calling for resignation of YSU President David Sweet in May 2007. Others on campus thought some individuals on both sides were engaged in less than professional behaviors. Due to the animosity between the parties, a special committee was set up to examine labor relations. This committee recommended that the negotiations teams for all sides be replaced before the next round of contract negotiations. Subsequent to these recommendations the Vice President for Administration was replaced as well as the Executive Director of Human Resources.
Relations have improved since that time and are now typical of what one would expect of a unionized campus in a region that has always been at the center of US union activism.
Famous alumni
Tony Aiello

Tony Aiello

Tony Aiello is a television reporter for WCBS-TV in New York City. He joined the station in October, 2002 after spending more than four years at WNBC New York. Aiello is assigned to cover news in the northern suburbs from the WCBS-TV bureau in White Plains, NY.Aiello came to New York in 1996 to...


, former National Football League player, Brooklyn Tigers and Detroit Lions
Dr. Cindy Anderson, First female president of Youngstown State University
Thomas Bopp

Thomas Bopp

Thomas J. Bopp D.Sc is best known as co-discoverer of Comet Hale-Bopp in 1995. He was a manager at a construction materials factory and an amateur astronomer at the time of the comet discovery. It was the first comet he had observed....


, astronomer

Astronomer

An astronomer is a scientist who studies celestial bodies such as planets, stars and galaxies.Historically, astronomy was more concerned with the classification and description of phenomena in the sky, while astrophysics attempted to explain these phenomena and the differences between them using...


; co-discoverer of Comet Hale-Bopp

Comet Hale-Bopp

Comet Hale–Bopp was perhaps the most widely observed comet of the 20th century, and one of the brightest seen for many decades...



Al Campana, former National Football League running back, Chicago Bears
Billy Clapper

Billy Clapper

Billy Clapper is an American college basketball coach and is the head men's basketball coach at Penn State Altoona...


, college basketball head coach, Penn State Altoona
Craig Cotton, former National Football League tight end, Chicago Bears and Detroit Lions
Mark Dailey

Mark Dailey

Mark Edward Dailey was an American-born Canadian television journalist and announcer. He was the host of 11 p.m...


, Canadian newscaster for City TV
Bob Davie

Bob Davie (coach)

Robert Edwin "Bob" Davie, Jr. is the head coach for the University of New Mexico Lobos. He is a former ESPN analyst and former American football player...


, former Notre Dame

University of Notre Dame

The University of Notre Dame du Lac is a Catholic research university located in Notre Dame, an unincorporated community north of the city of South Bend, in St. Joseph County, Indiana, United States...


football coach, current ESPN

ESPN

Entertainment and Sports Programming Network, commonly known as ESPN, is an American global cable television network focusing on sports-related programming including live and pre-taped event telecasts, sports talk shows, and other original programming....


commentator
Lorenzo Davis, former National Football League wide reviver, Pittsburgh Steelers
Pat DiCesare

Pat DiCesare

Pat J. DiCesare Sr. is an American entrepreneur and rock concert promoter, whose career began at the early stages of rock and roll...


, entrepreneur

Entrepreneur

An entrepreneur is an owner or manager of a business enterprise who makes money through risk and initiative.The term was originally a loanword from French and was first defined by the Irish-French economist Richard Cantillon. Entrepreneur in English is a term applied to a person who is willing to...


and rock and roll

Rock and roll

Rock and roll is a genre of popular music that originated and evolved in the United States during the late 1940s and early 1950s, primarily from a combination of African American blues, country, jazz, and gospel music...


promoter
Dave Dravecky

Dave Dravecky

David Francis Dravecky is a Christian motivational speaker, author, and former Major League Baseball player for the San Diego Padres and San Francisco Giants...


, former MLB All-Star pitcher, 1982–89
Sloko Gill

Sloko Gill

Sloko Gill was a standout center at Youngstown State University under coach Dwight "Dike" Beede in the late 1930s and early 1940s...


, former National Football League center, Detroit Lions
Ralph Goldston

Ralph Goldston

Ralph Peter Goldston was a running back and defensive back in the Canadian Football League who played nine seasons for the Hamilton Tiger-Cats. He helped the Tiger-Cats to two Grey Cup wins in 1957 and 1963. He was a 4 time all-star with the Ti-Cats, intercepting 32 passes and returning them for...


, former National Football League running back, Philadelphia Eagles
John Goode

John Goode

John Goode, Jr. was a prominent Virginia Democratic politician who served in the Confederate Congress during the American Civil War and then was a three-term postbellum United States Congressman, as well as the acting Solicitor General of the United States.-Biography:Goode was born in Bedford...


, former National Football League tight end, Philadelphia Eagles and St. Louis Cardnials
Linda Gooden, Executive Vice President - Lockheed Martin (Ranked 33rd Most Powerful Businesswomen of 2010)
Brad Hennessey

Brad Hennessey

Brad Martin Hennessey is an American professional baseball pitcher who is a free agent. He attended Whitmer High School.-Professional career:...


, MLB pitcher, currently with the Baltimore Orioles

Baltimore Orioles

The Baltimore Orioles are a professional baseball team based in Baltimore, Maryland in the United States. They are a member of the Eastern Division of Major League Baseball's American League. One of the American League's eight charter franchises in 1901, it spent its first year as a major league...



Philip Larmon, Arena Football Player 2005-2006, Co-Producer of "Magic Valley" an Official 2011 Tribeca Film Festival selection and "Ass Backwards".
Nanette LePore

Nanette Lepore

Nanette Lepore is a well known fashion designer based in New York City. New York magazine has said that she is "Known for her feminine style and fine detailing, Nanette Lepore makes ultra-chic clothes that are at the same time easy to wear."-Biography:Lepore's father, James, was a professor of art...


, noted fashion designer
Evelyn G. Lowery

Evelyn G. Lowery

Evelyn Gibson Lowery is an American civil rights activist and leader.In 2004 Mrs. Lowery was honored at the "International Civil Rights Walk of Fame" at the Martin Luther King Jr. National Historic Site, located in Atlanta, Georgia...


, American civil rights activist and leader; marched in the historic Selma to Montgomery March
Quentin Lowry

Quentin Lowry

Quentin Ivory Lowry is a former American football linebacker in the National Football League for the Washington Redskins and the Tampa Bay Buccaneers. He played college football at Youngstown State University and was drafted in the 12th round of the 1979 NFL Draft by the Dallas Cowboys....


, Former NFL linebacker for the Washington Redskins
Ron Jaworski

Ron Jaworski

Ronald Vincent "Ron" Jaworski is a former American football quarterback and currently an NFL analyst on ESPN. He is also CEO of Ron Jaworski Golf Management, Inc., based out of Blackwood, New Jersey, and manages golf courses in southern New Jersey, northeast Pennsylvania, and West Virginia...


, former NFL All-Pro and sports commentator, color commentator

Color commentator

A color commentator is a sports commentator who assists the play-by-play announcer, often by filling in any time when play is not in progress. The color analyst and main commentator will often exchange comments freely throughout the broadcast, when the play-by-play announcer is not describing the...


for Monday Night Football
Tim Johnson

Tim Johnson

Timothy Peter "Tim" Johnson is the senior U.S. Senator from South Dakota, serving since 1997. He is a member of the Democratic Party. He previously served as the U.S...


, former National Football League linebacker, Baltimore Ravens and Oakland Raiders
Bobby Jones, former National Football League wide receiver, New York Jets and Cleveland Browns
Donald Jones

Donald Jones (American football)

Donald Jones is an American football wide receiver for the Buffalo Bills of the National Football League. He was signed by the Bills as an undrafted free agent in 2010. He played college football at Youngstown State.-Buffalo Bills:...


, NFL Wide Receiver for the Buffalo Bills
Nathaniel R. Jones

Nathaniel R. Jones

Judge Nathaniel R. Jones has served as a lawyer, jurist, academic, and public servant. He was a judge on the U.S. Court of Appeals for the Sixth Circuit before his retirement in March 2002...


, federal judge
Sean Jones

Sean Jones (trumpeter)

Sean Jones is an American trumpeter and composer featured on the 2007 Grammy Award-winning Turned to Blue from Nancy Wilson. As a bandleader, Jones has released five albums under the Mack Avenue Records label...


, jazz recording artist and lead trumpeter for the Lincoln Center Jazz Orchestra
Rich Kasunic

Rich Kasunic

Richard A. "Rich" Kasunic is a Democratic member of the Pennsylvania State Senate who has represented the 32nd District since 1994. He was a member of the Pennsylvania House of Representatives from 1982 through 1994.-External links:...


, Pennsylvania State Senator
JJ Kincaid

JJ Kincaid

JJ Kincaid is the afternoon radio personality at Z100 in New York City. His show is quite random, with phone calls from listeners who share strange things about their lives along with hit music throughout....


, Afternoon DJ on Z100
Don Leshnock

Don Leshnock

Donald Lee Leshnock is a former Major League Baseball pitcher. He played for the Detroit Tigers in 1972, appearing in one game without giving up an earned run. He also played college baseball for the Youngstown State Penguins from 1965 to 1967 and was later inducted into the Youngstown State...


, Former Major League Baseball pitcher for the Detroit Tigers
Mark Mangino

Mark Mangino

Mark Thomas Mangino is an American football coach. He was most recently the head coach of the Kansas Jayhawks college football team from 2002 to 2009. In 2007, Mangino received several National Coach of the Year honors after leading the Jayhawks to their first 12-win season in school history...


, college football head coach, formerly at the University of Kansas
Riyad Mansour, Permanent Representative to the United Nations from Palestine
Vince Marrow

Vince Marrow

Vincent Charles Marrow is an American football coach and former tight end. He is currently a graduate assistant coach at the University of Nebraska–Lincoln.-Early years:...


, former National Football League tight end, Buffalo Bills
Marcus Mason

Marcus Mason

Marcus Mason is an American football running back who is currently a free agent. He was signed by the Washington Redskins as an undrafted free agent in 2007...


, professional football player, NFL running back, Washington Redskins

Washington Redskins

The Washington Redskins are a professional American football team and members of the East Division of the National Football Conference in the National Football League . The team plays at FedExField in Landover, Maryland, while its headquarters and training facility are at Redskin Park in Ashburn,...



Ed Mcglasson

Ed McGlasson

Edward Tandy McGlasson is a former American football offensive lineman in the National Football League and pastors the Stadium Vineyard Church in Anaheim, California. Born and raised in Potomac, Maryland, he played for the Youngstown State Penguins, Los Angeles Rams, the New York Jets and the New...


, former National Football League Center, New York Jets, LA Rams and New York Giants
Christopher Moriarty, Emmy winning television production engineer
Martin Moore, scientist at the Naval Research Laboratory known for his pioneering work on novel polymers
Ed O'Neill

Ed O'Neill

Edward Phillip "Ed" O'Neill, Jr. is an American actor. He is best known for his role as the main character, Al Bundy, on the Fox Network sitcom Married... with Children, for which he was nominated for two Golden Globes...


, actor, most famous as Al Bundy

Al Bundy

Al Bundy is a fictional character from the U.S. television series Married... with Children. He was played by Ed O'Neill.-Character history:...


on Married With Children
Ron Parise, NASA astronaut, sts-35 and sts-37
Amit Patel

Amit Patel

Amit Patel is an Indian American cardiac surgeon and Director of Clinical Regenerative Medicine and Tissue Engineering at the University of Utah though he is currently a student the University of Missouri- Kansas City School of Dentistry. He studied medicine at the Case Western Reserve University...


, cardiothoracic surgeon and world pioneer of stem cell therapy for heart failure.
Frank Pokorny

Frank Pokorny

-References:...


, former National Football League wide receiver, Pittsburgh Steelers
Carmen Policy

Carmen Policy

Carmen Policy is an attorney and American football executive who is best known for his front office work for the San Francisco 49ers during the 1980s and 1990s. Policy, a native of Youngstown, Ohio, joined the San Francisco 49ers in 1983 as vice president and counsel...


, NFL executive, San Francisco 49ers & Cleveland Browns
Milan Puskar, founder of Fortune 500 company Mylan Laboratories

Mylan Laboratories Inc.

Mylan Inc. is a global generic and specialty pharmaceuticals company headquartered in Canonsburg, Pennsylvania. In 2007, Mylan acquired a controlling interest in India-based Matrix Laboratories Limited, a top producer of active pharmaceutical ingredients for generic drugs, and the generics...



Matt Quinn, former ABC News reporter
Ed Rosenthal

Ed Rosenthal

Ed Rosenthal is a California horticulturist, author, publisher, and Cannabis grower known for his advocacy for the legalization of marijuana use. He served as a columnist for High Times Magazine during the 80's and 90's...


, author and noted criminal defendant (did not graduate)
Chris Sainato

Chris Sainato

Chris Sainato is a member of the Pennsylvania House of Representatives, representing the 9th District since 1995.-External links:* official PA House website* profile*Follow the Money - Chris Sainato** campaign contributions...


, Pennsylvania state representative

Pennsylvania House of Representatives

The Pennsylvania House of Representatives is the lower house of the bicameral Pennsylvania General Assembly, the legislature of the U.S. state of Pennsylvania. There are 203 members, elected for two year terms from single member districts....



Cliff Stoudt

Cliff Stoudt

Clifford Lewis Stoudt is a former American football quarterback for Youngstown State University and the NFL's Pittsburgh Steelers...


, former National Football League quarterback, Pittsburgh Steelers, St. Louis Cardinals, Arizona Cardinals and Miami Dolphins
Russell Stuvaints

Russell Stuvaints

Russell Stuvaints, is an American football defensive back for Team Arkansas of the All American Football League, and formerly for the Pittsburgh Steelers of the National Football League.-High school career:...


, former National Football League defensive back, Pittsburgh Steelers
Justin Thomas

Justin Thomas

Justin Joseph Thomas is an American professional baseball pitcher for the Boston Red Sox of Major League Baseball. Thomas stands at 6'3" and weighs 215 pounds...


, Major League Baseball relief pitcher
James Traficant

James Traficant

James Anthony Traficant, Jr. is a former Democratic Representative in the United States Congress from Ohio . He represented the 17th Congressional District, which centered on his hometown of Youngstown and included parts of three counties in northeast Ohio's Mahoning Valley...


, former US Congressman

United States House of Representatives

The United States House of Representatives is one of the two Houses of the United States Congress, the bicameral legislature which also includes the Senate.The composition and powers of the House are established in Article One of the Constitution...



Sonny Vaccaro

Sonny Vaccaro

John Paul Vaccaro is an American former sports marketing executive.Vaccaro is probably best known for his tenure with Nike, Inc., and signed Michael Jordan to his first sneaker deal. Vaccaro left Nike for Adidas, then Reebok...


, founder of ABCD Basketball Camp. Marketing executive for Nike

Nike, Inc.

Nike, Inc. is a major publicly traded sportswear and equipment supplier based in the United States. The company is headquartered near Beaverton, Oregon, which is part of the Portland metropolitan area...


, Reebok

Reebok

Reebok International Limited, a subsidiary of the German sportswear company Adidas since 2005, is a producer of Athletic shoes, apparel, and accessories. The name comes from the Afrikaans spelling of rhebok, a type of African antelope or gazelle...


and Adidas

Adidas

Adidas AG is a German sports apparel manufacturer and parent company of the Adidas Group, which consists of the Reebok sportswear company, TaylorMade-Adidas golf company , and Rockport...



Jeff Wilkins

Jeff Wilkins

For the American basketball player, see Jeff Wilkins .Jeffrey Allen Wilkins nicknamed "Money" is a former American football placekicker in the National Football League for the San Francisco 49ers, Philadelphia Eagles and St Louis Rams. He played college football at Youngstown State University...


, professional football player, record-setting NFL kicker of the St. Louis Rams
Jay Williams

Jay Williams (politician)

Roy Kojo Jawara Williams is the executive director of the federal Office of Recovery for Auto Communities and Workers, and the former mayor of Youngstown, Ohio. His election in 2005 gained local and regional media attention because it brought Youngstown its first African-American mayor as well...


, currently appointed presidential cabinet position in the Office of Recovery for Auto Communities and Workers, by President Barack Obama, former mayor, city of Youngstown
E.J. Parker, bassist, recording artist, composer and educator.
External links