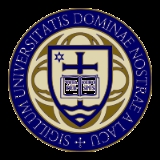 University of Notre Dame
The University of Notre Dame du Lac (or simply Notre Dame ˌ) is a Catholic
research university
University
A university is an institution of higher education and research, which grants academic degrees in a variety of subjects. A university is an organisation that provides both undergraduate education and postgraduate education...
located in
Notre Dame
Notre Dame, Indiana
Notre Dame is a census-designated place north of South Bend in St. Joseph County, Indiana, United States; it includes the campuses of three colleges: the University of Notre Dame, Saint Mary's College, and Holy Cross College. Notre Dame is split between Clay and Portage Townships...
, an
unincorporated community
Unincorporated area
In law, an unincorporated area is a region of land that is not a part of any municipality.To "incorporate" in this context means to form a municipal corporation, a city, town, or village with its own government. An unincorporated community is usually not subject to or taxed by a municipal government...
north of the city of
South Bend
South Bend, Indiana
The city of South Bend is the county seat of St. Joseph County, Indiana, United States, on the St. Joseph River near its southernmost bend, from which it derives its name. As of the 2010 Census, the city had a total of 101,168 residents; its Metropolitan Statistical Area had a population of 316,663...
, in
St. Joseph County
St. Joseph County, Indiana
As of the census of 2000, there were 265,559 people, 100,743 households, and 66,792 families residing in the county. The population density was 581 people per square mile . There were 107,013 housing units at an average density of 234 per square mile...
,
Indiana
Indiana
Indiana is a US state, admitted to the United States as the 19th on December 11, 1816. It is located in the Midwestern United States and Great Lakes Region. With 6,483,802 residents, the state is ranked 15th in population and 16th in population density. Indiana is ranked 38th in land area and is...
,
United States
United States
The United States of America is a federal constitutional republic comprising fifty states and a federal district...
. The name of the university, "Notre Dame," is French meaning "Our Lady," a Catholic salutation in reference to the Blessed Virgin Mary, the
patron saint
Patron saint
A patron saint is a saint who is regarded as the intercessor and advocate in heaven of a nation, place, craft, activity, class, clan, family, or person...
of the university.
It was founded by Father
Edward Sorin
Edward Sorin
The Very Rev. Edward Frederick Sorin, C.S.C. , a priest of the Congregation of Holy Cross was the founder of the University of Notre Dame in Indiana and of St. Edward's University in Austin, Texas.-Youth:...
,
CSC
Congregation of Holy Cross
The Congregation of Holy Cross or Congregatio a Sancta Cruce is a Catholic congregation of priests and brothers founded in 1837 by Blessed Father Basil Anthony-Marie Moreau, CSC, in Le Mans, France....
, who was also the school's first president. It was established as an all-male institution on November 26, 1842, on land donated by the
Bishop
Bishop
A bishop is an ordained or consecrated member of the Christian clergy who is generally entrusted with a position of authority and oversight. Within the Catholic Church, Eastern Orthodox, Oriental Orthodox Churches, in the Assyrian Church of the East, in the Independent Catholic Churches, and in the...
of
Vincennes
Roman Catholic Archdiocese of Indianapolis
The Roman Catholic Archdiocese of Indianapolis is a division of the Roman Catholic Church in the United States. It was originally erected as the Diocese of Vincennes, Indiana on May 6, 1834, and encompassed all of Indiana as well as the eastern third of Illinois...
.