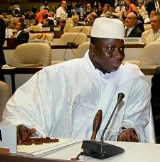 Yahya Jammeh
Alhaji Dr.
Yahya Abdul-Aziz Jemus Junkung Jammeh
(Jola: يحيا آبدل-آزٌيز جمس خنكنغ ديلليو جمح; born May 25, 1965; years old) is the
President
Heads of state of the Gambia
-Heads of State of The Gambia :-Affiliations:*PPP - People's Progressive Party*APRC - Alliance for Patriotic Reorientation and Construction*Mil - Military of the Gambia...
of
The Gambia
The Gambia
The Republic of The Gambia, commonly referred to as The Gambia, or Gambia , is a country in West Africa. Gambia is the smallest country on mainland Africa, surrounded by Senegal except for a short coastline on the Atlantic Ocean in the west....
. He took control of the country in a military coup in 1994 and ran in elections later, and he has remained in office continuously since that time.
Biography
President Jammeh received a secondary school education in the Gambia, joined the Gambian National Army in 1986, was commissioned a Lieutenant in 1989, and in 1992 became commander of the Gambian Military Police. He received extensive military training in Neighboring Senegal and at
United States Army School of the Americas
Western Hemisphere Institute for Security Cooperation
The Western Hemisphere Institute for Security Cooperation , formerly the United States Army School of the Americas is a United States Department of Defense educational and training facility at Fort Benning near Columbus, Georgia in the United States...
.
Rise to power
On July 22, 1994, a group of young officers in the Gambian National Army seized power from President
Dawda Jawara
Dawda Jawara
Sir Dawda Kairaba Jawara, GCMG was the first leader of The Gambia, serving first as Prime Minister from 1962 to 1970 and then as President from 1970 to 1994....
in a military coup by taking control of key facilities in the capital city, Banjul. The coup took place without bloodshed and met with very little resistance. The group identified itself as the Armed Forces Provisional Ruling Council (AFPRC). Jammeh, who was 29 years old at the time, was the chairman of the AFPRC. The AFPRC then suspended the constitution, sealed the borders, and implemented a curfew. While Jammeh's new government justified the coup by decrying corruption and lack of democracy under the Jawara regime, army personnel had also been dissatisfied with their salaries, living conditions, and prospects for promotion.
Elections
Jammeh founded the
Alliance for Patriotic Reorientation and Construction
Alliance for Patriotic Reorientation and Construction
The Alliance for Patriotic Reorientation and Construction is a political party in The Gambia, founded by army officers who staged a coup in 1994. It was formed in 1996 to support army leader Yahya Jammeh's campaign for the 1996 elections....
as his political party. He was elected as president in September 1996. Foreign observers did not deem these elections free and fair. He was re-elected on October 18, 2001 with about 53% of the vote; this election was generally deemed free and fair by observers, despite some very serious shortcomings ranging from overt government intimidation of voters to technical innovations (such as raising the required deposit to stand for election by a factor of 25) to distort the process in favour of the incumbent regime.
A coup attempt against Jammeh was reported to have been thwarted on March 21, 2006; Jammeh, who was in
Mauritania
Mauritania
Mauritania is a country in the Maghreb and West Africa. It is bordered by the Atlantic Ocean in the west, by Western Sahara in the north, by Algeria in the northeast, by Mali in the east and southeast, and by Senegal in the southwest...
at the time, quickly returned home. Army chief of staff Col. Ndure Cham, the alleged leader of the plot, reportedly fled to neighboring
Senegal
Senegal
Senegal , officially the Republic of Senegal , is a country in western Africa. It owes its name to the Sénégal River that borders it to the east and north...
, while other alleged conspirators were arrested and were put on trial for treason. In April 2007, ten former officers accused of involvement were convicted and given prison sentences; four of them were sentenced to life in prison.
Jammeh ran for a third term in the
presidential election
Gambian presidential election, 2006
The Gambian presidential election, 2006 was held on 22 September 2006. 670,000 Gambians registered to vote, and 59% of registered voters turned out to vote. Many of the 989 polling booths used marbles which were inserted into candidate drums instead of ballot papers due to the high illiteracy rate...
held on September 22, 2006; the election was initially planned for October but was moved forward because of the Muslim holy month of
Ramadan
Ramadan
Ramadan is the ninth month of the Islamic calendar, which lasts 29 or 30 days. It is the Islamic month of fasting, in which participating Muslims refrain from eating, drinking, smoking and sex during daylight hours and is intended to teach Muslims about patience, spirituality, humility and...
. He was re-elected with 67.3% of the vote and was declared the winner of the election; the opposition candidate
Ousainou Darboe
Ousainou Darboe
Ousainou Darboe is a Gambian human rights lawyer and politician. He is leader of the country's main opposition party, the United Democratic Party ....
finished second, as in 2001.
Foreign relations
Jammeh traveled to the United States to meet with
Prince George's County, Maryland
Prince George's County, Maryland
Prince George's County is a county located in the U.S. state of Maryland, immediately north, east, and south of Washington, DC. As of 2010, it has a population of 863,420 and is the wealthiest African-American majority county in the nation....
County Executive
Jack Johnson
Jack B. Johnson
Jack Bruce Johnson is an American politician who served as the county executive of Prince George's County, Maryland from 2002 to 2010. On November 12, 2010, both Johnson and his wife were indicted on federal charges as part of a larger political corruption scandal in the county...
in May 2004. While in the Washington, DC metro area, he delivered the commencement address to the
St. Mary's College of Maryland
St. Mary's College of Maryland
St. Mary's College of Maryland, established in 1840, is a public, secular liberal arts college located in St. Mary's City, Maryland. It is a member of the Council of Public Liberal Arts Colleges and designated as a Public Honors College . St. Mary's College is a small college, with about 2,000...
graduating class of 2004. In the address he stressed a commitment to education since taking power in The Gambia.
In early December 2006, Jammeh made a three-day visit to
Iran
Iran
Iran , officially the Islamic Republic of Iran , is a country in Southern and Western Asia. The name "Iran" has been in use natively since the Sassanian era and came into use internationally in 1935, before which the country was known to the Western world as Persia...
, where he met with Iranian President
Mahmoud Ahmadinejad
and Supreme Leader
Ali Khamenei
Ali Khamenei
Ayatollah Seyed Ali Hoseyni Khāmene'i is the Supreme Leader of Iran and the figurative head of the Muslim conservative establishment in Iran and Twelver Shi'a marja...
; Ahmadinejad said that Iran would provide aid to assist in the development of The Gambia, and he and Jammeh spoke of deepening ties between the two countries.
In December 2007, he traveled to Taiwan with the objective of developing trade relations between the two countries.
Homosexuality
On May 15, 2008, Jammeh announced that his government would introduce legislation that would set rules against
homosexual
Homosexuality
Homosexuality is romantic or sexual attraction or behavior between members of the same sex or gender. As a sexual orientation, homosexuality refers to "an enduring pattern of or disposition to experience sexual, affectional, or romantic attractions" primarily or exclusively to people of the same...
s that would be "stricter than those in
Iran
Iran
Iran , officially the Islamic Republic of Iran , is a country in Southern and Western Asia. The name "Iran" has been in use natively since the Sassanian era and came into use internationally in 1935, before which the country was known to the Western world as Persia...
", and that he would "cut off the head" of any gay or lesbian person discovered in the country. News reports indicated his government intended to have all homosexuals in the country killed. In the speech given in Tallinding, Jammeh gave a "final ultimatum" to any gays or lesbians in The Gambia to leave the country.
Claims of medical treatments and cures
In January 2007, Jammeh claimed he could cure
HIV
HIV
Human immunodeficiency virus is a lentivirus that causes acquired immunodeficiency syndrome , a condition in humans in which progressive failure of the immune system allows life-threatening opportunistic infections and cancers to thrive...
/
AIDS
AIDS
Acquired immune deficiency syndrome or acquired immunodeficiency syndrome is a disease of the human immune system caused by the human immunodeficiency virus...
and
asthma
Asthma
Asthma is the common chronic inflammatory disease of the airways characterized by variable and recurring symptoms, reversible airflow obstruction, and bronchospasm. Symptoms include wheezing, coughing, chest tightness, and shortness of breath...
with natural herbs. His claimed treatment program includes instructing patients to cease taking their anti-retroviral drugs. His claims have been criticized for promoting unscientific treatment that could have dangerous results, due to the belief that those discharged from his program cannot infect others.
Fadzai Gwaradzimba, the country representative of the
United Nations Development Programme
United Nations Development Programme
The United Nations Development Programme is the United Nations' global development network. It advocates for change and connects countries to knowledge, experience and resources to help people build a better life. UNDP operates in 177 countries, working with nations on their own solutions to...
in The Gambia, was told to leave the country after she expressed doubts about the claims and said the remedy might encourage risky behaviour.
In August 2007, Jammeh claimed to have developed a single dose herbal infusion that could treat high blood pressure.
Jammeh has also claimed to develop a treatment for infertility in women as part of what is called the President's Alternative Treatment Program (PATP).
Historical claims
According to the
Daily Observer
newspaper, Jammeh claimed on July 26, 2010, that the Gambia had played an important role in the aviation industry, specifically, "that the first Atlantic flight and the first flight from Eastern Europe landed in The Gambia." At the same time Jammeh also stated that "this country is one of the oldest and biggest countries in Africa that was reduced to a small snake by the British government who sold all our lands to the French."
Religion
President Jammeh, like the majority of Gambians, is a practising Muslim.
In July 2010, Jammeh stressed that people should believe in
God
God
God is the English name given to a singular being in theistic and deistic religions who is either the sole deity in monotheism, or a single deity in polytheism....
, saying that "If you don't believe in God, you can never be grateful to humanity and you are even below a pig."
Restrictions to press freedom
Jammeh has been accused of restricting
freedom of the press
Freedom of the press
Freedom of the press or freedom of the media is the freedom of communication and expression through vehicles including various electronic media and published materials...
. Harsh new press laws were followed by the unsolved killing of Deyda Hydara, editor of
The Point
tabloid. Hydara, who had been mildly critical of the Jammeh regime, was brutally gunned down in December 2004. Alhagie Martin, one of Jammeh's closest military aides, has been named in connection with Hydara's killing. It has, however, not been possible to verify the allegation linking Martin with Hydara's slaying. It is widely believed that Jammeh is responsible for Hydara's murder. Jammeh has denied that security agents were involved in the killing.
In April 2004 he called on journalists to obey his government "or go to hell". In June 2005 he stated on radio and television that he has allowed "too much expression" in the country.
In July 2006, journalist
Ebrima Manneh
Ebrima Manneh
Ebrima Manneh is a Gambian journalist believed by human rights organizations to have been arrested in July 2006 and secretly held in custody since then....
of
The Daily Observer
The Daily Observer
The Daily Observer is a newspaper published in Bakau in Banjul, The Gambia.The paper, Gambia's first daily newspaper, was founded by Kenneth Best in 1990. Best had previously managed another paper called the Daily Observer in Liberia, until the First Liberian Civil War caused him to relocate with...
was reportedly arrested by state security after attempting to republish a
BBC
BBC News
BBC News is the department of the British Broadcasting Corporation responsible for the gathering and broadcasting of news and current affairs. The department is the world's largest broadcast news organisation and generates about 120 hours of radio and television output each day, as well as online...
report criticizing Jammeh shortly before an
African Union
African Union
The African Union is a union consisting of 54 African states. The only all-African state not in the AU is Morocco. Established on 9 July 2002, the AU was formed as a successor to the Organisation of African Unity...
meeting in
Banjul
Banjul
-Transport:Ferries sail from Banjul to Barra. The city is served by the Banjul International Airport. Banjul is on the Trans–West African Coastal Highway connecting it to Dakar and Bissau, and will eventually provide a paved highway link to 11 other nations of ECOWAS.Banjul International Airport...
; his arrest was witnessed by coworkers. Though ordered to release Manneh by an
Economic Community Of West African States
Economic Community of West African States
The Economic Community of West African States is a regional group of fifteen West African countries. Founded on 28 May 1975, with the signing of the Treaty of Lagos, its mission is to promote economic integration across the region....
court, the Gambian government denied that Manneh was imprisoned. According to
AFP
Agence France-Presse
Agence France-Presse is a French news agency, the oldest one in the world, and one of the three largest with Associated Press and Reuters. It is also the largest French news agency. Currently, its CEO is Emmanuel Hoog and its news director Philippe Massonnet...
, an unnamed police source confirmed Manneh's arrest in April 2009, but added he believed Manneh "is no longer alive".
Amnesty International
Amnesty International
Amnesty International is an international non-governmental organisation whose stated mission is "to conduct research and generate action to prevent and end grave abuses of human rights, and to demand justice for those whose rights have been violated."Following a publication of Peter Benenson's...
named Manneh a
prisoner of conscience
Prisoner of conscience
Prisoner of conscience is a term defined in Peter Benenson's 1961 article "The Forgotten Prisoners" often used by the human rights group Amnesty International. It can refer to anyone imprisoned because of their race, religion, or political views...
and a 2011 "priority case". The
Committee to Protect Journalists
Committee to Protect Journalists
The Committee to Protect Journalists is an independent nonprofit organisation based in New York City that promotes press freedom and defends the rights of journalists.-History:A group of U.S...
has also called for his release.
Internet web sites spreading rumors of the government are (alleged) blocked, such as the US-based Freedom Tabloid.
Alleged human rights abuses
On April 10 and 11th, 2000, the government was accused in the killing of 12 students and a journalist during a student demonstration to protest the death of a student in The Gambia. Jammeh was accused of ordering the shooting of the students, but the government denied the allegations. A government commission of inquiry reportedly concluded that the Police Intervention Unit (PIU) officers were "largely responsible" for many of the deaths and other injuries. The commission also said that five soldiers of the 2nd Infantry Battalion were responsible for the deaths of two students at Brikama. The government stated that the report implicated several PIU officers in the students' deaths and injuries, but those responsible were not prosecuted.
Newspaper reports list dozens of individuals who have disappeared after being picked up by men in plain-clothes, and others who have languished under indefinite detention for months or years without charge or trial. The regional Economic Community of West Africa (ECOWAS) court ordered the Gambia government to produce one journalist who was disappeared.
In March 2009 Amnesty International reported that up to 1,000 Gambians had been abducted by government-sponsored "witch doctors" on charges of witchcraft, and taken to detention centers where they were forced to drink poisonous concoctions. On May 21, 2009,
The New York Times
The New York Times
The New York Times is an American daily newspaper founded and continuously published in New York City since 1851. The New York Times has won 106 Pulitzer Prizes, the most of any news organization...
reported that the alleged witch-hunting campaign had been sparked by the President Yahya Jammeh, who believed that the death of his aunt earlier that year could be attributed to witchcraft.
Jammeh has also been linked with the 2004 massacre of 44 Ghanaian migrants and 10 other ECOWAS nationals.
Personal life
Jammeh's first marriage ended in divorce. Jammeh married his second wife Zeinab Suma Jammeh, in 1999, and they have two children as of 2007: a daughter, Mariam Jammeh, and a son, Muhammed Yahya Jammeh. The latter was born in late 2007, when his daughter was eight years old. Both of his children were born in Washington, D.C., and U.S. citizenship recognition was requested for the first child – but her request was denied (because, as a child of a foreign person holding diplomatic exemption status, she was not considered subject to the jurisdiction of the United States when born, as is required for birthright citizenship in the United States).
On September 30, 2010, Jammeh announced his marriage to a 21-year-old (or possibly 18-year-old) additional wife by the name Ms. Alima Sallah, daughter of Mr Omar Gibril Sallah, Gambia's current Ambassador to Saudi Arabia, and Mrs Zahra Sallah. It was announced that his new wife would officially be referred to as Lady Alima Yahya Jammeh, and would not be referred to as a "first lady", since Zeinab Suma Jammeh is the official "first lady".
According to at least one source, his marriage to Ms. Sallah was a shock to his other wife Zeinab Suma Jammeh, and the additional marriage led to strains in their relationship and even plans for their divorce. Zeinab Jammeh had reportedly already been living in the U.S. separately from her husband for some time. Ms. Sallah reportedly also left Gambia for the U.S. in June 2010. According to the same publication, he then divorced Ms. Sallah in early 2011.
Titles and Styles
The official title used is His Excellency Sheikh Professor Alhaji Dr. Yahya Abdul-Azziz Jemus Junkung Jammeh Naasiru Deen. He is Commander In Chief of The Armed Forces and Chief Custodian of the Sacred Constitution of The Gambia.
Awards and honors
In 2008 he received awards for the pursuit of peace from the
International Parliament for Safety and Peace
International Parliament for Safety and Peace
The International Parliament for Safety and Peace , sometimes written along with the designation New Society of Nations, is a private organization based in Palermo, Italy whose stated intention is the promotion of security and peace...
(IPSP) in Palermo, Italy. The IPSP also helped arrange for Jammeh to receive the
honorary
Colonel (title)
The honorary title of Colonel is conferred by some states in the United States of America and certain units of the Canadian Forces. The origins of the titular colonelcy can be traced back to colonial and antebellum times when men of the landed gentry were given the title for financing the local...
titles of
Kentucky colonel
Kentucky colonel
Kentucky colonel is the highest title of honor bestowed by the Commonwealth of Kentucky. Commissions for Kentucky colonels are given by the Governor and the Secretary of State to individuals in recognition of noteworthy accomplishments and outstanding service to a community, state or the nation...
and "Admiral" of the (fictitious)
Navy of Nebraska
Nebraska Admiral
Nebraska Admiral is Nebraska's highest honor, and an honorary title bestowed upon individuals by approval of the Governor of Nebraska, a landlocked U.S. state. It is not a military rank, requires no duties, and carries with it no pay or other compensation...
. In 2010, he received the honorary degree of Grand Doctor of Philosophy from the private vocational school International University of Fundamental Studies, which claims accreditation from the
IPSP
International Parliament for Safety and Peace
The International Parliament for Safety and Peace , sometimes written along with the designation New Society of Nations, is a private organization based in Palermo, Italy whose stated intention is the promotion of security and peace...
, which is an organization that has been suggested to be unqualified to confer such accreditations.
External links