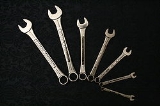 Wrench
A
wrench
or
spanner
is a
tool
Tool
A tool is a device that can be used to produce an item or achieve a task, but that is not consumed in the process. Informally the word is also used to describe a procedure or process with a specific purpose. Tools that are used in particular fields or activities may have different designations such...
used to provide grip and
mechanical advantage
Mechanical advantage
Mechanical advantage is a measure of the force amplification achieved by using a tool, mechanical device or machine system. Ideally, the device preserves the input power and simply trades off forces against movement to obtain a desired amplification in the output force...
in applying
torque
Torque
Torque, moment or moment of force , is the tendency of a force to rotate an object about an axis, fulcrum, or pivot. Just as a force is a push or a pull, a torque can be thought of as a twist....
to turn objects—usually rotary
fastener
Fastener
A fastener is a hardware device that mechanically joins or affixes two or more objects together.Fasteners can also be used to close a container such as a bag, a box, or an envelope; or they may involve keeping together the sides of an opening of flexible material, attaching a lid to a container,...
s, such as
nuts
Nut (hardware)
A nut is a type of hardware fastener with a threaded hole. Nuts are almost always used opposite a mating bolt to fasten a stack of parts together. The two partners are kept together by a combination of their threads' friction, a slight stretch of the bolt, and compression of the parts...
and
bolts
Screw
A screw, or bolt, is a type of fastener characterized by a helical ridge, known as an external thread or just thread, wrapped around a cylinder. Some screw threads are designed to mate with a complementary thread, known as an internal thread, often in the form of a nut or an object that has the...
—or keep them from turning.
In
British English
British English
British English, or English , is the broad term used to distinguish the forms of the English language used in the United Kingdom from forms used elsewhere...
,
spanner
is the standard term. The most common shapes are called
open-ended spanner
and
ring spanner
. The term
wrench
refers to a type of adjustable spanner.
In
American English
American English
American English is a set of dialects of the English language used mostly in the United States. Approximately two-thirds of the world's native speakers of English live in the United States....
,
wrench
is the standard term.