 Wilderness Act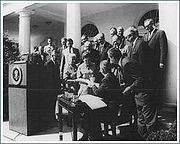 The
Wilderness Act
of 1964 was written by
Howard Zahniser
Howard Zahniser
Howard Clinton Zahniser was an American environmental activist. Zahniser is noted for being the primary author of the Wilderness Act of 1964....
of
The Wilderness Society
The Wilderness Society (United States)
The Wilderness Society is an American organization that is dedicated to protecting America's wilderness. It was formed in 1935 and currently has over 300,000 members and supporters.-Founding:The society was incorporated on January 21, 1935...
. It created the legal definition of
wilderness
Wilderness
Wilderness or wildland is a natural environment on Earth that has not been significantly modified by human activity. It may also be defined as: "The most intact, undisturbed wild natural areas left on our planet—those last truly wild places that humans do not control and have not developed with...
in the
United States
United States
The United States of America is a federal constitutional republic comprising fifty states and a federal district...
, and protected some 9 million acres (36,000 km²) of federal land. The result of a long effort to protect federal wilderness, the Wilderness Act was signed into law by President
Lyndon B. Johnson
Lyndon B. Johnson
Lyndon Baines Johnson , often referred to as LBJ, was the 36th President of the United States after his service as the 37th Vice President of the United States...
on September 3, 1964.
The Wilderness Act is well known for its succinct and poetic definition of wilderness:
"A wilderness, in contrast with those areas where man and his own works dominate the landscape, is hereby recognized as an area where the earth and community of life are untrammeled by man, where man himself is a visitor who does not remain."
When Congress passed and President Lyndon Johnson signed the Wilderness Act on September 3, 1964, it created the
National Wilderness Preservation System
National Wilderness Preservation System
The National Wilderness Preservation System of the United States protects federally managed land areas designated for preservation in their natural condition. It was established by the Wilderness Act upon the signature of President Lyndon B. Johnson on September 3, 1964...
. The initial statutory wilderness areas, designated in the Act, comprised 9.1 million acres (37,000 km²) of national forest wilderness areas in the United States of America previously protected by administrative orders.
California Considerations
California
California
California is a state located on the West Coast of the United States. It is by far the most populous U.S. state, and the third-largest by land area...
politicians were concerned about maintaining the viability of plans for a
highway
Highway
A highway is any public road. In American English, the term is common and almost always designates major roads. In British English, the term designates any road open to the public. Any interconnected set of highways can be variously referred to as a "highway system", a "highway network", or a...
or
tunnel
Tunnel
A tunnel is an underground passageway, completely enclosed except for openings for egress, commonly at each end.A tunnel may be for foot or vehicular road traffic, for rail traffic, or for a canal. Some tunnels are aqueducts to supply water for consumption or for hydroelectric stations or are sewers...
connecting the Eastern Sierra and the
San Joaquin Valley
San Joaquin Valley
The San Joaquin Valley is the area of the Central Valley of California that lies south of the Sacramento – San Joaquin River Delta in Stockton...
. These plans centered on the
Minaret Summit
Minaret Summit
Minaret Summit is a mountain pass on Highway 203 in the central Sierra Nevada. The pass, lying on the Madera-Mono County border, is within the Mammoth Ranger District of the Inyo National Forest and located near Devils Postpile National Monument, Mammoth Lakes, and Mammoth Mountain. The elevation...
area as the distance between the end of Minaret Road, which runs northeast into the Sierras from
North Fork, California
North Fork, California
North Fork is an unincorporated community in Madera County, California. It is located east of Raymond, at an elevation of 2638 feet .It is miles south east of Bass Lake and from Oakhurst. North Fork is also home of the Mono Indian Museum and the starting point of the Sierra scenic byway...
, and the end of the Reds Meadow Road, running west from
Mammoth Lakes, California
Mammoth Lakes, California
-History:The European history of Mammoth Lakes started in 1877, when four prospectors staked a claim on Mineral Hill, south of the current town, along Old Mammoth Road. In 1878, the Mammoth Mining Company was organized to mine Mineral Hill, which caused a gold rush. By the end of 1878, 1500 people...
is less than 10 miles. The Act excluded an area southwest of
Minaret Summit
Minaret Summit
Minaret Summit is a mountain pass on Highway 203 in the central Sierra Nevada. The pass, lying on the Madera-Mono County border, is within the Mammoth Ranger District of the Inyo National Forest and located near Devils Postpile National Monument, Mammoth Lakes, and Mammoth Mountain. The elevation...
to create a corridor for this possibility.
Statistics
Today, the Wilderness System comprises over 106 million acres (429,000 km²) involving federal lands administered by four agencies:
The National Wilderness Preservation System:
Area Administered by each Federal Agency (July 2004)
Agency
Wilderness area
Agency land
designated wilderness
National Park Service

National Park Service

The National Park Service is the U.S. federal agency that manages all national parks, many national monuments, and other conservation and historical properties with various title designations...



43,616,250 acres (176,508 km²)
56%
U.S. Forest Service
34,867,591 acres (141,104 km²)
18%
U.S. Fish and Wildlife Service
20,699,108 acres (83,766 km²)
22%
Bureau of Land Management

Bureau of Land Management

The Bureau of Land Management is an agency within the United States Department of the Interior which administers America's public lands, totaling approximately , or one-eighth of the landmass of the country. The BLM also manages of subsurface mineral estate underlying federal, state and private...



6,512,227 acres (26,354 km²)
2%
Total
107,436,608 acres (427,733 km²)
16%
Legal framework
The most important thing about the Wilderness Act is that when Congress designates each wilderness area, it includes a very specific boundary line—in statutory law. Once a wilderness area has been added to the System, its protection and boundary can only be altered by another act of Congress. That places a heavy burden on anyone who, all through the future, may propose some change.
The basics of the program set out in the Wilderness Act are straightforward:
The lands protected as wilderness are areas of our public land

Public land

In all modern states, some land is held by central or local governments. This is called public land. The system of tenure of public land, and the terminology used, varies between countries...


s.
Wilderness designation is a protective overlay Congress applies to selected portions of national forest

United States National Forest

National Forest is a classification of federal lands in the United States.National Forests are largely forest and woodland areas owned by the federal government and managed by the United States Forest Service, part of the United States Department of Agriculture. Land management of these areas...


s, parks, wildlife refuge

Wildlife refuge

A wildlife refuge, also called a wildlife sanctuary, may be a naturally occurring sanctuary, such as an island, that provides protection for species from hunting, predation or competition, or it may refer to a protected area, a geographic territory within which wildlife is protected...


s, and other public lands.
Within wilderness areas, we strive to restrain human influences so that ecosystem

Ecosystem

An ecosystem is a biological environment consisting of all the organisms living in a particular area, as well as all the nonliving , physical components of the environment with which the organisms interact, such as air, soil, water and sunlight....


s [the Wilderness Act, however, makes no specific mention of ecosystems] can change over time in their own way, free, as much as possible, from human manipulation. In these areas, as the Wilderness Act puts it, "the earth and its community of life are untrammeled by man"—untrammeled meaning the forces of nature operate unrestrained and unaltered.
Wilderness areas serve multiple uses. But the law limits uses to those consistent with the Wilderness Act mandate that each wilderness area be administered to preserve the "wilderness character of the area." For example, these areas protect watershed

Drainage basin

A drainage basin is an extent or an area of land where surface water from rain and melting snow or ice converges to a single point, usually the exit of the basin, where the waters join another waterbody, such as a river, lake, reservoir, estuary, wetland, sea, or ocean...


s and clean-water supplies vital to downstream municipalities and agriculture, as well as habitat

Habitat (ecology)

A habitat is an ecological or environmental area that is inhabited by a particular species of animal, plant or other type of organism...


s supporting diverse wildlife, including endangered species

Endangered species

An endangered species is a population of organisms which is at risk of becoming extinct because it is either few in numbers, or threatened by changing environmental or predation parameters...


, while logging and oil and gas drilling are prohibited.
Along with many other uses for the American people, wilderness areas are popular for diverse kinds of outdoor recreation—but without motorized or mechanical vehicles or equipment.
The Wilderness Act was reinterpreted by the Administration in 1986 to ban bicycles from Wilderness areas, which led to the current vocal opposition from mountain bikers to the opening of new Wilderness areas.
Future legislation
Congress considers additional proposals every year, some recommended by federal agencies and many proposed by grassroots conservation and sportsmen's organizations.
Congressional bills are pending to designate new wilderness areas in Utah, Colorado, Washington, California, Virginia, Idaho, West Virginia, Montana and New Hampshire. Grassroots coalitions are working with local congressional delegations on legislative proposals for additional wilderness areas, including Vermont, southern Arizona, national grasslands in South Dakota, Rocky Mountain peaks of Montana, Colorado and Wyoming. The U.S. Forest Service has recommended new wilderness designations, which citizen groups may propose to expand.
See also
U.S. Wilderness Area
Natural heritage

Natural heritage

Natural heritage is the legacy of natural objects and intangible attributes encompassing the countryside and natural environment, including flora and fauna, scientifically known as biodiversity, and geology and landforms ....



Eastern Wilderness Act

Eastern Wilderness Act

The Eastern Wilderness Act was signed into law by President Gerald Ford on January 3, 1975. Built upon the 1964 Wilderness Act, which was written by Howard Zahniser of The Wilderness Society and signed into law by President Lyndon B. Johnson, the Act designated 16 new wilderness areas in the...


of 1974
Boundary Waters Canoe Area Wilderness Act

Boundary Waters Canoe Area Wilderness Act

The BWCA Wilderness Act of 1978 created the Boundary Waters Canoe Area Wilderness , which was previously known as the Boundary Waters Canoe Area. The bill was introduced in October 1975 by United States Congressman Jim Oberstar and was a source of major controversy and debate...


of 1978
Alaska National Interest Lands Conservation Act

Alaska National Interest Lands Conservation Act

The Alaska National Interest Lands Conservation Act was a United States federal law passed in 1980 by the U.S. Congress and signed into law by President Jimmy Carter on December 2 of that year....


of 1980
Central Idaho Wilderness Act of 1980
California Wilderness Act of 1984

California Wilderness Act of 1984

The California Wilderness Act of 1984 is a federal law , passed by the United States Congress on September 28, 1984, that authorized the addition of over within the state of California to the National Wilderness Preservation System....



Washington Wilderness Act of 1984
Northern California Coastal Wild Heritage Wilderness Act

Northern California Coastal Wild Heritage Wilderness Act

The Northern California Coastal Wild Heritage Wilderness Act is a U.S. federal law enacted in 2006 that enlarged existing wilderness boundaries and created new wilderness areas for protection under the National Wilderness Preservation System...


of 2006
Omnibus Public Land Management Act of 2009
External links