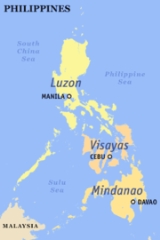 Visayas
The
Visayas
vɨˈsaɪ.əz or
Visayan Islands
and locally known as
Kabisay-an gid
, is one of the three principal geographical divisions of the Philippines, along with
Mindanao
Mindanao
Mindanao is the second largest and easternmost island in the Philippines. It is also the name of one of the three island groups in the country, which consists of the island of Mindanao and smaller surrounding islands. The other two are Luzon and the Visayas. The island of Mindanao is called The...
and
Luzon
Luzon
Luzon is the largest island in the Philippines. It is located in the northernmost region of the archipelago, and is also the name for one of the three primary island groups in the country centered on the Island of Luzon...
. It consists of several islands, primarily surrounding the
Visayan Sea
Visayan Sea
The Visayan Sea is a sea in the Philippines, surrounded by the islands of the Visayas, Eastern Visayas and Western Visayas located to the east and west, while the Central Visayas is located to the south...
, although the Visayas are considered the northeast extremity of the entire
Sulu Sea
Sulu Sea
The Sulu Sea is a body of water in the southwestern area of the Philippines, separated from the South China Sea in the northwest by Palawan and from the Celebes Sea in the southeast by the Sulu Archipelago. Borneo is found to the southwest and Visayas to the northeast.Sulu Sea contains a number of...
. Residents are known as the Visayans.
The major islands of the Visayas are
Panay
Panay Island
Panay is an island in the Philippines located in the western part of the Visayas. Politically, it is divided into five provinces: Aklan, Antique, Capiz, and Iloilo, all in the Western Visayas Region. It is located southeast of the island of Mindoro and northwest of Negros, separated by the...
, Negros,
Cebu
Cebu Island
Cebu is an island of the Philippines. It is the main island of Cebu Province at the center of the Visayan Islands, south of Manila.It lies to the east of Negros Island; to the east is Leyte and to the southeast is Bohol Island. It is flanked on both sides by the Cebu Strait and Tañon Strait...
,
Bohol
Bohol Island
Bohol Island is the main island of Bohol Province in the Visayas. It lies southeast from Cebu Island across Cebu Strait and southwest from Leyte Island, separated by the Camotes Sea and Canigao Channel...
,
Leyte
Leyte Island
Leyte is an island in the Visayas group of the Philippines.The island measures about 180 km north-south and about 65 km at its widest point. In the north it nearly joins Samar, separated by the San Juanico Strait, which becomes as narrow as 2 km in some places...
, and
Samar
Samar Island
Samar is an island in the Visayas, within the central Philippines. The island is divided into three provinces: Samar province, Northern Samar, and Eastern Samar. These three provinces, along with the provinces on the nearby islands of Leyte and Biliran are part of the Eastern Visayas region...
.