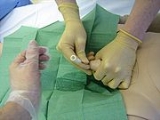 Urinary catheterization
In
urinary catheterization
("
cathing
" for short), a
latex
Latex
Latex is the stable dispersion of polymer microparticles in an aqueous medium. Latexes may be natural or synthetic.Latex as found in nature is a milky fluid found in 10% of all flowering plants . It is a complex emulsion consisting of proteins, alkaloids, starches, sugars, oils, tannins, resins,...
,
polyurethane
Polyurethane
A polyurethane is any polymer composed of a chain of organic units joined by carbamate links. Polyurethane polymers are formed through step-growth polymerization, by reacting a monomer with another monomer in the presence of a catalyst.Polyurethanes are...
or
silicone
Silicone
Silicones are inert, synthetic compounds with a variety of forms and uses. Typically heat-resistant and rubber-like, they are used in sealants, adhesives, lubricants, medical applications , cookware, and insulation....
tube known as a urinary
catheter
Catheter
In medicine, a catheter is a tube that can be inserted into a body cavity, duct, or vessel. Catheters thereby allow drainage, administration of fluids or gases, or access by surgical instruments. The process of inserting a catheter is catheterization...
is inserted into a patient's
bladder
Urinary bladder
The urinary bladder is the organ that collects urine excreted by the kidneys before disposal by urination. A hollow muscular, and distensible organ, the bladder sits on the pelvic floor...
via his or her
urethra
Urethra
In anatomy, the urethra is a tube that connects the urinary bladder to the genitals for the removal of fluids out of the body. In males, the urethra travels through the penis, and carries semen as well as urine...
. Catheterization allows the patient's
urine
Urine
Urine is a typically sterile liquid by-product of the body that is secreted by the kidneys through a process called urination and excreted through the urethra. Cellular metabolism generates numerous by-products, many rich in nitrogen, that require elimination from the bloodstream...
to drain freely from the bladder for collection. It may be used to inject liquids used for treatment or diagnosis of bladder conditions. A clinician, often a nurse, usually performs the procedure; but self-catheterization is also possible. The catheter may be a permanent one (indwelling catheter), or an intermittent catheter removed after each catheterization.
Catheter types
Catheters come in several basic designs:
A Foley catheter

Foley catheter

A Foley catheter is a flexible tube that is often passed through the urethra and into the bladder. The tube has two separated channels, or lumens, running down its length. One lumen is open at both ends, and allows urine to drain out into a collection bag...


(indwelling urinary catheter) is retained by means of a balloon at the tip which is inflated with sterile water. The balloons typically come in two different sizes: 5 cc and 30 cc. They are commonly made in silicone rubber or natural rubber.
An intermittent catheter/Robinson catheter is a flexible catheter used for short term drainage of urine. Unlike the Foley catheter, it has no balloon on its tip and therefore cannot stay in place unaided. These can be non-coated or coated e.g. hydrophilic coated catheter that is ready to use.
A Coudé catheter is designed with a curved tip that makes it easier to pass through the curvature of the prostatic urethra.
A hematuria (or haematuria) catheter is a type of Foley catheter used for Post-TURP hemostasis. This is useful following endoscopic surgical procedures or in the case of gross hematuria. There are both 2-way and 3-way hematuria catheters (double and triple lumen).
An external, Texas, urisheat or condom catheter

External urine collection devices

External urine collection devices are a type of medical product used, primarily by men, to manage urinary output and/or urinary incontinence. These devices attached to the outside of the male anatomy and direct urine into a separate collection chamber such as a leg or bedside bag...


is used for incontinent males and carries a lower risk of infection than an indwelling catheter.
Catheter diameters are sized by the
French catheter scale
French catheter scale
The French scale or French gauge system is commonly used to measure the size of a catheter. It is most often abbreviated as Fr, but can often abbreviated as FR or F. It may also be abbreviated as CH or Ch in French speaking countries...
(F). The most common sizes are 10 F (3.3mm) to 28 F (9.3mm). The clinician selects a size large enough to allow free flow of urine, and large enough to control leakage of urine around the catheter. A larger size can become necessary when the urine is thick, bloody or contains large amounts of
sediment
Sediment
Sediment is naturally occurring material that is broken down by processes of weathering and erosion, and is subsequently transported by the action of fluids such as wind, water, or ice, and/or by the force of gravity acting on the particle itself....
. Larger catheters, however, are more likely to cause damage to the urethra. Some people develop allergies or sensitivities to latex after long-term latex catheter use making it necessary to use silicone or Teflon types. Silver alloy coated urinary catheters may reduce infections.
Sex differences
In males, the catheter tube is inserted into the urinary tract through the
penis
Penis
The penis is a biological feature of male animals including both vertebrates and invertebrates...
. A
condom
Condom
A condom is a barrier device most commonly used during sexual intercourse to reduce the probability of pregnancy and spreading sexually transmitted diseases . It is put on a man's erect penis and physically blocks ejaculated semen from entering the body of a sexual partner...
, urisheat or Texas catheter can also be used. In females, the catheter is inserted into the
urethral meatus
Urinary meatus
The urinary meatus is an orifice of the urethra. It is the point at which urine and, in males, semen exits the urethra. The meatus features varying degrees of sensitivity to the touch among males and females....
, after a cleansing using povidone-iodine. The procedure can be complicated in females due to varying layouts of the genitalia (due to age,
obesity
Obesity
Obesity is a medical condition in which excess body fat has accumulated to the extent that it may have an adverse effect on health, leading to reduced life expectancy and/or increased health problems...
,
female genital cutting
Female genital cutting
Female genital mutilation , also known as female genital cutting and female circumcision, is defined by the World Health Organization as "all procedures that involve partial or total removal of the external female genitalia, or other injury to the female genital organs for non-medical reasons."FGM...
,
childbirth
Childbirth
Childbirth is the culmination of a human pregnancy or gestation period with the birth of one or more newborn infants from a woman's uterus...
, or other factors), but a good clinician would rely on
anatomical
Anatomy
Anatomy is a branch of biology and medicine that is the consideration of the structure of living things. It is a general term that includes human anatomy, animal anatomy , and plant anatomy...
landmarks and patience when dealing with such a patient. In the UK it is generally accepted that cleaning the area surrounding the urethral meatus with 0.9% sodium chloride solution is sufficient for both male and female patients as there is no reliable evidence to suggest that the use of antiseptic agents reduces the risk of
urinary tract infection
Urinary tract infection
A urinary tract infection is a bacterial infection that affects any part of the urinary tract. Symptoms include frequent feeling and/or need to urinate, pain during urination, and cloudy urine. The main causal agent is Escherichia coli...
. Males may have a slightly higher incidence of
bladder spasm
Bladder spasm
A bladder spasm is a contraction of the bladder which generates an urge to urinate, sometimes accompanied by extreme pain. Incontinence may occur if the bladder spasm continues, as the contraction will force urine out...
s. If bladder spasms occur or there is no urine in the drainage bag, the catheter may be blocked by blood, thick sediment, or a kink in the catheter or drainage tubing. Sometimes spasms are caused by the catheter irritating the bladder,
prostate
Prostate
The prostate is a compound tubuloalveolar exocrine gland of the male reproductive system in most mammals....
or
penis
Penis
The penis is a biological feature of male animals including both vertebrates and invertebrates...
. Such spasms can be controlled with medication such as butylscopolamine, although most patients eventually adjust to the irritation and the spasms go away.
Common indications to catheterize a patient include acute or chronic
urinary retention
Urinary retention
Urinary retention, also known as ischuria, is a lack of ability to urinate. It is a common complication of benign prostatic hyperplasia , although it can also be caused by nerve dysfunction, constipation, infection, or medications...
(which can damage the kidneys), orthopedic procedures that may limit a patient's movement, the need for accurate monitoring of input and output (such as in an
ICU
Intensive care medicine
Intensive-care medicine or critical-care medicine is a branch of medicine concerned with the diagnosis and management of life threatening conditions requiring sophisticated organ support and invasive monitoring.- Overview :...
),
benign prostatic hyperplasia
Benign prostatic hyperplasia
Benign prostatic hyperplasia also known as benign prostatic hypertrophy , benign enlargement of the prostate , and adenofibromyomatous hyperplasia, refers to the increase in size of the prostate....
, incontinence, and the effects of various surgical interventions involving the bladder and prostate.
For some patients the insertion and removal of a catheter causes excruciating pain, so a
topical anesthetic
Topical anesthetic
A topical anesthetic is a local anesthetic that is used to numb the surface of a body part. They can be used to numb any area of the skin as well as the front of the eyeball, the inside of the nose, ear or throat, the anus and the genital area. Topical anesthetics are available in creams,...
is used. Catheterization would be performed as a sterile
medical procedure
Medical procedure
A medical procedure is a course of action intended to achieve a result in the care of persons with health problems.A medical procedure with the intention of determining, measuring or diagnosing a patient condition or parameter is also called a medical test...
by trained, qualified personnel, using equipment designed for this purpose, except in the case of intermittent self-catheterization where the patient has been trained to perform the procedure himself or herself. Intermittent self-catheterization will be performed by the user 4-6 times a day using a clean technique in most cases. Nurses will use a sterile technique when performing intermittent catheterization in hospital settings. If correct technique is not used there may be trauma to the urethra or prostate (male), urinary tract infection, or a
paraphimosis
Paraphimosis
Paraphimosis is an uncommon medical condition where the foreskin becomes trapped behind the glans penis, and cannot be reduced...
in the uncircumcised male. For patients with spinal cord lesions and neurogenic bladder dysfunction, intermittent catheterisation (IC) is a standard method for bladder emptying. The technique is safe and effective and results in improved kidney and upper urinary tract status, lessening of
vesicoureteral reflux
Vesicoureteral reflux
Vesicoureteral reflux is an abnormal movement of urine from the bladder into ureters or kidneys. Urine normally travels from the kidneys via the ureters to the bladder...
and amelioration of continence (Hedlund et al, 2001). In addition to the clinical benefits, patient quality of life is enhanced by the increased independence and security offered by self-catheterization (Lapides et al, 1972).
Catheter maintenance
A catheter that is left in place for more than a short period of time is generally attached to a drainage bag to collect the urine. This also allows for measurement of urine volume. There are two types of drainage bags: The first is a leg bag, a smaller drainage device that attaches by
elastic
Elastomer
An elastomer is a polymer with the property of viscoelasticity , generally having notably low Young's modulus and high yield strain compared with other materials. The term, which is derived from elastic polymer, is often used interchangeably with the term rubber, although the latter is preferred...
bands to the leg. A leg bag is usually worn during the day, as it fits discreetly under pants or skirts, and is easily emptied into a toilet. The second type of drainage bag is a larger device called a down drain that may be used overnight. This device is hung on a hook under the patient's bed - they are never to be placed on the floor due to the risk of bacterial infection.
During long-term use, the catheter may be left in place during the entire time, or a patient may be instructed on a procedure for placing a catheter just long enough to empty the bladder and then removing it (known as
intermittent self-catheterization
). Patients undergoing major
surgery
Surgery
Surgery is an ancient medical specialty that uses operative manual and instrumental techniques on a patient to investigate and/or treat a pathological condition such as disease or injury, or to help improve bodily function or appearance.An act of performing surgery may be called a surgical...
are often catheterized and may remain so for some time. The patient may require irrigation of the bladder with sterile saline injected through the catheter to flush out clots or other matter that does not drain.
Effects of long term use
The duration of catheterization can have significance for the patient.
Incontinent
Urinary incontinence
Urinary incontinence is any involuntary leakage of urine. It is a common and distressing problem, which may have a profound impact on quality of life. Urinary incontinence almost always results from an underlying treatable medical condition but is under-reported to medical practitioners...
patients commonly are catheterized to reduce their cost of care. However, long-term catheterization carries a significant risk of
urinary tract infection
Urinary tract infection
A urinary tract infection is a bacterial infection that affects any part of the urinary tract. Symptoms include frequent feeling and/or need to urinate, pain during urination, and cloudy urine. The main causal agent is Escherichia coli...
. Because of this risk catheterization is a last resort for the management of incontinence where other measures have proved unsuccessful. Other long term complications may include blood infections (
sepsis
Sepsis
Sepsis is a potentially deadly medical condition that is characterized by a whole-body inflammatory state and the presence of a known or suspected infection. The body may develop this inflammatory response by the immune system to microbes in the blood, urine, lungs, skin, or other tissues...
), urethral injury, skin breakdown, bladder stones, and blood in the urine (
hematuria
Hematuria
In medicine, hematuria, or haematuria, is the presence of red blood cells in the urine. It may be idiopathic and/or benign, or it can be a sign that there is a kidney stone or a tumor in the urinary tract , ranging from trivial to lethal...
). After many years of catheter use,
bladder cancer
Bladder cancer
Bladder cancer is any of several types of malignant growths of the urinary bladder. It is a disease in which abnormal cells multiply without control in the bladder. The bladder is a hollow, muscular organ that stores urine; it is located in the pelvis...
may also develop.
Combating infection
Everyday care of catheter and drainage bag is important to reduce the risk of infection. Such precautions include:
Cleansing the urethral area (area where catheter exits body) and the catheter itself.
Disconnecting drainage bag from catheter only with clean hands
Disconnecting drainage bag as seldom as possible.
Keeping drainage bag connector as clean as possible and cleansing the drainage bag periodically.
Use of a thin catheter where possible to reduce risk of harming the urethra

Urethra

In anatomy, the urethra is a tube that connects the urinary bladder to the genitals for the removal of fluids out of the body. In males, the urethra travels through the penis, and carries semen as well as urine...


during insertion.
Drinking sufficient liquid to produce at least two liters of urine daily
Sexual activity is very high risk for urinary infections, especially for catheterized women.
Recent developments in the field of the temporary
prostatic stent
Prostatic stent
A prostatic stent is a stent used to keep open the male urethra and allow the passing of urine in cases of prostatic obstruction and lower urinary tract symptoms . Prostatic obstruction is a common condition with a variety of etiologies...
have been viewed as a possible alternative to indwelling catheterization and the infections associated with their use.