 Urban areas in Sweden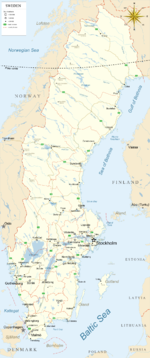 Urban area
is a common
English
English language
English is a West Germanic language that arose in the Anglo-Saxon kingdoms of England and spread into what was to become south-east Scotland under the influence of the Anglian medieval kingdom of Northumbria...
translation of the
Swedish
Swedish language
Swedish is a North Germanic language, spoken by approximately 10 million people, predominantly in Sweden and parts of Finland, especially along its coast and on the Åland islands. It is largely mutually intelligible with Norwegian and Danish...
term
tätort
. The official term in English, used by
Statistics Sweden
, is, however,
locality
. There are 1,940 localities in Sweden (2005). They could be compared with
census-designated place

Census-designated place

A census-designated place is a concentration of population identified by the United States Census Bureau for statistical purposes. CDPs are delineated for each decennial census as the statistical counterparts of incorporated places such as cities, towns and villages...


s
in the
United States
United States
The United States of America is a federal constitutional republic comprising fifty states and a federal district...
.
A
tätort
in
Sweden
Sweden
Sweden , officially the Kingdom of Sweden , is a Nordic country on the Scandinavian Peninsula in Northern Europe. Sweden borders with Norway and Finland and is connected to Denmark by a bridge-tunnel across the Öresund....
has a minimum of 200 inhabitants, and may be a city, town or larger village. Urban areas referred to as cities/towns (
stad
) for statistical purposes have a minimum of 10,000 inhabitants. However, since 1971, the term "stad" is no longer in use as a judicial concept in Sweden.
History
Up until the beginning of the 20th century only the cities were regarded as urban areas. The built-up area and the
municipal
Municipalities of Sweden
The municipalities of Sweden are the local government entities of Sweden. The current 290 municipalities are organized into 21 counties...
entity were normally almost congruent. Urbanization and industrialization created, however, many new settlements without formal city status. New
suburb
Suburb
The word suburb mostly refers to a residential area, either existing as part of a city or as a separate residential community within commuting distance of a city . Some suburbs have a degree of administrative autonomy, and most have lower population density than inner city neighborhoods...
s grew up just outside city limits, being
de facto
De facto
De facto is a Latin expression that means "concerning fact." In law, it often means "in practice but not necessarily ordained by law" or "in practice or actuality, but not officially established." It is commonly used in contrast to de jure when referring to matters of law, governance, or...
urban but
de jure
De jure
De jure is an expression that means "concerning law", as contrasted with de facto, which means "concerning fact".De jure = 'Legally', De facto = 'In fact'....
rural. This was of course a statistical problem. The
census
Census
A census is the procedure of systematically acquiring and recording information about the members of a given population. It is a regularly occurring and official count of a particular population. The term is used mostly in connection with national population and housing censuses; other common...
of 1910 introduced the concept of "densely populated localities in the countryside". The term
tätort
(literally "dense place") was introduced in 1930. The municipal
amalgamations
Amalgamation (politics)
A merger or amalgamation in a political or administrative sense is the combination of two or more political or administrative entities such as municipalities , counties, districts, etc. into a single entity. This term is used when the process occurs within a sovereign entity...
placed more and more rural areas within city municipalities, which was the other side of the same problem. The administrative boundaries were in fact not suitable for defining rural and urban populations. From 1950 rural and urban areas had to be separated even within city limits, as e.g. the huge wilderness around
Kiruna
Kiruna
Kiruna is the northernmost city in Sweden, situated in Lapland province, with 18,154 inhabitants in 2005. It is the seat of Kiruna Municipality Kiruna (Northern Sami: Giron, Finnish: Kiiruna) is the northernmost city in Sweden, situated in Lapland province, with 18,154 inhabitants in 2005. It is...
had been declared a "city" in 1948. From 1965 only
non-administrative localities
are counted, independently of municipal and county borders. In 1971
city
was abolished as a type of municipality.
Terminology
Urban areas in the meaning of
tätort
are defined independently on the division into counties and municipalities, and are defined solely after density of population. In practice, most references in Sweden are to municipalities, not specifically to towns or cities, which complicates international comparisons. Most municipalities contain many localities (up to 26 in
Kristianstad Municipality
Kristianstad Municipality
Kristianstad Municipality is a municipality in Skåne County in southernmost Sweden. Its seat is located in the city Kristianstad....
), but some localities are, on the other hand, multimunicipal
http://w41.scb.se/templates/Publikation____186288.asp
;
Stockholm urban area
Stockholm urban area
The Stockholm urban area is the largest and most populous of the statistical localities or urban areas in Sweden. It has no administrative function of its own, but constitutes a continuous multimunicipal built-up area, which extends into 11 municipalities in Stockholm County. It contains the...
is spread over 11 municipalities.
When comparing the population of different cities, the urban area (
tätort
) population is to prefer ahead of the population of the municipality. The population of e.g.
Stockholm
Stockholm
Stockholm is the capital and the largest city of Sweden and constitutes the most populated urban area in Scandinavia. Stockholm is the most populous city in Sweden, with a population of 851,155 in the municipality , 1.37 million in the urban area , and around 2.1 million in the metropolitan area...
should be accounted as ~1.2 million rather than the ~800,000 of the municipality, and
Lund
Lund
-Main sights:During the 12th and 13th centuries, when the town was the seat of the archbishop, many churches and monasteries were built. At its peak, Lund had 27 churches, but most of them were demolished as result of the Reformation in 1536. Several medieval buildings remain, including Lund...
rather ~75,000 than ~110,000.
Terms used for statistical purposes
Tätort (= urban area

Urban area

An urban area is characterized by higher population density and vast human features in comparison to areas surrounding it. Urban areas may be cities, towns or conurbations, but the term is not commonly extended to rural settlements such as villages and hamlets.Urban areas are created and further...


or locality) is the central concept used in statistics. The definition is agreed upon in the Nordic countries

Nordic countries

The Nordic countries make up a region in Northern Europe and the North Atlantic which consists of Denmark, Finland, Iceland, Norway and Sweden and their associated territories, the Faroe Islands, Greenland and Åland...


: A tätort is any village, town or city with a population of at least 200 for which the contiguous built-up area meet the criterion that houses are not more than 200 meters apart when discounting rivers, parks, roads, etc. Every fifth year (2000, 2005 etc) the localities are revised and new population figures released.
Småort (= minor locality) is a rural

Rural

Rural areas or the country or countryside are areas that are not urbanized, though when large areas are described, country towns and smaller cities will be included. They have a low population density, and typically much of the land is devoted to agriculture...


locality with 50–199 inhabitants in a contiguous built-up area with no more than 150 meters between houses. The concept is rarely used outside the field of statistics, where it is used for settlements just below the limit defined for tätort.
Centralort (= central locality) is mostly used in the meaning municipal seat or municipal center of service, commerce and administration for an area.
Popular and traditional terms
Seasonal areas and suburbs
Fritidshusområde (= seasonal area) is in statistical context an area with less than 50 permanent inhabitants but at least 50 houses (in practice: weekend cottages/summer house

Summer house

A summer house or summerhouse has traditionally referred to a building or shelter used for relaxation in warm weather. This would often take the form of a small, roofed building on the grounds of a larger one, but could also be built in a garden or park, often designed to provide cool shady places...


s) meeting the criterion that they are not more than 150 metres apart. About a third of Sweden's "second home

Second home

Second home may refer to:* Vacation property* Pied-à-terre* Second Home , an album by Marié Digby...


s" are located in such areas. The term belongs also to everyday usage, although less strictly defined.
Förstad and förort (= suburb

Suburb

The word suburb mostly refers to a residential area, either existing as part of a city or as a separate residential community within commuting distance of a city . Some suburbs have a degree of administrative autonomy, and most have lower population density than inner city neighborhoods...


) are much used terms with a somewhat negative connotation.
Statistics
Data are computed by
Statistics Sweden
every five years. The latest data are as of 31 December 2005. Then the total population of the urban areas (or localities) in Sweden was 7,631,952 on an area of 5,286.23 km², which gives an average
population density
Population density
Population density is a measurement of population per unit area or unit volume. It is frequently applied to living organisms, and particularly to humans...
of 1,444/km².
84% of the Swedish population lives in localities (i.e. in tätort

Tatort

Tatort is a long-running German/Austrian/Swiss , crime television series set in various parts of these countries. The show is broadcast on the channels of ARD in Germany, ORF 2 in Austria and SF1 in Switzerland...


er)
50% lives in the 64 largest urban areas
A third lives in the 15 largest urban areas
A quarter lives in the 5 largest
The largest and most populous urban area is Stockholm
See also
Largest urban areas of the European Union

Largest urban areas of the European Union

This is a list of all the urban areas of the European Union which have greater than 750,000 inhabitants each in 2011.This list is an attempt to present a consistent list of population figures for urban areas in the European Union. All the figures here have been compiled by Demographia.-Important...



Geography of Sweden

Geography of Sweden

Sweden is a country in Northern Europe on the Scandinavian Peninsula. Its borders are Norway to the west; Finland to the northeast; and the Baltic Sea and Gulf of Bothnia to the east and south....



Largest urban areas of Norway

Largest urban areas of Norway

This is a list of the largest urban areas of Norway by population.The population is measured by Statistics Norway. The statistics bureau uses the term tettsted , which is defined as a contiguous built-up area with a maximum distance of 50 m between houses unless a greater distance is caused by...



External links