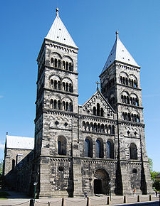 Lund
Main sights
During the 12th and 13th centuries, when the town was the seat of the archbishop, many churches and monasteries were built. At its peak, Lund had 27 churches, but most of them were demolished as result of the
Reformation
Protestant Reformation
The Protestant Reformation was a 16th-century split within Western Christianity initiated by Martin Luther, John Calvin and other early Protestants. The efforts of the self-described "reformers", who objected to the doctrines, rituals and ecclesiastical structure of the Roman Catholic Church, led...
in 1536. Several medieval buildings remain, including
Lund Cathedral
Lund Cathedral
The Lund Cathedral is the Lutheran cathedral in Lund, Scania, Sweden. It is the seat of the bishop of Lund of the Church of Sweden.- History :...
,
Liberiet
Liberiet
Liberiet is a building in central Lund, Sweden, south of Lund Cathedral. Originally used as a library, the building was built in the 15th century. Today it serves as a Pilgrim Center.-External links:...
, the restaurant
Stäket
Stäket (Lund)
Stäket is one of the oldest buildings remaining in Lund. It currently serves as a restaurant which is also called Stäket....
and parts of the
Cathedral School
Katedralskolan, Lund
Katedralskolan, Lund is a school in Lund, Sweden. It was founded in 1085 by the Danish king Canute the Saint. It is the oldest school in Scandinavia and one of the oldest schools in Northern Europe.-History:...
.
Timber framing
Timber framing
Timber framing , or half-timbering, also called in North America "post-and-beam" construction, is the method of creating structures using heavy squared off and carefully fitted and joined timbers with joints secured by large wooden pegs . It is commonplace in large barns...
is characteristic of the houses built up to the end of the 19th century, for example the
Wickmanska gården.
Most of the central buildings in Lund date from the late 19th century, when small houses were replaced by multi-storey ones. Notable buildings built during this period include the University Library (1902),
Grand Hotel
Grand Hotel (Lund)
Grand Hotel in Lund, Sweden is one of the city's oldest and most remarkable restaurant and hotel.It was drawn by architect Alfred Hellerström and inaugurated in 1899.-External links:...
(1899) and the
University Main Building
Lund University Main Building
The main building of the Swedish Lund University was designed by architect Helgo Zettervall and inaugurated by King Oscar II in 1882. Construction began in 1874, when the old main building Kungshuset had become too small for the growing number of students.The design is characterised by Helgo...
(1882).
Major roads
Lund has been connected to the motorway network since 1953 when the
E22
European route E22
The European route E 22 is one of the longest European routes. It has a length of about . Many of the E-roads have been extended into Asia since the year 2000; the E 22 was extended on 24 June 2002.-United Kingdom:...
, the first motorway in Sweden, was built round the edge of the town. There are also other connections to most major roads in the area, for example the
E6
European route E6
European route E 6 is the designation for the main north-south road in Norway, and the west coast of Sweden, running from the southern tip of Sweden, at Trelleborg, into Norway and through almost all of the country north to Finnmark. The route ends close to the Norwegian border with Russia...
via Riksväg 16, and the Länsväg 108 which connects to the
E65
European route E65
European route E 65 is a north-south Class-A European route that begins in Malmö, Sweden and ends in Chaniá, Greece. The road is about in length.-Itinerary:* Sweden** E 65: Malmö – Ystad* Baltic sea, ferry Ystad-Świnoujście* Poland...
.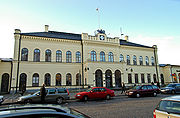 Cycling
Lund has been praised for its cycling infrastructure. There are 5000 bike parking spaces in the town, including a multi-storey facility, 160 km of cyclepaths, and 45% of commuters travel by bicycle. There has been no increase in car usage for the past 10 years.
Railways and public transport
Lund has been on the main railway line between Malmö and Stockholm since 1857. Today there are direct connections to Copenhagen and Elsinore via the
Öresund Bridge
Oresund Bridge
The Øresund or Öresund Bridge is a combined twin-track railway and dual carriageway bridge-tunnel across the Øresund strait.The bridge connects Sweden and Denmark, and it is the longest road and rail bridge in Europe. The Øresund Bridge also connects two major Metropolitan Areas: those of the...
. This connection is mainly served by the Öresundståg, maintained by DSB, the
Danske Statsbaner
Danske Statsbaner
DSB, an abbreviation of Danske Statsbaner , is the largest Danish train operating company, and the largest in Scandinavia. While DSB is responsible for passenger train operation on most of the Danish railways, goods transport and railway maintenance are outside its scope...
in Denmark and
Skånetrafiken
Skånetrafiken
Skånetrafiken is the regional public transportation authority and operator in Skåne län, in the south of Sweden.Skånetrafiken was founded in 1999 when the two counties Kristianstads län and Malmöhus län were merged into one region. During this merger the two respective transport authorities were...
in Scania, as well as by
SJ
SJ AB
SJ is a government-owned passenger train operator in Sweden. SJ was created in 2000, out of the public transport division of Statens Järnvägar, when the former government agency was divided into six separate government-owned limited companies.-Overview:SJ's operations fall broadly into subsidised...
in the rest of Sweden. Local traffic is managed by the two-coach electric multiple units
Pågatåg
Skåne commuter rail
The Skåne Commuter Rail is a commuter rail system in Skåne County, Sweden. The system also acts as a regional rail system, as it serves other cities over from the principal city of Malmö.- Lines inside Skåne :Local trains, called Pågatåg...
, which provide connections to many destinations in Scania. Because of Lund's central position, it is possible to travel to the three largest cities in Sweden without having to change trains.
Public transport within Lund is overseen by
Skånetrafiken
Skånetrafiken
Skånetrafiken is the regional public transportation authority and operator in Skåne län, in the south of Sweden.Skånetrafiken was founded in 1999 when the two counties Kristianstads län and Malmöhus län were merged into one region. During this merger the two respective transport authorities were...
but the actual bus network is licensed to the
Bergkvarabuss
company. The city buses connect around 400 bus stops with 11 bus lines served by a fleet of 40 Mercedes Citaro running on
compressed natural gas
Compressed natural gas
Compressed natural gas is a fossil fuel substitute for gasoline , diesel, or propane/LPG. Although its combustion does produce greenhouse gases, it is a more environmentally clean alternative to those fuels, and it is much safer than other fuels in the event of a spill...
and a few smaller buses using diesel. There are plans of initiating a
tram
Tram
A tram is a passenger rail vehicle which runs on tracks along public urban streets and also sometimes on separate rights of way. It may also run between cities and/or towns , and/or partially grade separated even in the cities...
network to achieve faster and higher-capacity public transport in some parts of the city and to the suburban towns of Dalby, Staffanstorp and Södra Sandby.
In recent years the pressure on rail and bus lines has increased, due to the ever growing commuting between Lund, Malmö and other nearby places and increased casual and professional contacts with the
Copenhagen
Copenhagen
Copenhagen is the capital and largest city of Denmark, with an urban population of 1,199,224 and a metropolitan population of 1,930,260 . With the completion of the transnational Øresund Bridge in 2000, Copenhagen has become the centre of the increasingly integrating Øresund Region...
area. As of 2009, the railyard and quays area of Lund station is undergoing some rearrangements to accommodate expected growth in traffic, while Malmö station is also being rebuilt in tandem with the Malmö City Tunnel, due to open in 2010/11.
Airports
Lund is located close to
Malmö-Sturup Airport
Malmö-Sturup Airport
Malmö Airport, formerly known as Malmö-Sturup Airport is Sweden's fifth busiest airport, located approximately 28 km from Malmö and 26 km from Lund. Via the Oresund Bridge the airport is located about 55 km from central Copenhagen and 47 km from Copenhagen Airport...
which is mainly used for domestic flights.
Kastrup
Kastrup
Kastrup is a suburb of Copenhagen, on the east coast of Amager in the Tårnby Municipality.Kastrup is best known as the site of Copenhagen Airport. In Danish, the airport is often called Kastrup Lufthavn or Københavns Lufthavn, Kastrup .Scandinavian Airlines System has its Denmark offices in Kastrup...
, the airport for
Copenhagen
Copenhagen
Copenhagen is the capital and largest city of Denmark, with an urban population of 1,199,224 and a metropolitan population of 1,930,260 . With the completion of the transnational Øresund Bridge in 2000, Copenhagen has become the centre of the increasingly integrating Øresund Region...
is often used for longer international flights, and is about 33 minutes by train from Lund. There also used to be a very small airstrip, Hasslanda Flygfält, to the south of Lund, mainly used for private and charter flights.
Culture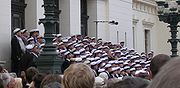 The culture in Lund is characterized by the large student population and student traditions, such as a student theater group since 1886. A substantial part of the nightlife is located at student fraternities called 'Nations'.
Lund also has a city theatre (though without a professional local ensemble of its own) and a number of other places for concerts and theatres.
Lund hosts the largest open-air museum of
Scania
Scania
Scania is the southernmost of the 25 traditional non-administrative provinces of Sweden, constituting a peninsula on the southern tip of the Scandinavian peninsula, and some adjacent islands. The modern administrative subdivision Skåne County is almost, but not totally, congruent with the...
, Kulturen. Kulturen is the second oldest dedicated open-air museum in the world and consists of more than 30 buildings, as well as large collections on Scanian art, crafts. local archaeology and history. The museum was founded in 1892 by Georg Karlin. Today the museum often hosts different exhibitions and its visitors can experience how Swedish people lived and worked throughout the centuries.
Literature, art, and cinema
Numerous prominent figures from the literary world lived and worked in Lund, often in association with the university and theatre. They are listed below with notable natives.
The city has a vivid tradition in music and theatre, stimulated by the church, university, schools, student musical festivities, and the
Spex
tradition (parodistic musical plays, often setting well-known music to new lyrics and mixing up the historical and the present in unconventional intrigues) and, especially, the "Lund Carnival" (for which see the special section).
Lund has long been a regional centre for classical and church music. In particular, Lund is renowned for its vibrant amateur choir scene, with choirs such as Carolinae damkör, Domkyrkokören, Katedralkören, Lunds akademiska kör,
Lund Chamber Choir
Lund Chamber Choir
The Lund Chamber Choir is a mixed choir from Lund, Sweden. The choir was founded by Eva Svanholm Bohlin in 1983 and she remained the choir's conductor until 2003. In 2004 Håkan Olsson Reising was elected conductor of the Lund Chamber Choir. For a long time, the choir was associated to the...
(Swedish:
Lunds Kammarkör
),
Lunds Studentsångförening
Lunds Studentsångförening
Lunds Studentsångförening ' is a Swedish amateur choir, which counts its history from 1831. Today one of Sweden's top male choirs, the choir has assumed many different shapes during its history...
, Lunds vokalensemble, and the Svanholm Singers. Since 2006, Lund has been the host of the biannual Lund International Choral Festival. In more recent decades, Lund has also developed a lively pop and jazz scene.
The concluding scenes in
Ingmar Bergman
Ingmar Bergman
Ernst Ingmar Bergman was a Swedish director, writer and producer for film, stage and television. Described by Woody Allen as "probably the greatest film artist, all things considered, since the invention of the motion picture camera", he is recognized as one of the most accomplished and...
's classic film
Wild Strawberries
Wild Strawberries (film)
Wild Strawberries is a 1957 Swedish film written and directed by Ingmar Bergman, about an old man recalling his past. The original Swedish title is Smultronstället, which literally means "the wild strawberry patch", but idiomatically means an underrated gem of a place...
were set in, and were shot, in Lund.
Lundakarnevalen
The Lund
carnival
Carnival
Carnaval is a festive season which occurs immediately before Lent; the main events are usually during February. Carnaval typically involves a public celebration or parade combining some elements of a circus, mask and public street party...
has been held every four years since the mid-nineteenth century: traditional accounts say it originated at a wedding in 1849 (the four-year intervals place the party in 2002, 2006, 2010, etc.). Arranged by the students of the
university
Lund University
Lund University , located in the city of Lund in the province of Scania, Sweden, is one of northern Europe's most prestigious universities and one of Scandinavia's largest institutions for education and research, frequently ranked among the world's top 100 universities...
, from the 1950s onwards the event has grown in size and intensity (with some 5500 volunteers 2010), but it remains an amateur event. Midway between a music and stage fair, a city festival, and an outpouring of satire, parody and general madness. Some students dress up in costumes, often relating to and poking fun at current issues, and parade in wagons. Others perform humorous skits in the evenings. The carnival revues and other stage entertainments have launched a number of well-known entertainers and actors over the years.
Sports
Lund is not a notable center for sports except for
handball
Team handball
Handball is a team sport in which two teams of seven players each pass a ball to throw it into the goal of the other team...
, where it has two teams in the men's top league:
H 43
H 43 Lund
H 43 Lund is a handball team from Sweden, playing in the Elitserien....
and
LUGI
Lugi
Ługi may refer to the following places in Poland:*Ługi, Lower Silesian Voivodeship *Ługi, Sieradz County in Łódź Voivodeship *Ługi, Zgierz County in Łódź Voivodeship...
and two teams in the women's top league: H43/Lundagård and
LUGI
Lugi
Ługi may refer to the following places in Poland:*Ługi, Lower Silesian Voivodeship *Ługi, Sieradz County in Łódź Voivodeship *Ługi, Zgierz County in Łódź Voivodeship...
. It also has a chess team,
Lunds ASK
Lunds ASK
Lunds ASK or Lund's Academic Chess Club is a Premier League chess club who play in Lund, Sweden, and were founded in 1906. The team originally consisted of people connected to Lund University...
, that for decades has been among the top teams in Sweden. Lund is also the birthplace of the online football manager game
Hattrick
Hattrick
Hattrick is an online, browser-based, football management game developed in Sweden. Currently the game contains 128 different countries, each with its own league pyramid, and 51 different language versions...
. Lund also has a Division 1 football club called
Lunds BK
Lunds BK
Lunds BK is a football club from Lund, Sweden founded in 1919. The club currently plays in Division 1 Södra and at the same time time also plays in the Tipselit....
.
Lund hosted matches from the
2011 Handball World Championship
2011 World Men's Handball Championship
The 2011 World Men's Handball Championship, the 22nd event hosted by the International Handball Federation, was held in Sweden from 13–30 January, 2011...
in the Färs och Frosta Sparbank Arena.
Industry
Lund is a centre of
high tech
High tech
High tech is technology that is at the cutting edge: the most advanced technology currently available. It is often used in reference to micro-electronics, rather than other technologies. The adjective form is hyphenated: high-tech or high-technology...
companies, such as
Sony Ericsson
Sony Ericsson
Sony Ericsson Mobile Communications AB is a joint venture established on October 1, 2001 by the Japanese consumer electronics company Sony Corporation and the Swedish telecommunications company Ericsson to manufacture mobile phones....
and
Ericsson Mobile Platforms
Ericsson Mobile Platforms
Ericsson Mobile Platforms was the name of the company within the Ericsson group that supplied mobile platforms, i.e. the technological basis on which a cellular phone product can be built...
, and other
telecommunication
Telecommunication
Telecommunication is the transmission of information over significant distances to communicate. In earlier times, telecommunications involved the use of visual signals, such as beacons, smoke signals, semaphore telegraphs, signal flags, and optical heliographs, or audio messages via coded...
companies. The
Lund Institute of Technology
Lund Institute of Technology
The Faculty of Engineering is one of the eight faculties at Lund University in Lund, Sweden, commonly called LTH . LTH was originally established as an independent institute in 1961, but was incorporated in Lund University as a faculty in 1969...
has historical connections with the industrial economy. A
business park
Business park
A business park or office park is an area of land in which many office buildings are grouped together. All of the work that goes on is commercial, not industrial or residential....
,
Ideon
, is for high tech companies that have ties to the university.
Other important industries include medical technology (
Gambro
Gambro
Gambro is a global medical technology companythat manufactures products for Dialysis treatment.The company is a global leader in developing, manufacturing andsupplying products and therapies for Kidneyand Liver Dialysis, Myeloma Kidney Therapy, and other...
), pharmaceuticals, biotechnology (Active Biotech, among others), heat exchanger and separator (
Alfa Laval
Alfa Laval
Alfa Laval AB is a Swedish company, founded in 1883 by Gustaf de Laval and Oscar Lamm. The company is a leading producer of specialized products and solutions used to heat, cool, separate and transport such products as oil, water, chemicals, beverages, foodstuffs, starch and...
), and publishing and library services. The hospital and the university in Lund are two other major employers, with extensive research facilities.
Astra Zeneca offices closed down in 2010.
Lund is home to the
Tetra Pak
Tetra Pak
Tetra Pak is a multinational food processing and packaging company of Swedish origin. It was founded in 1951 in Lund, Sweden, by Ruben Rausing. It was Erik Wallenberg who invented the tetrahedral package, today known as Tetra Classic...
company, which manufactures and markets paper packaging and equipment for milk, orange
juice
Juice
Juice is the liquid that is naturally contained in fruit or vegetable tissue.Juice is prepared by mechanically squeezing or macerating fruit or vegetable flesh without the application of heat or solvents. For example, orange juice is the liquid extract of the fruit of the orange tree...
, etc. all over the world.
Education
Notable natives and residents
Literary residents
See also
External links