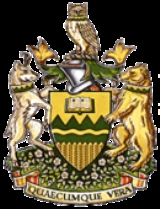 University of Alberta
The University of Alberta (U of A) is a
public
Public university
A public university is a university that is predominantly funded by public means through a national or subnational government, as opposed to private universities. A national university may or may not be considered a public university, depending on regions...
research
university
University
A university is an institution of higher education and research, which grants academic degrees in a variety of subjects. A university is an organisation that provides both undergraduate education and postgraduate education...
located in
Edmonton
Edmonton
Edmonton is the capital of the Canadian province of Alberta and is the province's second-largest city. Edmonton is located on the North Saskatchewan River and is the centre of the Edmonton Capital Region, which is surrounded by the central region of the province.The city and its census...
,
Alberta
Alberta
Alberta is a province of Canada. It had an estimated population of 3.7 million in 2010 making it the most populous of Canada's three prairie provinces...
,
Canada
Canada
Canada is a North American country consisting of ten provinces and three territories. Located in the northern part of the continent, it extends from the Atlantic Ocean in the east to the Pacific Ocean in the west, and northward into the Arctic Ocean...
. Founded in 1908 by
Alexander Cameron Rutherford
Alexander Cameron Rutherford
Alexander Cameron Rutherford was a Canadian lawyer and politician who served as the first Premier of Alberta from 1905 to 1910. Born in Ormond, Ontario, he studied and practised law in Ottawa before moving with his family to the Northwest Territories in 1895...
, the first premier of Alberta and
Henry Marshall Tory
Henry Marshall Tory
Henry Marshall Tory was the first president of the University of Alberta , the first president of the Khaki University, the first president of the National Research Council and the first president of Carleton College...
, its first president, it is widely recognized as one of the best universities in Canada. The main campus covers 50 city blocks with over 90 buildings directly across the
North Saskatchewan River
North Saskatchewan River
The North Saskatchewan River is a glacier-fed river that flows east from the Canadian Rockies to central Saskatchewan. It is one of two major rivers that join to make up the Saskatchewan River....
from
downtown Edmonton
Downtown Edmonton
Downtown Edmonton is bounded by 109 Street to the west, 105 Avenue to the north, 97 Street to the east, 97 Avenue, 100 Avenue, and Rossdale Road to the south and Jasper Avenue to the southeast , though many people consider part or all of the surrounding neighborhoods to be part of downtown...
. The enabling legislation is the Post-secondary Learning Act.
the continued economic boom in Alberta, driven mainly by high energy prices, had resulted in multi-billion dollar government fiscal surpluses.