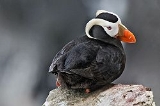 Tufted Puffin
The
Tufted Puffin
also known as
Crested Puffin
, is a relatively abundant medium-sized pelagic
seabird
Seabird
Seabirds are birds that have adapted to life within the marine environment. While seabirds vary greatly in lifestyle, behaviour and physiology, they often exhibit striking convergent evolution, as the same environmental problems and feeding niches have resulted in similar adaptations...
in the
auk
Auk
An auk is a bird of the family Alcidae in the order Charadriiformes. Auks are superficially similar to penguins due to their black-and-white colours, their upright posture and some of their habits...
(Alcidae) family found throughout the North Pacific Ocean.
It is one of three species of
puffin
Puffin
Puffins are any of three small species of auk in the bird genus Fratercula with a brightly coloured beak during the breeding season. These are pelagic seabirds that feed primarily by diving in the water. They breed in large colonies on coastal cliffs or offshore islands, nesting in crevices among...
that make up the
Fratercula
genus and is easily recognizable by its thick red
bill
Beak
The beak, bill or rostrum is an external anatomical structure of birds which is used for eating and for grooming, manipulating objects, killing prey, fighting, probing for food, courtship and feeding young...
and yellow tufts.
Taxonomy
The Tufted Puffin was first described in 1769 by German zoologist
Peter Simon Pallas
Peter Simon Pallas
Peter Simon Pallas was a German zoologist and botanist who worked in Russia.- Life and work :Pallas was born in Berlin, the son of Professor of Surgery Simon Pallas. He studied with private tutors and took an interest in natural history, later attending the University of Halle and the University...
. Its generic name is derived from the
Latin
Latin
Latin is an Italic language originally spoken in Latium and Ancient Rome. It, along with most European languages, is a descendant of the ancient Proto-Indo-European language. Although it is considered a dead language, a number of scholars and members of the Christian clergy speak it fluently, and...
Fratercula
'little brother' and the specific epithet,
cirrhata
'tufted'. Since it may be more closely related to the
Rhinoceros Auklet
Rhinoceros Auklet
The Rhinoceros Auklet is a seabird and a close relative of the puffins. It is the only living species of the genus Cerorhinca. Given its close relationship with the puffins, the common name Rhinoceros Puffin has been proposed for the species.It ranges widely across the North Pacific, feeding on...
than the other puffins it is sometimes placed in the genus
Lunda
.
Description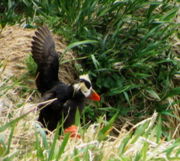 Tufted Puffins are around 35 cm (15 in) in length with a similar wingspan and weigh about three quarters of a kilogram (1.6 lbs). Birds from the western Pacific population are somewhat larger than those from the eastern Pacific, and male birds tend to be slightly larger than females.
They are mostly black with a white facial patch, and, typical of other puffin species, feature a very thick bill which is mostly red with some yellow and occasionally green markings. Their most distinctive feature and namesake are the yellow tufts that appear annually on birds of both sexes as the summer reproductive season approaches. Their feet become bright red and their face also becomes bright white in the summer. During the feeding season, the tufts moult off and the plumage, beak and legs lose much of their lustre.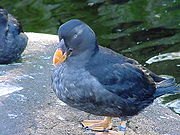 As among other alcids, the wings are relatively short, adapted for diving, underwater swimming and capturing prey rather than gliding, of which they are incapable. As a consequence, they have thick, dark
myoglobin
Myoglobin
Myoglobin is an iron- and oxygen-binding protein found in the muscle tissue of vertebrates in general and in almost all mammals. It is related to hemoglobin, which is the iron- and oxygen-binding protein in blood, specifically in the red blood cells. The only time myoglobin is found in the...
-rich breast muscles adapted for a fast and
aerobically
Aerobic exercise
Aerobic exercise is physical exercise of relatively low intensity that depends primarily on the aerobic energy-generating process. Aerobic literally means "living in air", and refers to the use of oxygen to adequately meet energy demands during exercise via aerobic metabolism...
strenuous wing-beat cadence, which they can nonetheless maintain for long periods of time.
Juvenile puffins resemble winter adults, but with a grey-brown breast, white belly, and a shallow, brown bill.
Distribution and habitat
Tufted Puffins form dense
breeding colonies
Bird colony
A bird colony is a large congregation of individuals of one or more species of bird that nest or roost in close proximity at a particular location. Many kinds of birds are known to congregate in groups of varying size; a congregation of nesting birds is called a breeding colony...
during the summer reproductive season from
British Columbia
British Columbia
British Columbia is the westernmost of Canada's provinces and is known for its natural beauty, as reflected in its Latin motto, Splendor sine occasu . Its name was chosen by Queen Victoria in 1858...
, throughout southeastern
Alaska
Alaska
Alaska is the largest state in the United States by area. It is situated in the northwest extremity of the North American continent, with Canada to the east, the Arctic Ocean to the north, and the Pacific Ocean to the west and south, with Russia further west across the Bering Strait...
and the
Aleutian Islands
, Kamchatka, the
Kuril Islands
Kuril Islands
The Kuril Islands , in Russia's Sakhalin Oblast region, form a volcanic archipelago that stretches approximately northeast from Hokkaidō, Japan, to Kamchatka, Russia, separating the Sea of Okhotsk from the North Pacific Ocean. There are 56 islands and many more minor rocks. It consists of Greater...
and throughout the
Sea of Okhotsk
Sea of Okhotsk
The Sea of Okhotsk is a marginal sea of the western Pacific Ocean, lying between the Kamchatka Peninsula on the east, the Kuril Islands on the southeast, the island of Hokkaidō to the far south, the island of Sakhalin along the west, and a long stretch of eastern Siberian coast along the west and...
. While they share some habitat with Horned Puffins (
F. corniculata
), the range of the Tufted Puffin is generally more southern. They have been known to nest in small numbers as far south as the northern Channel Islands, off southern California. However, the last confirmed sighting at the Channel Islands occurred in 1997.
Tufted Puffins typically select
island
Island
An island or isle is any piece of sub-continental land that is surrounded by water. Very small islands such as emergent land features on atolls can be called islets, cays or keys. An island in a river or lake may be called an eyot , or holm...
s or cliffs that are relatively inaccessible to predators, close to productive waters, and high enough that they can take to the air successfully. Ideal habitat is steep but with a relatively soft soil substrate and
grass
Grass
Grasses, or more technically graminoids, are monocotyledonous, usually herbaceous plants with narrow leaves growing from the base. They include the "true grasses", of the Poaceae family, as well as the sedges and the rushes . The true grasses include cereals, bamboo and the grasses of lawns ...
for the creation of
burrow
Burrow
A burrow is a hole or tunnel dug into the ground by an animal to create a space suitable for habitation, temporary refuge, or as a byproduct of locomotion. Burrows provide a form of shelter against predation and exposure to the elements, so the burrowing way of life is quite popular among the...
s.
During the winter feeding season, they spend their time almost exclusively at sea, extending their
range
Range (biology)
In biology, the range or distribution of a species is the geographical area within which that species can be found. Within that range, dispersion is variation in local density.The term is often qualified:...
throughout the North Pacific and south to
Japan
Japan
Japan is an island nation in East Asia. Located in the Pacific Ocean, it lies to the east of the Sea of Japan, China, North Korea, South Korea and Russia, stretching from the Sea of Okhotsk in the north to the East China Sea and Taiwan in the south...
and
California
California
California is a state located on the West Coast of the United States. It is by far the most populous U.S. state, and the third-largest by land area...
.
Breeding
Breeding takes place on isolated islands: over 25,000 pairs have been recorded in a single colony off the coast of
British Columbia
British Columbia
British Columbia is the westernmost of Canada's provinces and is known for its natural beauty, as reflected in its Latin motto, Splendor sine occasu . Its name was chosen by Queen Victoria in 1858...
. The nest is usually a simple burrow dug with the bill and feet, but sometimes a crevice between rocks is used instead. It is well-lined with vegetation and feathers. Courtship occurs through skypointing, strutting, and billing. A single
egg
Bird egg
Bird eggs are laid by females and incubated for a time that varies according to the species; a single young hatches from each egg. Average clutch sizes range from one to about 17...
is laid, usually in June, and incubated by both parents for about 45 days. Fledglings leave the nest at between 40 and 55 days.
Diet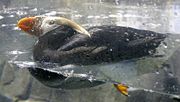 Tufted Puffins feed almost exclusively on
fish
Fish
Fish are a paraphyletic group of organisms that consist of all gill-bearing aquatic vertebrate animals that lack limbs with digits. Included in this definition are the living hagfish, lampreys, and cartilaginous and bony fish, as well as various extinct related groups...
, which they catch by diving from the surface. Adults may also feed on
squid
Squid
Squid are cephalopods of the order Teuthida, which comprises around 300 species. Like all other cephalopods, squid have a distinct head, bilateral symmetry, a mantle, and arms. Squid, like cuttlefish, have eight arms arranged in pairs and two, usually longer, tentacles...
or other invertebrates. Feeding areas can be located far offshore from the nesting areas. Puffins can store large quantities of small fish in their bills and carry them to their chicks.
Predators and threats
Tufted Puffins are preyed upon by various avian raptors such as Snowy Owls, Bald Eagles and Peregrine Falcons, and mammals like the Arctic Foxes. Foxes seem to prefer the puffin over other birds, making the bird a main target. Choosing inaccessible cliffs and entirely mammal-free islands protects them from terrestrial predators while laying eggs in burrows is effective in protecting them from egg-scavengers like
gull
Gull
Gulls are birds in the family Laridae. They are most closely related to the terns and only distantly related to auks, skimmers, and more distantly to the waders...
s and
raven
Raven
Raven is the common name given to several larger-bodied members of the genus Corvus—but in Europe and North America the Common Raven is normally implied...
s.
Conservation Status in Puget Sound
Many rules and regulations have been set out to try to conserve fishes and shorebirds in Puget Sound. The Department of Natural Resources (DNR) of Washington State has created aquatic reserves surrounding Smith and Minor Islands. Over 36000 acres (145.7 km²) of tidelands and seafloor habitat were included in the proposed aquatic reserve. Not only do these islands provide the necessary habitat for many seabirds such as tufted puffins and marine mammals, but this area also contains the largest kelp beds in all of Puget Sound. In addition, Protection Island reserve has also been off limits to the public to aid marine birds in breeding. Protection Island contains one of the last two nesting colonies of puffins in Puget Sound, and about 70% of the tufted puffin population nests on this island.
Puffins and man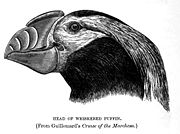 The Aleut and
Ainu people
Ainu people
The , also called Aynu, Aino , and in historical texts Ezo , are indigenous people or groups in Japan and Russia. Historically they spoke the Ainu language and related varieties and lived in Hokkaidō, the Kuril Islands, and much of Sakhalin...
of the North Pacific traditionally hunted Tufted Puffin for food and feathers. Skins were used to make tough
parka
s worn feather side in and the silky tufts were sewn into ornamental work. Currently, harvesting of Tufted Puffin is illegal or discouraged throughout its range.
Further reading
Database entry includes justification for why this species is of least concern
"National Geographic" Field Guide to the Birds of North America ISBN 0-7922-6877-6
Seabirds, an Identification Guide by Peter Harrison, (1983) ISBN 0-7470-1410-8
Handbook of the Birds of the World Vol 3, Josep del Hoyo editor, ISBN 84-87334-20-2
"National Audubon Society" The Sibley Guide to Birds, by David Allen Sibley, ISBN 0-679-45122-6
Stirling, Katie. ADW: Fratercula cirrhata. University of Michigan, Michigan, USA.
External links