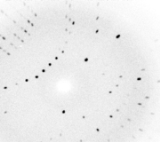 Myoglobin
Myoglobin
is an iron- and oxygen-binding
protein
Protein
Proteins are biochemical compounds consisting of one or more polypeptides typically folded into a globular or fibrous form, facilitating a biological function. A polypeptide is a single linear polymer chain of amino acids bonded together by peptide bonds between the carboxyl and amino groups of...
found in the muscle tissue of vertebrates in general and in almost all mammals. It is related to hemoglobin, which is the iron- and oxygen-binding protein in blood, specifically in the red blood cells. The only time myoglobin is found in the bloodstream is when it is released following muscle injury. It is an abnormal finding, and can be diagnostically relevant when found in blood.
Myoglobin (abbreviated Mb) is a
single-chain
Tertiary structure
In biochemistry and molecular biology, the tertiary structure of a protein or any other macromolecule is its three-dimensional structure, as defined by the atomic coordinates.-Relationship to primary structure:...
globular protein of 153 or 154
amino acid
Amino acid
Amino acids are molecules containing an amine group, a carboxylic acid group and a side-chain that varies between different amino acids. The key elements of an amino acid are carbon, hydrogen, oxygen, and nitrogen...
s, containing a
heme
Heme
A heme or haem is a prosthetic group that consists of an iron atom contained in the center of a large heterocyclic organic ring called a porphyrin. Not all porphyrins contain iron, but a substantial fraction of porphyrin-containing metalloproteins have heme as their prosthetic group; these are...
(
iron
Iron
Iron is a chemical element with the symbol Fe and atomic number 26. It is a metal in the first transition series. It is the most common element forming the planet Earth as a whole, forming much of Earth's outer and inner core. It is the fourth most common element in the Earth's crust...
-containing
porphyrin
Porphyrin
Porphyrins are a group of organic compounds, many naturally occurring. One of the best-known porphyrins is heme, the pigment in red blood cells; heme is a cofactor of the protein hemoglobin. Porphyrins are heterocyclic macrocycles composed of four modified pyrrole subunits interconnected at...
) prosthetic group in the center around which the remaining
apoprotein
Apoprotein
Apoprotein can refer to:*Apoenzyme, the protein part of an enzyme without its characteristic prosthetic group.*Apolipoprotein, a lipid-binding protein that is a constituent of the plasma lipoprotein....
folds.