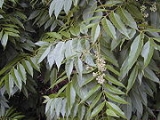 Toona
Toona
is a
genus
Genus
In biology, a genus is a low-level taxonomic rank used in the biological classification of living and fossil organisms, which is an example of definition by genus and differentia...
of five species of
tree
Tree
A tree is a perennial woody plant. It is most often defined as a woody plant that has many secondary branches supported clear of the ground on a single main stem or trunk with clear apical dominance. A minimum height specification at maturity is cited by some authors, varying from 3 m to...
s in the
mahogany
Swietenia
Swietenia is a genus of trees in the chinaberry family, Meliaceae. It occurs natively in the Neotropics, from southern Florida, the Caribbean, Mexico and Central America south to Bolivia...
family,
Meliaceae
Meliaceae
The Meliaceae, or the Mahogany family, is a flowering plant family of mostly trees and shrubs in the order Sapindales....
, native from
Afghanistan
Afghanistan
Afghanistan , officially the Islamic Republic of Afghanistan, is a landlocked country located in the centre of Asia, forming South Asia, Central Asia and the Middle East. With a population of about 29 million, it has an area of , making it the 42nd most populous and 41st largest nation in the world...
south to
India
India
India , officially the Republic of India , is a country in South Asia. It is the seventh-largest country by geographical area, the second-most populous country with over 1.2 billion people, and the most populous democracy in the world...
, and east to
North Korea
North Korea
The Democratic People's Republic of Korea , , is a country in East Asia, occupying the northern half of the Korean Peninsula. Its capital and largest city is Pyongyang. The Korean Demilitarized Zone serves as the buffer zone between North Korea and South Korea...
,
Papua New Guinea
Papua New Guinea
Papua New Guinea , officially the Independent State of Papua New Guinea, is a country in Oceania, occupying the eastern half of the island of New Guinea and numerous offshore islands...
and eastern
Australia
Australia
Australia , officially the Commonwealth of Australia, is a country in the Southern Hemisphere comprising the mainland of the Australian continent, the island of Tasmania, and numerous smaller islands in the Indian and Pacific Oceans. It is the world's sixth-largest country by total area...
. In older texts, the genus was often incorporated within a wider circumscription of the related genus
Cedrela
Cedrela
Cedrela is a genus of seven species in the mahogany family Meliaceae. They are evergreen or dry-season deciduous trees with pinnate leaves, native to the tropical and subtropical New World, from southern Mexico south to northern Argentina. The name is derived from a diminutive form of Cedrus...
, but that genus is now restricted to species from the
Americas
Americas
The Americas, or America , are lands in the Western hemisphere, also known as the New World. In English, the plural form the Americas is often used to refer to the landmasses of North America and South America with their associated islands and regions, while the singular form America is primarily...
.
Ornamental
Toona sinensis
is of interest as by far the most cold-tolerant species in the Meliaceae, native in China as far north as 40°N in the
Beijing
Beijing
Beijing , also known as Peking , is the capital of the People's Republic of China and one of the most populous cities in the world, with a population of 19,612,368 as of 2010. The city is the country's political, cultural, and educational center, and home to the headquarters for most of China's...
area, where its tender shoots, called
xiangchun
, are a traditional local
leaf vegetable
Leaf vegetable
Leaf vegetables, also called potherbs, green vegetables, greens, leafy greens or salad greens, are plant leaves eaten as a vegetable, sometimes accompanied by tender petioles and shoots...
. It the only member of the family that can be cultivated successfully in northern
Europe
Europe
Europe is, by convention, one of the world's seven continents. Comprising the westernmost peninsula of Eurasia, Europe is generally 'divided' from Asia to its east by the watershed divides of the Ural and Caucasus Mountains, the Ural River, the Caspian and Black Seas, and the waterways connecting...
, where it is sometimes planted as an ornamental tree in parks and avenues. Until recently, it had no widespread English common name, though Chinese Mahogany (reflecting its botanical relationship) is now used (e.g. Rushforth 1999).
Wood
T. ciliata
Toona ciliata
Australian Red Cedar , Toona ciliata is a forest tree in the family Meliaceae which grows throughout southern Asia from Afghanistan to Papua New Guinea and Australia. In Australia its natural habitat is now extensively cleared subtropical rainforests of New South Wales and Queensland...
is an important
timber
Timber
Timber may refer to:* Timber, a term common in the United Kingdom and Australia for wood materials * Timber, Oregon, an unincorporated community in the U.S...
tree. It provides a valuable
hardwood
Hardwood
Hardwood is wood from angiosperm trees . It may also be used for those trees themselves: these are usually broad-leaved; in temperate and boreal latitudes they are mostly deciduous, but in tropics and subtropics mostly evergreen.Hardwood contrasts with softwood...
used for
furniture
Furniture
Furniture is the mass noun for the movable objects intended to support various human activities such as seating and sleeping in beds, to hold objects at a convenient height for work using horizontal surfaces above the ground, or to store things...
, ornamental panelling,
shipbuilding
Shipbuilding
Shipbuilding is the construction of ships and floating vessels. It normally takes place in a specialized facility known as a shipyard. Shipbuilders, also called shipwrights, follow a specialized occupation that traces its roots to before recorded history.Shipbuilding and ship repairs, both...
, and musical instruments like the
sitar
Sitar
The 'Tablaman' is a plucked stringed instrument predominantly used in Hindustani classical music, where it has been ubiquitous since the Middle Ages...
,
rudra veena
Rudra veena
See also veenaThe rudra veena is a large plucked string instrument used in Hindustani classical music. It is an ancient instrument rarely played today...
, and drums. Instruments made from this wood are considered to be of the highest quality.
Medicine and Food
T. Sinensis (Chinese Toon)
Toona sinensis
Toona sinensis Toona sinensis Toona sinensis (syn. Cedrela sinensis A.Juss.; Chinese Mahogany, Chinese Toon, or Red Toon is a species of Toona native to eastern and southeastern Asia, from North Korea south through most of eastern, central and southwestern China to Nepal, northeastern India,...
is used in Chinese traditional medicine and eaten as a vegetable in China (leaves and shoots).
Selected species
Toona calantas

Toona calantas

Toona calantas is a species of plant in the Meliaceae family. It is found in Indonesia, the Philippines, and Thailand. It is threatened by habitat loss.-Source:...


Merr. & Rolfe – Kalantas, Philippine Mahogany
Toona ciliata

Toona ciliata

Australian Red Cedar , Toona ciliata is a forest tree in the family Meliaceae which grows throughout southern Asia from Afghanistan to Papua New Guinea and Australia. In Australia its natural habitat is now extensively cleared subtropical rainforests of New South Wales and Queensland...


M.Roem. (syn. T. australis) – Australian Red Cedar, Toon, Suren, Indian Mahogany
Toona febrifuga – Vietnam Mahogany
Toona sinensis

Toona sinensis

Toona sinensis Toona sinensis Toona sinensis (syn. Cedrela sinensis A.Juss.; Chinese Mahogany, Chinese Toon, or Red Toon is a species of Toona native to eastern and southeastern Asia, from North Korea south through most of eastern, central and southwestern China to Nepal, northeastern India,...


(A.Juss.) M.Roem. – Chinese Mahogany or Chinese Toon
Toona sureni (Blume) Merr. – Suren, Indonesian Mahogany
External links