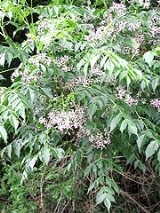 Meliaceae
The
Meliaceae
, or the
Mahogany family
, is a
flowering plant
Flowering plant
The flowering plants , also known as Angiospermae or Magnoliophyta, are the most diverse group of land plants. Angiosperms are seed-producing plants like the gymnosperms and can be distinguished from the gymnosperms by a series of synapomorphies...
family of mostly
tree
Tree
A tree is a perennial woody plant. It is most often defined as a woody plant that has many secondary branches supported clear of the ground on a single main stem or trunk with clear apical dominance. A minimum height specification at maturity is cited by some authors, varying from 3 m to...
s and
shrub
Shrub
A shrub or bush is distinguished from a tree by its multiple stems and shorter height, usually under 5–6 m tall. A large number of plants may become either shrubs or trees, depending on the growing conditions they experience...
s (and a few
herbaceous
Herbaceous
A herbaceous plant is a plant that has leaves and stems that die down at the end of the growing season to the soil level. They have no persistent woody stem above ground...
plants, mangroves) in the order
Sapindales
Sapindales
Sapindales is a botanical name for an order of flowering plants. Well-known members of Sapindales include citrus; maples, horse-chestnuts, lychees and rambutans; mangos and cashews; frankincense and myrrh; mahogany and neem....
.
They are characterised by alternate, usually pinnate leaves without
stipules
Stipule
In botany, stipule is a term coined by Linnaeus which refers to outgrowths borne on either side of the base of a leafstalk...
, and by syncarpous, apparently bisexual (but actually mostly cryptically unisexual)
flower
Flower
A flower, sometimes known as a bloom or blossom, is the reproductive structure found in flowering plants . The biological function of a flower is to effect reproduction, usually by providing a mechanism for the union of sperm with eggs...
s
borne
Inflorescence
An inflorescence is a group or cluster of flowers arranged on a stem that is composed of a main branch or a complicated arrangement of branches. Strictly, it is the part of the shoot of seed plants where flowers are formed and which is accordingly modified...
in panicles, cymes, spikes, or clusters. Most species are
evergreen
Evergreen
In botany, an evergreen plant is a plant that has leaves in all seasons. This contrasts with deciduous plants, which completely lose their foliage during the winter or dry season.There are many different kinds of evergreen plants, both trees and shrubs...
, but some are
deciduous
Deciduous
Deciduous means "falling off at maturity" or "tending to fall off", and is typically used in reference to trees or shrubs that lose their leaves seasonally, and to the shedding of other plant structures such as petals after flowering or fruit when ripe...
, either in the
dry season
Dry season
The dry season is a term commonly used when describing the weather in the tropics. The weather in the tropics is dominated by the tropical rain belt, which oscillates from the northern to the southern tropics over the course of the year...
or in winter.
The family includes about 50 genera and 550 species, with a pantropical distribution; one genus (
Toona
) extends north into temperate
China
China
Chinese civilization may refer to:* China for more general discussion of the country.* Chinese culture* Greater China, the transnational community of ethnic Chinese.* History of China* Sinosphere, the area historically affected by Chinese culture...
and south into southeast
Australia
Australia
Australia , officially the Commonwealth of Australia, is a country in the Southern Hemisphere comprising the mainland of the Australian continent, the island of Tasmania, and numerous smaller islands in the Indian and Pacific Oceans. It is the world's sixth-largest country by total area...
, and another (
Melia
) nearly as far north.
Various species are used for vegetable oil,
soap
Soap
In chemistry, soap is a salt of a fatty acid.IUPAC. "" Compendium of Chemical Terminology, 2nd ed. . Compiled by A. D. McNaught and A. Wilkinson. Blackwell Scientific Publications, Oxford . XML on-line corrected version: created by M. Nic, J. Jirat, B. Kosata; updates compiled by A. Jenkins. ISBN...
-making,
insecticide
Insecticide
An insecticide is a pesticide used against insects. They include ovicides and larvicides used against the eggs and larvae of insects respectively. Insecticides are used in agriculture, medicine, industry and the household. The use of insecticides is believed to be one of the major factors behind...
s, and highly prized
wood
Wood
Wood is a hard, fibrous tissue found in many trees. It has been used for hundreds of thousands of years for both fuel and as a construction material. It is an organic material, a natural composite of cellulose fibers embedded in a matrix of lignin which resists compression...
(mahogany).
Some economically important species belong to this family: