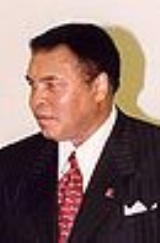 Thrilla in Manila
The
Thrilla in Manila
was the third and final famous
boxing
Boxing
Boxing, also called pugilism, is a combat sport in which two people fight each other using their fists. Boxing is supervised by a referee over a series of between one to three minute intervals called rounds...
match between
Muhammad Ali
Muhammad Ali
Muhammad Ali is an American former professional boxer, philanthropist and social activist...
and
Joe Frazier
Joe Frazier
Joseph William "Joe" Frazier , also known as Smokin' Joe, was an Olympic and Undisputed World Heavyweight boxing champion, whose professional career lasted from 1965 to 1976, with a one-fight comeback in 1981....
for the Heavyweight Boxing Championship of the World, fought at the
Araneta Coliseum
Araneta Coliseum
The Smart Araneta Coliseum, known as The Big Dome is an indoor multi-purpose sports arena located in the Cubao area of Quezon City, Philippines...
in
Quezon City
Quezon City
Quezon City is the former capital and the most populous city in the Philippines. Located on the island of Luzon, Quezon City is one of the cities and municipalities that make up Metro Manila, the National Capital Region. The city was named after Manuel L...
,
Metro Manila
Metro Manila
Metropolitan Manila , the National Capital Region , or simply Metro Manila, is the metropolitan region encompassing the City of Manila and its surrounding areas in the Philippines...
,
Philippines
Philippines
The Philippines , officially known as the Republic of the Philippines , is a country in Southeast Asia in the western Pacific Ocean. To its north across the Luzon Strait lies Taiwan. West across the South China Sea sits Vietnam...
on October 1, 1975.
The bout is often ranked as one of the greatest fights of 20th century boxing, and is the climax to the bitter rivalry between Ali and Frazier over who was the legitimate Heavyweight Champion. That situation came about after Ali was stripped of the title over his refusal to join the armed forces when drafted during the
Vietnam War
Vietnam War
The Vietnam War was a Cold War-era military conflict that occurred in Vietnam, Laos, and Cambodia from 1 November 1955 to the fall of Saigon on 30 April 1975. This war followed the First Indochina War and was fought between North Vietnam, supported by its communist allies, and the government of...
. Some years later, Frazier petitioned President Nixon to restore Ali's right to box, thereby bringing about the so called
Fight of the Century
Fight of the Century
Fight of the Century was the promotional nickname given to the first boxing match between champion Joe Frazier and challenger Muhammad Ali , held on March 8, 1971, at Madison Square Garden in New York City, New York....
between two undisputed heavyweight champions in 1971.
During the whole period from before their first fight to their last face-off in Manila, Ali had used his wit, sharp tongue, and position with the press to take characteristic verbal pot shots at Frazier (as was his practice with all opponents—and which made good copy and controversy) but these became particularly intense, controversial and at times ugly and this verbal battery heated the rivalry into new territory.
Pre-fight

Philippine
Philippines
The Philippines , officially known as the Republic of the Philippines , is a country in Southeast Asia in the western Pacific Ocean. To its north across the Luzon Strait lies Taiwan. West across the South China Sea sits Vietnam...
President
President of the Philippines
The President of the Philippines is the head of state and head of government of the Philippines. The president leads the executive branch of the Philippine government and is the commander-in-chief of the Armed Forces of the Philippines...
Ferdinand Marcos
Ferdinand Marcos
Ferdinand Emmanuel Edralin Marcos, Sr. was a Filipino leader and an authoritarian President of the Philippines from 1965 to 1986. He was a lawyer, member of the Philippine House of Representatives and a member of the Philippine Senate...
offered to hold the bout in
Metro Manila
Metro Manila
Metropolitan Manila , the National Capital Region , or simply Metro Manila, is the metropolitan region encompassing the City of Manila and its surrounding areas in the Philippines...
and sponsor it to divert attention from the social turmoil that the country was experiencing, having
declared
Proclamation No. 1081
Proclamation No. 1081 was the declaration of martial law in the Philippines by President Ferdinand E. Marcos. Once in effect, it covered the entire republic on September 21, 1972...
martial law
Martial law
Martial law is the imposition of military rule by military authorities over designated regions on an emergency basis— only temporary—when the civilian government or civilian authorities fail to function effectively , when there are extensive riots and protests, or when the disobedience of the law...
three years earlier. Don King, amused by the gesture, agreed to hold the fight at the Araneta Coliseum in Quezon City. Produced by King and broadcast to many countries worldwide with
HBO
Home Box Office
HBO, short for Home Box Office, is an American premium cable television network, owned by Time Warner. , HBO's programming reaches 28.2 million subscribers in the United States, making it the second largest premium network in America . In addition to its U.S...
's antenna, The
Thrilla in Manila
had a tremendous media following.
The city of Cairo had apparently been considered as a possible host to the fight: The August 1975 issue of
Ring Magazine
had a fictitious fight-poster of Ali-Frazier III on its cover, which listed Nasser Stadium in Cairo as the place the fight was taking place.
The mood of the two fighters and their camps could not have been further apart. In Ali's camp the mood was jovial, and lighthearted. According to Ali's longtime physician and cornerman
Ferdie Pacheco
Ferdie Pacheco
Dr. Ferdie Pacheco was the cornerman for multiple boxing champions, most famously Muhammad Ali, for whom he was also a personal physician. Beginning in the late 1970s, Pacheco was a TV boxing analyst for several networks, most notably Showtime. Pacheco is also a prolific author and painter...
, it was believed by Ali and his trainers that Joe Frazier was washed up after his devastating loss to
George Foreman
George Foreman
George Edward Foreman is an American two-time former World Heavyweight Boxing Champion, Olympic gold medalist, ordained Baptist minister, author and successful entrepreneur...
, and the relative ease with which Ali had defeated Frazier in their rematch after that fight seemed to bear this out. The general consensus was that Ali was doing Frazier a favor, giving Joe one last big payday before sending him off into retirement, and as a result Ali did relatively little training, instead concentrating on the torrid affair he was having with
Veronica Porsche
Veronica Porsche Ali
Veronica Porsche Ali is an American professional psychologist and the former wife of boxing legend Muhammad Ali.Porsche was born in Louisiana on December 16, 1955 to Ethel and Horace Porche and is of Louisiana Creole descent...
, and amusing the vast entourage that had come to be nicknamed "The Ali Circus". Later, when Ali's then wife Belinda Ali found out that not only was Ali carrying on this affair but was introducing Veronica as his wife, she stormed into the Philippines, causing yet another distraction.
Frazier, meanwhile, was training with a grim and determined intensity. Frazier had never forgiven Ali's perceived invective towards him prior to their first fight. During the buildup to this rubber match, Ali added to this by calling Frazier a "gorilla", primarily because it rhymed with "Manila."
Frazier claims that he felt that Ali had betrayed him, because Frazier had attended numerous tribunals, hearings, and public relations functions in support of Ali throughout his three and a half year exile from boxing, which occurred after his draft refusal. Frazier's support of Ali extended beyond Ali's legal difficulties: Frazier ardently supported Ali in his attempt to have his boxing license restored. Frazier also provided Ali some financial support during his exile. Ali later asserted that he did so in an attempt to promote their fights and increase the gate. The period of social unrest of the era is important to locate in context, as Ali was a social phenomenon who transcended boxing. Frazier's bitter hatred for Ali drove Frazier to train relentlessly to defeat Ali.
Ali tried to promote further interest in the fight by taunting Frazier at every opportunity, most famously by punching a rubber gorilla meant to represent Frazier during a press conference while saying: "It's gonna be a thrilla, and a chilla, and a killa, when I get the Gorilla in Manila."
Fight
At 10:45 am, with a morning fight to coincide with international TV audiences, the bell for Round 1 rang. Ali had previously told his trainers that he was going to "put a whuppin on Joe Frazier, and he started the fight looking to do just that. Frazier was known for starting fights slowly, and Ali came out looking to use that to his advantage. Rather than dance and use his speed to stay away from Frazier, Ali came out and walked flat footed to the center of the ring and then proceeded to unleash a flurry of combinations on Frazier, who was hurt a number of times by Ali's onslaught, including staggering backwards several times in the first few rounds. However, to the amazement of Ali and many watching, Frazier continued to come forward, intent on punishing Ali's body at close range despite having to take more and more of the withering punishment Ali was dishing out. According to Pacheco, Ali, who wanted to make it a short fight, grew so frustrated with Frazier's refusal to go down or stop coming forward that he screamed "You stupid chump, you!" at Frazier in the fourth round.
As Ali began to tire from all the energy he had expended in the searing heat, Frazier turned up his own offense and began punishing Ali to the body and the head with his trademark hooks. By the sixth round, Frazier had staggered him in turn and seemed to be gaining control of the bout. At the beginning of the seventh round, Ali reportedly whispered in Frazier's ear, "Joe, they told me you was all washed up" Frazier growled back, "They told you wrong, pretty boy."
Frazier seemed to dominate the middle rounds. Ali tried to fend Frazier off with occasional furious flurries of punches, spurts of manic activity, and even unsuccessfully tried to use the
rope-a-dope
Rope-a-dope
The Rope-a-dope is a boxing fighting style commonly associated with Muhammad Ali in his 1974 Rumble in the Jungle match against George Foreman.-Technique:...
technique that had defeated George Foreman nearly a year earlier, but it was all negated by Frazier's relentless assault and power. Ali's camp seemed to have overlooked the fact that Frazier's smothering fighting style, which employed great numbers of left hooks, was in many ways, the perfect foil for Ali.
Between the terrific heat inside the stadium, Frazier's assault and his own nonchalant training, it began to seem that Ali would wilt and fall to defeat.
Finally, in the tenth round, Frazier began to slow down and tire, and Ali slowly turned the tide. In the 11th round he used his speed to dance more, and to unload a series of fast combinations on Frazier, which severely bruised his face by the end of the round, swelling Frazier's eyes to the point that nothing but a tiny slit remained open. Throughout round 12 Ali continued to turn the momentum, increasingly overwhelming Frazier, and using the fact that Frazier could no longer see Ali's right hand coming to hit Frazier with one hard right after another. About a minute into Round 13, Ali landed another blistering combination on Frazier, sending the injured fighter's mouthguard flying into the crowd. During the next two minutes Ali relentlessly kept after Frazier, the mouthguard not being replaced until the bell, hitting Frazier with hard combinations when Frazier wasn't throwing punches, and when Frazier did throw, Ali used the openings left to inflict yet more damage. Frazier's mouth was badly cut by the end of this round.
In round 14, Frazier was almost blind as he stepped in, and was met once more with punishing blows from Ali. With the punishment from Ali closing his right eye, Frazier was effectively fighting blind in the last rounds of the fight. By the 14th round Frazier was virtually helpless, and although Ali was desperately tired and hurting, he was able to summon the energy once again to give Frazier a fierce beating, and once again Frazier was staggered and nearly knocked down before the bell ended the round.
Seeing the results of round 14,
Eddie Futch
Eddie Futch
Eddie Futch was a boxing trainer. Among the fighters he trained are Joe Frazier, Ken Norton, Larry Holmes, and Trevor Berbick, four of the five men to defeat Muhammad Ali....
decided to stop the fight between rounds rather than risk a similar or worse fate for Frazier in the 15th. Frazier protested stopping the fight, shouting "I want him boss," and trying to get Futch to change his mind. Futch simply replied, "It's all over. No one will forget what you did here today", and signaled to referee
Carlos Padilla
Carlos Padilla, Jr.
Carlos "Sonny" Padilla, Jr. was a boxing referee and judge from the Philippines.The son of actor Carlos Padilla, Sr., Padilla first came to international prominence when he refereed the third fight between Muhammad Ali and Joe Frazier, known as the "Thrilla in Manila"...
to end the bout. Unknown to Frazier's corner, Ali had walked back to his own corner after the 14th and instructed Dundee to cut his gloves off. Ali later said that "Frazier quit just before I did. I didn't think I could fight any more." Ali's biographer,
Thomas Hauser
Thomas Hauser
Thomas Hauser is an American author.He made his debut as a writer in 1978 with The Execution of Charles Horman; An American Sacrifice. Horman's wife, Joyce and father, Ed Horman cooperated with Hauser on the book describing both the fate of Charles and his family's quest to uncover the truth in...
later revealed that a member of Ali's corner had told him that Ali was telling them to "cut (my gloves) off, cut 'em off", indicating Ali's desire to not continue the fight. Ali's surprise is quite visible on the video of the fight once Futch threw in the towel for Frazier. Ali would later claim that this was the closest to dying he had ever been, and also stated, "Joe Frazier, I'll tell the world right now, brings out the best in me. I'm gonna tell ya, that's one helluva man, and God bless him." In a brief post-fight interview with one of the commentators, Ali announced, "He is the greatest fighter of all times, next to me."
Aftermath
In 1999
ESPN

ESPN

Entertainment and Sports Programming Network, commonly known as ESPN, is an American global cable television network focusing on sports-related programming including live and pre-taped event telecasts, sports talk shows, and other original programming....


's SportsCentury

SportsCentury

SportsCentury is an ESPN biography program that reviews the people and athletic events that defined sports in North America throughout the 20th and 21st centuries....



ranked the fight as the fifth greatest sporting event of the 20th century.
The Philippines' first multi-level commercial shopping mall was named after Muhammad Ali as a tribute to his victory. The mall is named "
Ali Mall
Ali Mall
Ali Mall is the very first major shopping mall in the Philippines. It is located at Araneta Center, Cubao, Quezon City near SM Cubao. The mall was named after World Champion Boxer, Muhammad Ali. The mall was built in the 1976, making it one of the oldest malls in the country...
" and is located in
Araneta Center
Araneta Center
The Araneta Center is a 35-hectare commercial area in Quezon City, Philippines. Araneta Center Inc. , controlled by the Araneta family, is the owner, developer and manager of Araneta Center, which brings in an estimated 1 million visitors daily...
, Cubao,
Quezon City
Quezon City
Quezon City is the former capital and the most populous city in the Philippines. Located on the island of Luzon, Quezon City is one of the cities and municipalities that make up Metro Manila, the National Capital Region. The city was named after Manuel L...
right beside the Araneta Coliseum in which the "Thrilla in Manila" took place.
External links