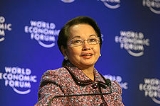 President of the Philippines
The
President of the Philippines
is the
head of state
Head of State
A head of state is the individual that serves as the chief public representative of a monarchy, republic, federation, commonwealth or other kind of state. His or her role generally includes legitimizing the state and exercising the political powers, functions, and duties granted to the head of...
and
head of government
Head of government
Head of government is the chief officer of the executive branch of a government, often presiding over a cabinet. In a parliamentary system, the head of government is often styled prime minister, chief minister, premier, etc...
of the
Philippines
Philippines
The Philippines , officially known as the Republic of the Philippines , is a country in Southeast Asia in the western Pacific Ocean. To its north across the Luzon Strait lies Taiwan. West across the South China Sea sits Vietnam...
. The president leads the executive branch of the Philippine government and is the
commander-in-chief
Commander-in-Chief
A commander-in-chief is the commander of a nation's military forces or significant element of those forces. In the latter case, the force element may be defined as those forces within a particular region or those forces which are associated by function. As a practical term it refers to the military...
of the
Armed Forces of the Philippines
Armed Forces of the Philippines
The Armed Forces of the Philippines is composed of the Philippine Army, Philippine Navy and Philippine Air Force...
. The President of the Philippines in Filipino is referred to as
Ang Pangulo
or
Pangulo
(or informally, "
Presidente
").
Depending on the definition chosen for these terms, a number of persons could alternatively be considered the inaugural holder of the office.