 Thomas Theodor Heine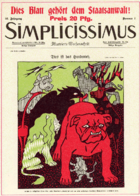 Thomas Theodor Heine
was a German painter and illustrator. Born in
Leipzig
Leipzig
Leipzig Leipzig has always been a trade city, situated during the time of the Holy Roman Empire at the intersection of the Via Regia and Via Imperii, two important trade routes. At one time, Leipzig was one of the major European centres of learning and culture in fields such as music and publishing...
, Heine established himself as a gifted
caricaturist
Caricature
A caricature is a portrait that exaggerates or distorts the essence of a person or thing to create an easily identifiable visual likeness. In literature, a caricature is a description of a person using exaggeration of some characteristics and oversimplification of others.Caricatures can be...
at an early age, which led to him studying art at the
Kunstakademie Düsseldorf
Kunstakademie Düsseldorf
The Kunstakademie Düsseldorf, formerly Staatliche Kunstakademie Düsseldorf, is the Arts Academy of the city of Düsseldorf. It is well known for having produced many famous artists, such as Joseph Beuys, Gerhard Richter, Sigmar Polke, Thomas Demand, and Andreas Gursky...
and, briefly, at the Academy of Fine Arts in
Munich
Munich
Munich The city's motto is "" . Before 2006, it was "Weltstadt mit Herz" . Its native name, , is derived from the Old High German Munichen, meaning "by the monks' place". The city's name derives from the monks of the Benedictine order who founded the city; hence the monk depicted on the city's coat...
. In 1896 he became successful as an illustrator for the
satirical
Satire
Satire is primarily a literary genre or form, although in practice it can also be found in the graphic and performing arts. In satire, vices, follies, abuses, and shortcomings are held up to ridicule, ideally with the intent of shaming individuals, and society itself, into improvement...
Munich magazine
Simplicissimus
Simplicissimus
Simplicissimus was a satirical German weekly magazine started by Albert Langen in April 1896 and published through 1967, with a hiatus from 1944-1954. It became a biweekly in 1964...
, for which he appropriated the stylistic idiom of Jugendstil and the graphic qualities of
Henri de Toulouse-Lautrec
Henri de Toulouse-Lautrec
Henri Marie Raymond de Toulouse-Lautrec-Monfa or simply Henri de Toulouse-Lautrec was a French painter, printmaker, draughtsman, and illustrator, whose immersion in the colourful and theatrical life of fin de siècle Paris yielded an œuvre of exciting, elegant and provocative images of the modern...
,
Aubrey Beardsley
Aubrey Beardsley
Aubrey Vincent Beardsley was an English illustrator and author. His drawings, done in black ink and influenced by the style of Japanese woodcuts, emphasized the grotesque, the decadent, and the erotic. He was a leading figure in the Aesthetic movement which also included Oscar Wilde and James A....
and Japanese
woodcut
Woodcut
Woodcut—occasionally known as xylography—is a relief printing artistic technique in printmaking in which an image is carved into the surface of a block of wood, with the printing parts remaining level with the surface while the non-printing parts are removed, typically with gouges...
s. The illustrated critiques of
social order
Social order
Social order is a concept used in sociology, history and other social sciences. It refers to a set of linked social structures, social institutions and social practices which conserve, maintain and enforce "normal" ways of relating and behaving....
s, and the
monarchy
Monarchy
A monarchy is a form of government in which the office of head of state is usually held until death or abdication and is often hereditary and includes a royal house. In some cases, the monarch is elected...
in particular, that he made for the magazine led to a six-month prison sentence in 1898. He also began work as a book illustrator in the 1890s.
He fled Germany in 1933, first to
Prague
Prague
Prague is the capital and largest city of the Czech Republic. Situated in the north-west of the country on the Vltava river, the city is home to about 1.3 million people, while its metropolitan area is estimated to have a population of over 2.3 million...
. From 1938 until 1942 he lived in
Oslo
Oslo
Oslo is a municipality, as well as the capital and most populous city in Norway. As a municipality , it was established on 1 January 1838. Founded around 1048 by King Harald III of Norway, the city was largely destroyed by fire in 1624. The city was moved under the reign of Denmark–Norway's King...
, and from 1942 until his death in 1948 he lived in
Stockholm
Stockholm
Stockholm is the capital and the largest city of Sweden and constitutes the most populated urban area in Scandinavia. Stockholm is the most populous city in Sweden, with a population of 851,155 in the municipality , 1.37 million in the urban area , and around 2.1 million in the metropolitan area...
. He published a highly-cynical
autobiography
Autobiography
An autobiography is a book about the life of a person, written by that person.-Origin of the term:...
in 1942
Ich warte auf Wunder
(I Wait for Miracles).