 The Meadow Building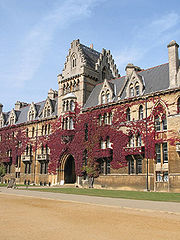 The Meadow Building
is part of
Christ Church, Oxford
Christ Church, Oxford
Christ Church or house of Christ, and thus sometimes known as The House), is one of the largest constituent colleges of the University of Oxford in England...
,
England
England
England is a country that is part of the United Kingdom. It shares land borders with Scotland to the north and Wales to the west; the Irish Sea is to the north west, the Celtic Sea to the south west, with the North Sea to the east and the English Channel to the south separating it from continental...
, looking out onto Christ Church Meadow. It was built in 1863 to the designs of Sir
Thomas Deane
Thomas Deane
Sir Thomas Deane was an Irish architect. He was the father of Sir Thomas Newenham Deane, and grandfather of Sir Thomas Manly Deane, who were also architects.-Life:...
in the
Venetian
Venice
Venice is a city in northern Italy which is renowned for the beauty of its setting, its architecture and its artworks. It is the capital of the Veneto region...
style (favoured by the famous Christ Church art historian
John Ruskin
John Ruskin
John Ruskin was the leading English art critic of the Victorian era, also an art patron, draughtsman, watercolourist, a prominent social thinker and philanthropist. He wrote on subjects ranging from geology to architecture, myth to ornithology, literature to education, and botany to political...
). Single rooms in the Meadow Building look out over either the college or the Christ Church Meadow, although originally, college undergraduates would be given a suite of rooms with views overlooking both sides. Recent building work has converted most of these rooms to ensuite while leaving one staircase, which is primarily non-residential, as was.
When it was first built, the relative distance of the Meadow Building from the more fashionable
Peckwater
Peckwater Quadrangle
The Peckwater Quadrangle is one of the quadrangles of Christ Church, Oxford, England. It is on the site of a medieval inn, which was run by the Peckwater family and given to St Frideswide's Priory in 1246. The buildings, including the Library, date from the eighteenth century. They are built in...
and Canterbury Quads meant that it was considered the least desirable accommodation in college.
Literary references
"So I found myself installed in delightfully spacious rooms within the Victorian wing of an elegant Tudor college, with the beauty of the Christ Church Meadow spread panoramically on the other side of my window panes. The Meadows block was more tranquil in spirit than the rowdier atmosphere of Peckwater." The Marquess of Bath

Marquess of Bath

Marquess of Bath is a title in the Peerage of Great Britain. It was created in 1789 for Thomas Thynne, 3rd Viscount Weymouth. The Thynne family descends from the soldier and courtier Sir John Thynne , who constructed Longleat House between 1567 and 1579...


refers to the college in 1953, Strictly Private (2001)
"I discovered the huge and ungainly pile of Ruskinian Gothic known as Meadow Building, where I would be spending the next two years. […] Blissfully ignorant of the social geography of the House, I did not realize that I had been relegated to the furthest outpost of the college demesne. From the lofty vantage point of the Old Etonians and Old Harrovians who lived in Peckwater and Canterbury I might just as well have been relegated to Siberia. My sitting room lay on the top floor of the last entry in Meadow Building." L Perry Curtis refers to the college in 1955, Christ Church Matters (2005)
"Sebastian lived at Christ Church, high in Meadow Buildings. He was alone when I came, peeling a plover's egg taken from the large nest of moss in the centre of the table." Brideshead Revisited

Brideshead Revisited

Brideshead Revisited, The Sacred & Profane Memories of Captain Charles Ryder is a novel by English writer Evelyn Waugh, first published in 1945. Waugh wrote that the novel "deals with what is theologically termed 'the operation of Grace', that is to say, the unmerited and unilateral act of love by...


, Evelyn Waugh

Evelyn Waugh

Arthur Evelyn St. John Waugh , known as Evelyn Waugh, was an English writer of novels, travel books and biographies. He was also a prolific journalist and reviewer...


(1945)
See also