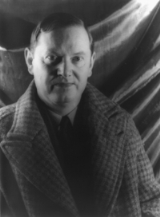 Evelyn Waugh
Arthur Evelyn St. John Waugh
ˈ (28 October 1903 10 April 1966), known as
Evelyn Waugh
, was an English writer of novels, travel books and biographies. He was also a prolific journalist and reviewer. His best-known works include his early satires
Decline and Fall
Decline and Fall
Decline and Fall is a novel by the English author Evelyn Waugh, first published in 1928. It was Waugh's first published novel; an earlier attempt, entitled The Temple at Thatch, was destroyed by Waugh while still in manuscript form. Decline and Fall is based in part on Waugh's undergraduate years...
(1928) and
A Handful of Dust
A Handful of Dust
A Handful of Dust is a novel by Evelyn Waugh published in 1934. It is included in Modern Library List of Best 20th-Century Novels, and was chosen by TIME magazine as one of the one hundred best English-language novels from 1923 to present....
(1934), his novel
Brideshead Revisited
Brideshead Revisited
Brideshead Revisited, The Sacred & Profane Memories of Captain Charles Ryder is a novel by English writer Evelyn Waugh, first published in 1945. Waugh wrote that the novel "deals with what is theologically termed 'the operation of Grace', that is to say, the unmerited and unilateral act of love by...
(1945) and his trilogy of Second World War novels collectively known as
Sword of Honour
Sword of Honour
The Sword of Honour trilogy by Evelyn Waugh is his look at the Second World War. It consists of three novels, Men at Arms , Officers and Gentlemen and Unconditional Surrender , which loosely parallel his wartime experiences...
(1952–61).
His courtesy was somewhat extravagant. He would write and thank people who wrote to thank him for wedding presents and when he encountered anyone as punctilious as himself the correspondence ended only with death.

As quoted in LIFE magazine (8 April 1946)
Don't give your opinions about Art and the Purpose of Life. They are of little interest and, anyway, you can't express them. Don't analyze yourself. Give the relevant facts and let your readers make their own judgments. Stick to your story. It is not the most important subject in history but it is one about which you are uniquely qualified to speak.

Reviewing World within World, the autobiography of Stephen Spender, in The Tablet (5 May 1951)
Don't hold your parents up to contempt. After all, you are their son, and it is just possible that you may take after them.

The Tablet (9 May 1951)
A typical triumph of modern science to find the only part of Randolph that was not malignant and remove it."

: Diary entry (March 1964), after hearing that doctors had removed a benign tumor from Randolph Churchill|Randolph Churchill.

I put the words down and push them a bit.

As quoted in his obituary in The New York Times (11 April 1966)
Aesthetic value is often the by-product of the artist striving to do something else.

Diaries of Evelyn Waugh (1976)
Punctuality is the virtue of the bored.

Diaries of Evelyn Waugh (1976)