 The Kreutzer Sonata
The Kreutzer Sonata
is a novella by
Leo Tolstoy
Leo Tolstoy
Lev Nikolayevich Tolstoy was a Russian writer who primarily wrote novels and short stories. Later in life, he also wrote plays and essays. His two most famous works, the novels War and Peace and Anna Karenina, are acknowledged as two of the greatest novels of all time and a pinnacle of realist...
, published in
1889
1889 in literature
The year 1889 in literature involved some significant new books.-Events:*Theodore Roosevelt publishes the first of four volumes of The Winning of the West, with three more by 1896.-New books:*Gabriele D'Annunzio - Il piacere...
and promptly censored by the
Russian
Russian Empire
The Russian Empire was a state that existed from 1721 until the Russian Revolution of 1917. It was the successor to the Tsardom of Russia and the predecessor of the Soviet Union...
authorities. The work is an argument for the ideal of
sexual abstinence
Sexual abstinence
Sexual abstinence is the practice of refraining from some or all aspects of sexual activity for medical, psychological, legal, social, philosophical or religious reasons.Common reasons for practicing sexual abstinence include:*poor health - medical celibacy...
and an in-depth first-person description of
jealous
Jealousy
Jealousy is a second emotion and typically refers to the negative thoughts and feelings of insecurity, fear, and anxiety over an anticipated loss of something that the person values, particularly in reference to a human connection. Jealousy often consists of a combination of presenting emotions...
rage. The main character, Pozdnyshev, relates the events leading up to his killing his wife; in his analysis, the root cause for the deed were the "animal excesses" and "swinish connection" governing the relation between the sexes.
Summary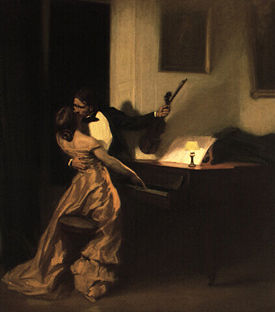 During a train ride, Pozdnyshev overhears a conversation concerning marriage, divorce and love. When a woman argues that marriage should not be arranged but based on true
love
Love
Love is an emotion of strong affection and personal attachment. In philosophical context, love is a virtue representing all of human kindness, compassion, and affection. Love is central to many religions, as in the Christian phrase, "God is love" or Agape in the Canonical gospels...
, he asks "what is love?" and points out that, if understood as an exclusive preference for one person, it often passes quickly. Convention dictates that two married people stay together, and initial love can quickly turn into hatred. He then relates how he used to visit prostitutes when he was young, and complains that women's dresses are designed to arouse men's desires. He further states that women will never enjoy equal rights to men as long as men view them as objects of desire, but yet describes their situation as a form of power over men, mentioning how much of society is geared towards their pleasure and well-being and how much sway they have over men's actions.
After meeting and marrying his wife, periods of passionate love and vicious fights alternate. She bears several children, and then receives contraceptives: "The last excuse for our swinish life -- children -- was then taken away, and life became viler than ever." His wife takes a liking to a violinist, and the two perform
Beethoven
Ludwig van Beethoven
Ludwig van Beethoven was a German composer and pianist. A crucial figure in the transition between the Classical and Romantic eras in Western art music, he remains one of the most famous and influential composers of all time.Born in Bonn, then the capital of the Electorate of Cologne and part of...
's Kreutzer Sonata (
Sonata No. 9 in A Major
Violin Sonata No. 9 (Beethoven)
Violin Sonata No. 9 in A major, commonly known as the Kreutzer Sonata, is a violin sonata which Ludwig van Beethoven published as his Opus 47...
for piano and violin, Op. 47) together. Pozdnyshev complains that some music is powerful enough to change one's internal state to a foreign one. He hides his raging jealousy and goes on a trip, returns early, finds the two together and kills his wife with a dagger. The violinist escapes: "I wanted to run after him, but remembered that it is ridiculous to run after one's wife's lover in one's socks; and I did not wish to be ridiculous but terrible."
Later acquitted of murder in light of his wife's apparent adultery, Pozdnyshev rides the trains seeking forgiveness from fellow passengers.
Censorship
After the work had been forbidden in Russia by the censors, a mimeographed version was widely circulated. In 1890, the
United States Post Office Department
United States Post Office Department
The Post Office Department was the name of the United States Postal Service when it was a Cabinet department. It was headed by the Postmaster General....
prohibited the mailing of newspapers containing serialized installments of The Kreutzer Sonata. This was confirmed by the U.S. Attorney General in the same year.
Theodore Roosevelt
Theodore Roosevelt
Theodore "Teddy" Roosevelt was the 26th President of the United States . He is noted for his exuberant personality, range of interests and achievements, and his leadership of the Progressive Movement, as well as his "cowboy" persona and robust masculinity...
called Tolstoy a "sexual moral pervert." The ban on its sale was struck down in New York and Pennsylvania courts.
Epilogue
In the
Epilogue To The Kreutzer Sonata
, published in 1890, Tolstoy clarifies the intended message of the novella, writing:
Countering the argument that widespread abstinence would lead to a cessation of the human race, he describes chastity as an ideal that provides guidance and direction, not as a firm rule. Writing from a position of deep religiosity (that he had explained in his
Confession
A Confession
A Confession is a short work on questions of religion by Leo Tolstoy. It was first distributed in Russia in 1882.Consisting of autobiographical notes on the development of the author's belief, A Confession shows the process of searching for answers to the profound questions: "What will come of my...
in 1882), he points out that not Christ, but the Church (which he despises) instituted marriage. "The Christian's ideal is love of God and his neighbor, self-renunciation in order to serve God and his neighbour; carnal love, marriage, means serving oneself, and therefore is, in any case, a hindrance in the service of God and men".
During the international celebration of Tolstoy's 80th birthday in 1908,
G. K. Chesterton
G. K. Chesterton
Gilbert Keith Chesterton, KC*SG was an English writer. His prolific and diverse output included philosophy, ontology, poetry, plays, journalism, public lectures and debates, literary and art criticism, biography, Christian apologetics, and fiction, including fantasy and detective fiction....
would criticize this aspect of Tolstoy's thought in an article in the September 19th issue of
Illustrated London News
Illustrated London News
The Illustrated London News was the world's first illustrated weekly newspaper; the first issue appeared on Saturday 14 May 1842. It was published weekly until 1971 and then increasingly less frequently until publication ceased in 2003.-History:...
, writing: "Tolstoy is not content with pitying humanity for its pains: such as poverty and prisons. He also pities humanity for its pleasures, such as music and patriotism. He weeps at the thought of hatred; but in The Kreutzer Sonata he weeps almost as much at the thought of love. He and all the humanitarians pity the joys of men." He went on to address Tolstoy directly: "What you dislike is being a man. You are at least next door to hating humanity, for you pity humanity because it is human."
Play
The novella was made into a play by American playwright Langdon Mitchell and was first performed on Broadway on September 10, 1906. In 2007 in Wellington, New Zealand, a newly devised theatrical work, The Kreutzer, was premiered, combining dance, music, theatre and multimedia projections with both pieces of music (Beethoven and Janacek) played live. Adaptation, direction and choregraphy was by Sara Brodie. A reworked version was presented in Auckland during March 2009 at The Auckland Festival.
Laura Wade's Kreutzer vs. Kreutzer is also inspired by Tolstoy.
Thais Sher Robertson has written an adaptation for British Radio and Stage (UK) in 2010. It was adapted for the stage by Ted Dykstra and produced as a one-act play for the Art of Time Ensemble of Toronto in 2008, and again for the Soulpepper Theatre Company in 2011.
Films
The Kreutzer Sonata (1911, Russian Empire), directed by Pyotr Chardynin

Pyotr Chardynin

Pyotr Ivanovich Chardynin was a Russian film director, screenwriter, and actor. Pyotr Chardynin, one of the pioneers of the film industry in the Russian Empire, directed over a hundred silent films during his career.-Biography:...



The Kreutzer Sonata (1914, Russian Empire), directed by Vladimir Gardin

Vladimir Gardin

Vladimir Rostislavovich Gardin was a pioneering Russian film director and actor who strove to raise the artistic level of Russian cinema....



The Kreutzer Sonata (1915, USA), directed by Herbert Brenon
Kreutzerova sonáta (1927, Czechoslovakia), directed by Gustav Machatý

Gustav Machatý

Gustav Machatý was a Czech film director, screenwriter and actor. He directed 17 films between 1919 and 1955, including Ecstasy...



Kreutzersonate (1937, Germany), directed by Veit Harlan

Veit Harlan

Veit Harlan was a German film director and actor.-Life and career:Harlan was born in Berlin. After studying under Max Reinhardt, he first appeared on the stage in 1915 and, after World War I, worked in the Berlin stage. In 1922 he married Jewish actress and cabaret singer Dora Gerson; the couple...



Amanti senza amore (1948, Italy), directed by Gianni Franciolini

Gianni Franciolini

Gianni Franciolini was an Italian film director and screenwriter. He directed 19 films between 1939 and 1959.-Filmography:* Ferdinando I...



The Kreutzer Sonata

The Kreutzer Sonata (1987 film)

The Kreutzer Sonata is a 1987 Soviet film directed by Mikhail Shveytser, based on Leo Tolstoy's novella The Kreutzer Sonata.-Cast:* Oleg Yankovskiy - Poznyshev* Aleksandr Trofimov - The Fellow Passenger* Irina Seleznyova - Liza...


(1987, USSR), directed by Mikhail Shveytser
Quale amore (2006, Italy), directed by Maurizio Sciarra
The Kreutzer Sonata

The Kreutzer Sonata (2008 film)

The Kreutzer Sonata is a 2008 film directed by Bernard Rose based on an eponymous novella by Leo Tolstoy.It is Rose's second collaboration with Danny Huston and his third adaptation of a work by Leo Tolstoy, following 1997's Anna Karenina and 2003's Ivans XTC."The Kreutzer Sonata" is the name...


(2008 UK film directed by Bernard Rose

Bernard Rose (director)

Bernard Rose is an English actor and film director most famous for his direction of the 1992 urban horror film Candyman and the 1994 historical romance film Immortal Beloved....


and starring Elisabeth Röhm

Elisabeth Röhm

Elisabeth Röhm is a German-born American television actress. She is known for playing Assistant District Attorney Serena Southerlyn in the American TV series Law & Order, and as Detective Kate Lockley in the TV series Angel....


)
Krojcerova sonata (TV film) (1969, SFR Yugoslavia) directed by Jovan Konjović.
Music
The novella, inspired by
Beethoven's music
Violin Sonata No. 9 (Beethoven)
Violin Sonata No. 9 in A major, commonly known as the Kreutzer Sonata, is a violin sonata which Ludwig van Beethoven published as his Opus 47...
, in turn gave rise to
Leoš Janáček
Leoš Janácek
Leoš Janáček was a Czech composer, musical theorist, folklorist, publicist and teacher. He was inspired by Moravian and all Slavic folk music to create an original, modern musical style. Until 1895 he devoted himself mainly to folkloristic research and his early musical output was influenced by...
's first
string quartet
String Quartet No. 1 (Janácek)
Leoš Janáček's String Quartet No. 1, "Kreutzer Sonata", was written in a very short space of time, between 13 and 28 October 1923, at a time of great creative concentration. The work was revised by the composer in the autograph from 30 October to 7 November 1923.The composition was inspired by Leo...
.
Painting
The novella also inspired the 1901 painting "Kreutzer Sonata" by René François Xavier Prinet, which shows a passionate kiss between the violinist and the pianist. The painting was used for years in Tabu perfume ads.
Ballet
Carolina Ballet
Carolina Ballet
Carolina Ballet is a ballet company founded in 1997 which performs primarily in Raleigh, North Carolina and throughout the state. It has toured to New York City, Hungary and China. Robert Weiss, the artistic director, danced for George Balanchine for sixteen years at New York City Ballet and...
, with original choreography by Robert Weiss and combining the music of Beethoven, Janacek, and J. Mark Scearce, first mounted in 2000 an innovative production combining dance and drama, with a narrator/actor telling the story and flashbacks leading into the ballet segments.
Radio
The writer Thais Sher / Thais Sher Robertson has written an adaptation for British Radio (BBC) in 2010. (2013)
External links