 Taddeo Zuccari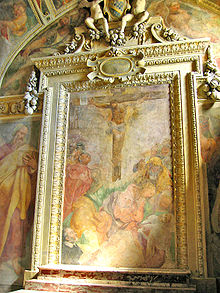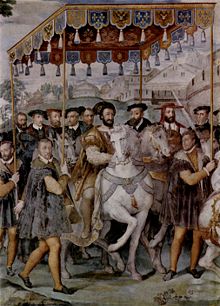 Taddeo Zuccari
(1 September 1529 – 2 September 1566) was an Italian painter, one of the most popular members of the
Roman mannerist school
Mannerism
Mannerism is a period of European art that emerged from the later years of the Italian High Renaissance around 1520. It lasted until about 1580 in Italy, when a more Baroque style began to replace it, but Northern Mannerism continued into the early 17th century throughout much of Europe...
.
Biography
Zuccari was born in
Sant'Angelo in Vado
Sant'Angelo in Vado
Sant'Angelo in Vado is a comune in the Province of Pesaro e Urbino in the Italian region Marche, located about 90 km west of Ancona and about 50 km southwest of Pesaro....
, near Urbino, the son of Ottaviano Zuccari, an almost unknown painter. His brother
Federico
Federico Zuccari
Federico Zuccari, also known as Federigo Zuccaro , was an Italian Mannerist painter and architect, active both in Italy and abroad.-Biography:Zuccari was born at Sant'Angelo in Vado, near Urbino ....
, born around 1540, was also a painter and architect.
Zuccari moved to
Rome
Rome
Rome is the capital of Italy and the country's largest and most populated city and comune, with over 2.7 million residents in . The city is located in the central-western portion of the Italian Peninsula, on the Tiber River within the Lazio region of Italy.Rome's history spans two and a half...
by age 14, and he succeeded at an early age in gaining a knowledge of
painting
Painting
Painting is the practice of applying paint, pigment, color or other medium to a surface . The application of the medium is commonly applied to the base with a brush but other objects can be used. In art, the term painting describes both the act and the result of the action. However, painting is...
and in finding patrons to employ him. When he was seventeen a pupil of
Correggio
Antonio da Correggio
Antonio Allegri da Correggio , usually known as Correggio, was the foremost painter of the Parma school of the Italian Renaissance, who was responsible for some of the most vigorous and sensuous works of the 16th century...
, named Daniele da Parma, engaged him to assist in painting a series of
fresco
Fresco
Fresco is any of several related mural painting types, executed on plaster on walls or ceilings. The word fresco comes from the Greek word affresca which derives from the Latin word for "fresh". Frescoes first developed in the ancient world and continued to be popular through the Renaissance...
es in a chapel at Vitto near
Sora
Sora, Italy
Sora is a city and comune of Lazio, Italy, in the province of Frosinone. It is built in a plain on the banks of the Liri. This part of the valley is the seat of some important manufactures, especially of paper-mills....
, on the borders of the Abruzzi (not corroborated by Freedburg). Zuccari returned to Rome in 1548, and began his career as a fresco painter, by executing a series of scenes in monochrome from the life of
Marcus Furius Camillus
Marcus Furius Camillus
Marcus Furius Camillus was a Roman soldier and statesman of patrician descent. According to Livy and Plutarch, Camillus triumphed four times, was five times dictator, and was honoured with the title of Second Founder of Rome....
on the front of the palace of a wealthy Roman named Jacopo Mattei. From that time his success was assured, and he was largely employed by the popes
Julius III
Pope Julius III
Pope Julius III , born Giovanni Maria Ciocchi del Monte, was Pope from 7 February 1550 to 1555....
and
Paul IV
Pope Paul IV
Pope Paul IV, C.R. , né Giovanni Pietro Carafa, was Pope from 23 May 1555 until his death.-Early life:Giovanni Pietro Carafa was born in Capriglia Irpina, near Avellino, into a prominent noble family of Naples...
, by the della Rovere duke of Urbino, and by other rich patrons. He is documented to have worked alongside
Prospero Fontana
Prospero Fontana
Prospero Fontana was an Italian painter of the late Renaissance.-Biography:Fontana was born in Bologna, and became a pupil of Innocenzo da Imola. He afterwards worked for Perin del Vaga in the Palazzo Doria in Genoa. Towards 1550, it is reported that Michelangelo introduced him to Pope Julius III...
in decorating the
Villa Giulia
Villa Giulia
The Villa Giulia is a villa in Rome, Italy. It was built by Pope Julius III in 1550–1555 on what was then the edge of the city. Today it is publicly owned, and houses the Museo Nazionale Etrusco, an impressive collection of Etruscan art and artifacts....
. In 1556, he painted frescoed
Scenes of the Passion
in the "Cappella Mattei" of
Santa Maria della Consolazione
Santa Maria della Consolazione
Santa Maria della Consolazione is a Roman Catholic church in Rome at the foot of the Palatine Hill, in rione Campitelli.-History:The church is named after an icon of the Virgin Mary which was placed on this site to console criminals who were tossed down off the cliff above the church, thought to be...
.
His best frescoes were a historical series in quadro reportati painted on the walls and ceiling of
Villa Farnese
Villa Farnese
The Villa Farnese, also known as Villa Caprarola, is a mansion in the town of Caprarola in the province of Viterbo, Northern Lazio, Italy, approximately 50 kilometres north-west of Rome...
at
Caprarola
Caprarola
Caprarola is a town and comune in the province of Viterbo, in the Lazio region of central Italy. The village is situated in a range of volcanic hills known as the Cimini Mounts....
, built for Cardinal Alessandro Farnese, for which Zuccari also designed a great quantity of rich decorations in stucco relief after the style of
Giulio Romano
Giulio Romano
Giulio Romano was an Italian painter and architect. A pupil of Raphael, his stylistic deviations from high Renaissance classicism help define the 16th-century style known as Mannerism...
and other pupils of Raphael. He also painted
Histories of Alexander
in the Castello Orsini at
Bracciano
Bracciano
Bracciano is a small town in the Italian region of Lazio, 30 km northwest of Rome. The town is famous for its volcanic lake and for a particularly well-preserved medieval castle Castello Orsini-Odescalchi...
. Nearly all his paintings were in fresco, very large in scale, and often in chiaroscuro or monochrome; and are remarkable for rapidity of execution and a certain mannered style.
Zuccari's easel pictures are less common than his decorative frescoes. A small painting on copper of the Adoration of the Shepherds, formerly in the collection of
James II
James II of England
James II & VII was King of England and King of Ireland as James II and King of Scotland as James VII, from 6 February 1685. He was the last Catholic monarch to reign over the Kingdoms of England, Scotland, and Ireland...
, is now at
Hampton Court Palace
Hampton Court Palace
Hampton Court Palace is a royal palace in the London Borough of Richmond upon Thames, Greater London; it has not been inhabited by the British royal family since the 18th century. The palace is located south west of Charing Cross and upstream of Central London on the River Thames...
; it is a work of very small merit. The Caprarola frescoes were engraved and published by Prenner,
Illustri Fatti Farnesiani Coloriti nel Real Palazzo di Caprarola
(Rome, 1748-50).
He painted
Conversion of St. Paul
in
San Marcello al Corso
San Marcello al Corso
San Marcello al Corso is a church in Rome, Italy, devoted to Pope Marcellus I. It is located in via del Corso, the ancient via Lata, connecting Piazza Venezia to Piazza del Popolo....
in Rome.
He died in Rome in 1566, and was buried in the
Pantheon
Pantheon, Rome
The Pantheon ,Rarely Pantheum. This appears in Pliny's Natural History in describing this edifice: Agrippae Pantheum decoravit Diogenes Atheniensis; in columnis templi eius Caryatides probantur inter pauca operum, sicut in fastigio posita signa, sed propter altitudinem loci minus celebrata.from ,...
, not far from Raphael.
External links