 Streusel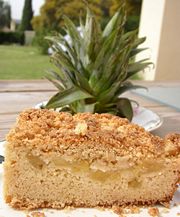 In
baking
Baking
Baking is the technique of prolonged cooking of food by dry heat acting by convection, and not by radiation, normally in an oven, but also in hot ashes, or on hot stones. It is primarily used for the preparation of bread, cakes, pastries and pies, tarts, quiches, cookies and crackers. Such items...
and
pastry
Pastry
Pastry is the name given to various kinds of baked products made from ingredients such as flour, sugar, milk, butter, shortening, baking powder and/or eggs. Small cakes, tarts and other sweet baked products are called "pastries."...
making,
streusel
(ˈʃtʁɔʏzəl) is a crumb topping of
butter
Butter
Butter is a dairy product made by churning fresh or fermented cream or milk. It is generally used as a spread and a condiment, as well as in cooking applications, such as baking, sauce making, and pan frying...
,
flour
Flour
Flour is a powder which is made by grinding cereal grains, other seeds or roots . It is the main ingredient of bread, which is a staple food for many cultures, making the availability of adequate supplies of flour a major economic and political issue at various times throughout history...
, and white
sugar
Sugar
Sugar is a class of edible crystalline carbohydrates, mainly sucrose, lactose, and fructose, characterized by a sweet flavor.Sucrose in its refined form primarily comes from sugar cane and sugar beet...
(traditional German) that is baked on top of
muffin
Muffin
A muffin is an American English name for a type of quick bread that is baked in small portions. Many forms are somewhat like small cakes or cupcakes in shape, although they usually are not as sweet as cupcakes and generally lack frosting. Savory varieties, such as cornbread muffins, also exist...
s,
bread
Bread
Bread is a staple food prepared by cooking a dough of flour and water and often additional ingredients. Doughs are usually baked, but in some cuisines breads are steamed , fried , or baked on an unoiled frying pan . It may be leavened or unleavened...
s, and
cake
Cake
Cake is a form of bread or bread-like food. In its modern forms, it is typically a sweet and enriched baked dessert. In its oldest forms, cakes were normally fried breads or cheesecakes, and normally had a disk shape...
s (e.g.
Streuselkuchen
Streuselkuchen
Streuselkuchen is a German specialty. Traditionally it is made of a yeast dough covered with crumbs. The main ingredients for the crumbs are sugar, fat and flour, which are mixed at a 1:1:2 ratio....
).
Some modern recipes add various spices and occasionally chopped
nutmeats
Nut (fruit)
A nut is a hard-shelled fruit of some plants having an indehiscent seed. While a wide variety of dried seeds and fruits are called nuts in English, only a certain number of them are considered by biologists to be true nuts...
. Although the topping is of German origin, it is sometimes referred to as
Danish
Denmark
Denmark is a Scandinavian country in Northern Europe. The countries of Denmark and Greenland, as well as the Faroe Islands, constitute the Kingdom of Denmark . It is the southernmost of the Nordic countries, southwest of Sweden and south of Norway, and bordered to the south by Germany. Denmark...
or
Swedish
Sweden
Sweden , officially the Kingdom of Sweden , is a Nordic country on the Scandinavian Peninsula in Northern Europe. Sweden borders with Norway and Finland and is connected to Denmark by a bridge-tunnel across the Öresund....
.
The term is also sometimes used for rich pastries topped with, or mixed with, streusel.
Etymology
From
German
German language
German is a West Germanic language, related to and classified alongside English and Dutch. With an estimated 90 – 98 million native speakers, German is one of the world's major languages and is the most widely-spoken first language in the European Union....
Streusel
'something scattered or sprinkled,' from the verb
streuen
, cognate with the English verb
strew
.