 Stink bomb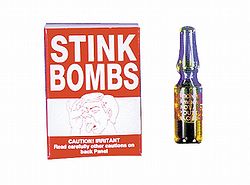 A
stink bomb
or
stinkbomb
is a device designed to create an unpleasant
smell
Odor
An odor or odour is caused by one or more volatilized chemical compounds, generally at a very low concentration, that humans or other animals perceive by the sense of olfaction. Odors are also commonly called scents, which can refer to both pleasant and unpleasant odors...
. They range in effectiveness from simple
pranks
Practical joke
A practical joke is a mischievous trick played on someone, typically causing the victim to experience embarrassment, indignity, or discomfort. Practical jokes differ from confidence tricks in that the victim finds out, or is let in on the joke, rather than being fooled into handing over money or...
to military grade or
riot control
Riot control
Riot control refers to the measures used by police, military, or other security forces to control, disperse, and arrest civilians who are involved in a riot, demonstration, or protest. Law enforcement officers or soldiers have long used non-lethal weapons such as batons and whips to disperse crowds...
chemical agents.
The Guinness Book of Records lists two smelliest substances. One is "US Government Standard Bathroom Malodor"; a mixture of eight chemicals with a stench resembling human feces, only much stronger, designed to test the efficacy of deodorizers and
air freshener
Air freshener
Air fresheners are consumer products used in homes or commercial products used in restrooms that typically emit fragrance. There are two broad air freshener categories: continuous action and instant action...
s. Another one, "
Who me?
Who me?
Who Me was a top secret sulfurous stench weapon developed by the American Office of Strategic Services during World War II to be used by the French Resistance against German officers...
", is a mixture of five sulfur-containing chemicals and smells like rotting food and carcasses.
Range
At one end of the spectrum, relatively harmless stink bombs consist of
ammonium sulfide
Ammonium sulfide
Ammonium hydrosulfide is the chemical compound with the formula SH. It is the salt derived from the ammonium cation and the hydrosulfide anion. The salt exists as colourless, water soluble, micaceous crystals. The compound is encountered mainly as a solution, not as the solid...
, which smells strongly of rotten
egg
Egg (food)
Eggs are laid by females of many different species, including birds, reptiles, amphibians, and fish, and have probably been eaten by mankind for millennia. Bird and reptile eggs consist of a protective eggshell, albumen , and vitellus , contained within various thin membranes...
s. When exposed to air, the ammonium sulfide reacts with moisture,
hydrolyzes
Hydrolysis
Hydrolysis is a chemical reaction during which molecules of water are split into hydrogen cations and hydroxide anions in the process of a chemical mechanism. It is the type of reaction that is used to break down certain polymers, especially those made by condensation polymerization...
, and a mixture of
hydrogen sulfide
Hydrogen sulfide
Hydrogen sulfide is the chemical compound with the formula . It is a colorless, very poisonous, flammable gas with the characteristic foul odor of expired eggs perceptible at concentrations as low as 0.00047 parts per million...
and
ammonia
Ammonia
Ammonia is a compound of nitrogen and hydrogen with the formula . It is a colourless gas with a characteristic pungent odour. Ammonia contributes significantly to the nutritional needs of terrestrial organisms by serving as a precursor to food and fertilizers. Ammonia, either directly or...
is released. Other popular substances on which to base stink bombs are
thiol
Thiol
In organic chemistry, a thiol is an organosulfur compound that contains a carbon-bonded sulfhydryl group...
s with lower molecular weight, e.g.,
methyl mercaptan
Methanethiol
Methanethiol is a colorless gas with a smell like rotten cabbage. It is a natural substance found in the blood and brain of humans and other animal as well as plant tissues. It is disposed of through animal feces. It occurs naturally in certain foods, such as some nuts and cheese...
and
ethyl mercaptan
Ethanethiol
Ethanethiol is an organic compound with the formula CH3CH2SH. It consists of an ethyl group, CH3CH2, attached to a thiol group, SH. Its structure parallels that of ethanol, but with S instead of O. The presence of S leads to many different properties, most notably the infamous odour of EtSH...
—the chemicals that give odor to
skunk
Skunk
Skunks are mammals best known for their ability to secrete a liquid with a strong, foul odor. General appearance varies from species to species, from black-and-white to brown or cream colored. Skunks belong to the family Mephitidae and to the order Carnivora...
s and are added in minute quantities to
natural gas
Natural gas
Natural gas is a naturally occurring gas mixture consisting primarily of methane, typically with 0–20% higher hydrocarbons . It is found associated with other hydrocarbon fuel, in coal beds, as methane clathrates, and is an important fuel source and a major feedstock for fertilizers.Most natural...
in order to make gas leaks detectable by smell. A variation on this idea is the
scent bomb
, or
perfume bomb
, filled with an overpowering "cheap perfume" smell.
At the other end of the spectrum, the governments of
Israel
Israel
The State of Israel is a parliamentary republic located in the Middle East, along the eastern shore of the Mediterranean Sea...
and the
United States of America
United States
The United States of America is a federal constitutional republic comprising fifty states and a federal district...
are developing stink bombs for use by their
law enforcement agencies
Police
The police is a personification of the state designated to put in practice the enforced law, protect property and reduce civil disorder in civilian matters. Their powers include the legitimized use of force...
and militaries as
riot control
Riot control
Riot control refers to the measures used by police, military, or other security forces to control, disperse, and arrest civilians who are involved in a riot, demonstration, or protest. Law enforcement officers or soldiers have long used non-lethal weapons such as batons and whips to disperse crowds...
and
area denial weapons
Area denial weapons
An area denial weapon is a device used to prevent an adversary from occupying or traversing an area of land. The specific method used does not have to be totally effective in preventing passage as long as it is sufficient to severely restrict, slow down, or endanger the opponent...
. Using stink bombs for these purposes have advantages over traditional riot control agents: unlike
pepper spray
Pepper spray
Pepper spray, also known as OC spray , OC gas, and capsicum spray, is a lachrymatory agent that is used in riot control, crowd control and personal self-defense, including defense against dogs and bears...
and tear gas, stink bombs are believed not to be dangerous, and they are effective at low concentrations.
Prank stink bombs and perfume bombs are usually sold as a 1- or 2-
ml
Litre
pic|200px|right|thumb|One litre is equivalent to this cubeEach side is 10 cm1 litre water = 1 kilogram water The litre is a metric system unit of volume equal to 1 cubic decimetre , to 1,000 cubic centimetres , and to 1/1,000 cubic metre...
sealed glass ampoule, which can be broken by throwing against a hard surface or by crushing under one's shoe sole, thus releasing the odorous liquid contained therein. Another variety of prank stink bomb comprises two bags, one smaller and inside the other. The inner one contains a liquid and the outer one a powder. When the inner one is popped by squeezing it, the liquid reacts with the powder, producing hydrogen sulfide, which expands and pops the outer bag, releasing an unpleasant odor.
Chemicals used
Typically, lower molecular weight volatile organic compounds are used. Generally the higher molecular weight for a given class of compounds, the lower volatility and initial concentration but the longer persistence. Some chemicals (typically thiols) have a certain concentration threshold over which the smell is not perceived significantly stronger; therefore a lower-volatility compound is capable of providing comparable stench intensity to a higher-volatility compound, but for longer time. Another issue is the
operating temperature
Operating temperature
An operating temperature is the temperature at which an electrical or mechanical device operates. The device will operate effectively within a specified temperature range which varies based on the device function and application context, and ranges from the minimum operating temperature to the...
, on which the compound's volatility strongly depends. Care should be taken as some compounds are toxic either in higher concentration or after prolonged exposure in low concentration.
Some plants may be used as improvised stink bombs, One such plant is the
Parkia speciosa
Parkia speciosa
Parkia speciosa is a plant of the genus Parkia in the family Fabaceae...
or 'stinky bean', which grows in
India
India
India , officially the Republic of India , is a country in South Asia. It is the seventh-largest country by geographical area, the second-most populous country with over 1.2 billion people, and the most populous democracy in the world...
,
Southeast Asia
Southeast Asia
Southeast Asia, South-East Asia, South East Asia or Southeastern Asia is a subregion of Asia, consisting of the countries that are geographically south of China, east of India, west of New Guinea and north of Australia. The region lies on the intersection of geological plates, with heavy seismic...
and Eastern
Australia
Australia
Australia , officially the Commonwealth of Australia, is a country in the Southern Hemisphere comprising the mainland of the Australian continent, the island of Tasmania, and numerous smaller islands in the Indian and Pacific Oceans. It is the world's sixth-largest country by total area...
. The pods from this plant are collected when partly dried and stamped on, to release the stink.
The most often encountered compounds are:
Standard bathroom malodor
The US Government Standard Bathroom Malodor is quoted to have this composition:
Dipropylene glycol

Dipropylene glycol

Dipropylene glycol is a mixture of three isomeric chemical compounds, 4-oxa-2,6-heptandiol, 2--propan-1-ol, and 2--propan-1-ol...



62.82%
Skatole

Skatole

Skatole or 3-methylindole is a mildly toxic white crystalline organic compound belonging to the indole family. It occurs naturally in feces and coal tar, and has a strong fecal odor...



0.91%
2-naphthalenethiol
0.91%
Thioglycolic acid

Thioglycolic acid

Thioglycolic acid is the organic compound HSCH2CO2H. It contains both a thiol and a carboxylic acid. It is a clear liquid with a strong unpleasant odor...



21.18%
Hexanoic acid

Hexanoic acid

Hexanoic acid , is the carboxylic acid derived from hexane with the general formula C5H11COOH. It is a colorless oily liquid with an odor that is fatty, cheesy, waxy, and like that of goats or other barnyard animals...



6.00%
p-cresyl isovalerate
2.18%
N-methyl morpholine
6.00%