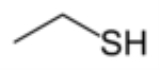 Ethanethiol
Ethanethiol
is an
organic compound
Organic compound
An organic compound is any member of a large class of gaseous, liquid, or solid chemical compounds whose molecules contain carbon. For historical reasons discussed below, a few types of carbon-containing compounds such as carbides, carbonates, simple oxides of carbon, and cyanides, as well as the...
with the formula CH
3
CH
2
SH. It consists of an ethyl group, CH
3
CH
2
, attached to a
thiol
Thiol
In organic chemistry, a thiol is an organosulfur compound that contains a carbon-bonded sulfhydryl group...
group, SH. Its structure parallels that of
ethanol
Ethanol
Ethanol, also called ethyl alcohol, pure alcohol, grain alcohol, or drinking alcohol, is a volatile, flammable, colorless liquid. It is a psychoactive drug and one of the oldest recreational drugs. Best known as the type of alcohol found in alcoholic beverages, it is also used in thermometers, as a...
, but with
S
Sulfur
Sulfur or sulphur is the chemical element with atomic number 16. In the periodic table it is represented by the symbol S. It is an abundant, multivalent non-metal. Under normal conditions, sulfur atoms form cyclic octatomic molecules with chemical formula S8. Elemental sulfur is a bright yellow...
instead of
O
Oxygen
Oxygen is the element with atomic number 8 and represented by the symbol O. Its name derives from the Greek roots ὀξύς and -γενής , because at the time of naming, it was mistakenly thought that all acids required oxygen in their composition...
. The presence of S leads to many different properties, most notably the infamous odour of EtSH. Ethanethiol is also more
volatile
Volatility (chemistry)
In chemistry and physics, volatility is the tendency of a substance to vaporize. Volatility is directly related to a substance's vapor pressure. At a given temperature, a substance with higher vapor pressure vaporizes more readily than a substance with a lower vapor pressure.The term is primarily...
than ethanol due to a diminished ability to engage in hydrogen bonding.