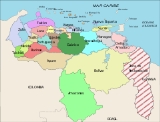 States of Venezuela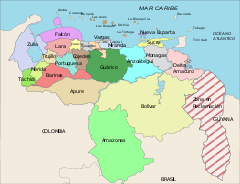 Venezuela
Venezuela
Venezuela , officially called the Bolivarian Republic of Venezuela , is a tropical country on the northern coast of South America. It borders Colombia to the west, Guyana to the east, and Brazil to the south...
is divided into 23 states
(estados)
, 1
Capital District
Venezuelan Capital District
The Capital District of Venezuela is a federal district corresponding to the capital Caracas. It has an area of 433 km² and there is only one administrative division , Libertador, which contains about half City of Caracas. It is the seat of the federal government and the head of the public...
(Distrito Capital)
and the Federal Dependencies
(Dependencias Federales)
that consist of a large number of Venezuelan islands. Venezuela also claims the
Guayana Esequiba
Guayana Esequiba
Guayana Esequiba is a territory administered by Guyana but claimed by Venezuela. It includes the territory between the Cuyuni River to the west and the Essequibo River to the east...
territory which comprises six districts in the independent nation of
Guyana
Guyana
Guyana , officially the Co-operative Republic of Guyana, previously the colony of British Guiana, is a sovereign state on the northern coast of South America that is culturally part of the Anglophone Caribbean. Guyana was a former colony of the Dutch and of the British...
.
Historical states
Prior to the
Federal War
Federal War
The Federal War - also known as the Great War or the Five Year War - was a civil war in Venezuela between the conservative party and the liberal party about the monopoly of the conservatives of the land and the government positions, and their reluctance to grant any reforms. This drove the...
(1859–1863), Venezuela was divided into provinces rather than states (see
Provinces of Venezuela
Provinces of Venezuela
The Provinces of Venezuela were administrative divisions used from Venezuela's independence from Gran Colombia in 1830 to 1864, when the States of Venezuela were created. There were initially 11 provinces, with 3 created later, until in 1856 the Law of Territorial Division divided Venezuela into 21...
). The victorious forces were supposed to grant more autonomy to the individual states, but this was not implemented.
From 1863 to the early 1900s there were numerous territorial changes, including the merger and splitting of states, but from then until the late 1990s the states were left unchanged. However, recent years have seen the creation of three new states:
Delta Amacuro
Delta Amacuro
Delta Amacuro State is one of the 23 states of Venezuela, and is the location of the Orinoco Delta. The Paria Gulf and the Atlantic Ocean are found to the north, Bolívar State is found to the south, the Atlantic Ocean and Guyana are found to the east, and Monagas State is found to the west...
, Amazonas, and Vargas (in that order).
States
Below is a list of the 23 states of Venezuela. The states are listed along with their correspondent emblems, data and location.
Flag
Coat of Arms
States
Capital city
Population (2010 est.)
Area
Region
Location
Amazonas

Amazonas (Venezuelan state)

Amazonas State is one of the 23 states into which Venezuela is divided.The state capital is Puerto Ayacucho. The capital until the early 1900s was San Fernando de Atabapo. Although named after the Amazon River, most of the state is drained by the Orinoco. Amazonas State covers a total surface...



Puerto Ayacucho

Puerto Ayacucho

Puerto Ayacucho is the capital and largest city of Amazonas State in Venezuela. Puerto Ayacucho is located across the Orinoco River from the Colombian village of Casuarito....



142,200
180,145 km²
Guayana
Anzoátegui

Anzoátegui

Anzoátegui State , is one of the 23 component states of Venezuela, located in the northeastern region of the country. Anzoátegui is well known for its beautiful beaches that attract many visitors. Its coast consists of a single beach approximately 100 km long...



Barcelona
1,654,900
43,300 km²
Nor - Oriental
Apure
San Fernando de Apure

San Fernando de Apure

San Fernando de Apure is a city in Apure State in Venezuela. The population of the municipality area is 175,056 . The 18th century exports included heron feathers and animal hides....



499,900
76,500 km²
Llanos
Aragua

Aragua (state)

Aragua State is located in the north-central region of Venezuela. It has plains and jungles and Caribbean beaches. The most popular are Cata and Choroni...



Maracay

Maracay

Maracay is a city in north-central Venezuela, near the Caribbean coast, and is the capital and most important city of the state of Aragua. Most of it falls under the jurisdiction of the Girardot Municipality. The population as per the 2001 census was 750,000...



1,665,200
7,014 km²
Central
Barinas

Barinas (state)

Barinas State is one of the 23 states into which Venezuela is divided. The state capital is Barinas. Current President Hugo Chávez was born in this state...



Barinas
756,600
35,200 km²
Andean
Bolívar

Bolívar (state)

Bolívar State , is one of the 23 states into which Venezuela is divided. The state capital city is Ciudad Bolívar. Bolívar State covers a total surface area of 238,000 km² and in June 30, 2010 had an estimated population of 1,620,359....



Ciudad Bolívar

Ciudad Bolívar

Ciudad Bolívar is the capital of Venezuela's southeastern Bolivar State. It was founded with the name Angostura in 1764, renamed in 1846, and, as of 2010, had an estimated population of 350,691....



1,852,800
238,000 km²
Guayana
Carabobo
Valencia

Valencia, Venezuela

Valencia is the capital city of Carabobo State, and the third largest city of Venezuela.The city is an economic hub that contains Venezuela's top industries and manufacturing companies. The population of Valencia reached some 1.5 million in the year 2003, and it is expected to grow dramatically...



2,531,000
4,650 km²
Central
Cojedes

Cojedes (state)

Cojedes State is one of the 23 states of Venezuela. The state capital is San Carlos.Cojedes State covers a total surface area of 14,800 km² and, in 2007, had an estimated population of 300,300.- History :...



San Carlos

San Carlos, Cojedes

San Carlos is the capital of the Venezuelan state of Cojedes. This city is also the shire town of the San Carlos Municipality and, according to the 2001 Venezuelan census, the municipality has a population of 83,957.- History :...



340,300
14,800 km²
Central
Delta Amacuro

Delta Amacuro

Delta Amacuro State is one of the 23 states of Venezuela, and is the location of the Orinoco Delta. The Paria Gulf and the Atlantic Ocean are found to the north, Bolívar State is found to the south, the Atlantic Ocean and Guyana are found to the east, and Monagas State is found to the west...



Tucupita

Tucupita

Tucupita is the capital city of the Venezuelan state of Delta Amacuro.-Geography:Delta Amacuro consists almost entirely of the swampy Orinoco River delta. The hot and humid Tucupita lies well into the delta on the Caño Manamo river...



159,700
40,200 km²
Guayana
Falcón
Coro

Santa Ana de Coro

Coro is the capital of Falcón State and the oldest city in the west of Venezuela.-History:The city was founded on July 26, 1527 by Spanish colonists. The name "Coro" is believed to be an indigenous word meaning "wind".The city had a turbulent history in colonial times and suffered a number of...



961,500
24,800 km²
Central - Occidental
Guárico
San Juan De Los Morros

San Juan de los Morros

San Juan de los Morros is the capital of the Guarico state and capital of the Juan Germán Roscio municipality, and is a town located in central Venezuela.- Overview :...



745,100
64,986 km²
Llanos
Lara

Lara (state)

Lara State is one of the 23 states into which Venezuela is divided. The state capital is Barquisimeto.Lara State covers a total surface area of and, in 2007, had an estimated population of 1,795,100.- Municipalities and municipal seats :...



Barquisimeto

Barquisimeto

Barquisimeto is the capital city of the State of Lara located in west central Venezuela, halfway between Caracas and Maracaibo on the Turbio River.-Overview:...



1,999,100
19,800 km²
Central - Occidental
Mérida

Mérida (state)

Mérida State is one of the 23 states of Venezuela. The state capital is Mérida.Mérida State covers a total surface area of 11,300 km² and, in 2007, had an estimated population of 843,800.- Climate and Vegetation :...



Mérida
895,800
11,300 km²
Andean
Miranda

Miranda (state)

Miranda State is one of the 23 states into which Venezuela is divided. It is ranked second in population among Venezuelan states, after Zulia State. In June 30, 2010, it had approximately 2,987,968 residents. It also has the greatest Human Development Index in Venezuela, according to the...



Los Teques

Los Teques

Los Teques is the capital city of the Venezuelan state of Miranda. Its population is 140,617 .-History:The city was founded in 1777 and was named after the Aractoeques Carabs, an indigenous tribe that once inhabited the area...



3,010,900
7,950 km²
Capital
Monagas
Maturín

Maturín

Maturín is a city in Venezuela, the capital of the Venezuelan state of Monagas and a centre for instrumental exploration and development of the petroleum industry in Venezuela. The metropolitan area of Maturín has a population of 401,384 inhabitants...



999,300
28,930 km²
Nor - Oriental
Nueva Esparta

Nueva Esparta

Nueva Esparta State is one of the 23 states of Venezuela. It comprises Margarita Island, Coche, and the largely uninhabited Cubagua.The state is the smallest one in area, and is located off the northeast Caribbean coast of Venezuela. It is the only insular state of Venuezuela...



La Asunción

La Asunción

La Asunción is a city in Venezuela. The capital of Nueva Esparta state, it lies on the Isla Margarita in the Caribbean Sea, off the South American mainland.Owing to its settlement by Spain in 1524, many colonial buildings still remain....



508,900
1,150 km²
Insular
Portuguesa

Portuguesa (state)

Portuguesa State is one of the 23 states of Venezuela.The state capital is Guanare, founded in 1591.Portuguesa State covers a total surface area of 15,200 km² and, in 2007, had an estimated population of 873,400.-Municipalities:...



Guanare

Guanare

Guanare is the capital city of Portuguesa State, Venezuela. It is where la Virgen de Coromoto is said to have appeared to a Coromoto Indian.Located at the edge of the Southwestern floodplains, near the Andes foothills, Guanare is in a region known for livestock and agricultural production...



919,400
15,200 km²
Central - Occidental
Sucre

Sucre (state)

Sucre State is one of the 23 states of Venezuela. The state capital is Cumaná. Sucre State covers a total surface area of 11,800 km² and, in 2007, had an estimated population of 916,600.-Municipalities and municipal seats:...



Cumaná

Cumaná

Cumaná is the capital of Venezuela's Sucre State. It is located 402 km east of Caracas. It was the first settlement founded by Europeans in the mainland America, in 1501 by Franciscan friars, but due to successful attacks by the indigenous people, it had to be refounded several times...



945,600
11,800 km²
Nor - Oriental
Táchira

Táchira (state)

Táchira State is one of the 23 states of Venezuela. The state capital is San Cristóbal.Táchira State covers a total surface area of 11,100 km² and, in 2007, had an estimated population of 1,177,300....



San Cristóbal

San Cristóbal, Táchira

San Cristóbal is the capital city of the Venezuelan state of Táchira. It is located in a mountainous region of Western Venezuela. The city is situated 818 m/2,625 ft above sea level in the northern Andes overlooking the Torbes River, 56 km/35 mi from the Colombian border. San...



1,225,300
11,100 km²
Andean
Trujillo

Trujillo (state)

Trujillo State is one of the 23 states of Venezuela. Its capital is Trujillo. The state is divided into 20 municipalities and 93 parishes. Trujillo State covers a total surface area of 7,400 km² and, in 2007, had an estimated population of 711,400....



Trujillo
747,400
7,400 km²
Andean
Vargas

Vargas (state)

Vargas State is one of the 23 states of Venezuela. Named after Venezuela's first non-military president, José María Vargas, Vargas comprises a coastal region in the north of Venezuela, bordering Aragua to the west, Miranda to the east, the Caribbean Sea to the north and the Capital District to the...



La Güaira

La Guaira

La Guaira is the capital city of the Venezuelan state of Vargas and the country's chief port. It was founded in 1577 as an outlet for Caracas, to the southeast. The town and the port were badly damaged during the December 1999 floods and mudslides that affected much of the region...



337,900
1,496 km²
Capital
Yaracuy

Yaracuy

Yaracuy State is one of the 23 states of Venezuela. It is bordered by Falcón in the north, in the west by Lara, in the south by Portuguesa and Cojedes and in the east by Cojedes and Carabobo....



San Felipe
640,700
7,100 km²
Central - Occidental
Zulia
Maracaibo

Maracaibo

Maracaibo is a city and municipality located in northwestern Venezuela off the western coast of the Lake Maracaibo. It is the second-largest city in the country after the national capital Caracas and the capital of Zulia state...



4,020,200
63,100 km²
Zulian
Special status areas
Flag
Coat of Arms
Area
Capital city
Population (2007 est.)
Area
Location
Capital District

Venezuelan Capital District

The Capital District of Venezuela is a federal district corresponding to the capital Caracas. It has an area of 433 km² and there is only one administrative division , Libertador, which contains about half City of Caracas. It is the seat of the federal government and the head of the public...



Caracas

Caracas

Caracas , officially Santiago de León de Caracas, is the capital and largest city of Venezuela; natives or residents are known as Caraquenians in English . It is located in the northern part of the country, following the contours of the narrow Caracas Valley on the Venezuelan coastal mountain range...



2,085,500
433 km²
Federal Dependencies
Los Roques
15,420
342 km²
Naming
Several states are named for historical figures:
Several states are named for natural features:
Amazonas

Amazonas (Venezuelan state)

Amazonas State is one of the 23 states into which Venezuela is divided.The state capital is Puerto Ayacucho. The capital until the early 1900s was San Fernando de Atabapo. Although named after the Amazon River, most of the state is drained by the Orinoco. Amazonas State covers a total surface...


is named for the Amazon River

Amazon River

The Amazon of South America is the second longest river in the world and by far the largest by waterflow with an average discharge greater than the next seven largest rivers combined...



Apure

Apure

Apure State is one of the 23 states into which Venezuela is divided. Its territory formed part of the provinces of Mérida, Maracaibo, and Barinas, in accordance with successive territorial ordinations pronounced by the colonial authorities. In 1824 the Department of Apure was created, under...


is named for the Apure River

Apure River

The Apure River is a river of southwestern Venezuela, formed by the confluence of the Sarare and Uribante near Guasdualito, in Venezuela, at , and flowing across the llanos into the Orinoco...



Aragua

Aragua

* Aragua State, Venezuela* Aragua de Maturín* Aragua River* Aragua Municipality, Anzoátegui State, Venezuela* Aragua de Barcelona, Anzoátegui State, Venezuela* Aragua Fútbol Club* Aragua Glass Frog...


for the Aragua River

Aragua River

Aragua River flows in Aragua State, Venezuela....



Barinas for the Barinas River
Cojedes

Cojedes

Cojedes is a town in the Venezuelan state of Cojedes. This town is the shire town of the Anzoátegui Municipality and, according to the 2001 Venezuelan census, the municipality has a population of 14,044.-Demographics:...


for the Cojedes River

Cojedes River

The Cojedes River is a tributary of the Orinoco River in central Venezuela. The Cojedes originates in Lara state, and flows southeast through a gap between the Cordillera de Mérida and the Cordillera de la Costa and across the Llanos grasslands of the Orinoco Basin to empty into the Apure River,...



Delta Amacuro

Delta Amacuro

Delta Amacuro State is one of the 23 states of Venezuela, and is the location of the Orinoco Delta. The Paria Gulf and the Atlantic Ocean are found to the north, Bolívar State is found to the south, the Atlantic Ocean and Guyana are found to the east, and Monagas State is found to the west...


for the river delta

River delta

A delta is a landform that is formed at the mouth of a river where that river flows into an ocean, sea, estuary, lake, reservoir, flat arid area, or another river. Deltas are formed from the deposition of the sediment carried by the river as the flow leaves the mouth of the river...


of the Amacuro River

Amacuro River

Amacuro River is a river in South America. It forms part of the northern section of the international boundary between Venezuela and Guyana. It is part of the Orinoco River basin.-References:*Rand McNally, The New International Atlas, 1993....



Guárico

Guárico

Guárico State is one of the 23 states of Venezuela. The state capital is San Juan de Los Morros. Guárico State covers a total surface area of 64 986 km² and, in 2007, had an estimated population of 745,100.-Municipalities and municipal seats:...


for the Guárico River

Guárico River

Guárico River is a river in Venezuela....



Portuguesa

Portuguesa

Portuguesa, Portuguese for something which is Portuguese and Female, may refer to:*Portuguese language*A Portuguesa, the Portuguese national anthem*Portuguesa , a state of Venezuela...


for the Portuguesa River

Portuguesa River

Portuguesa River is a river of Venezuela. It is part of the Orinoco River basin, and is a tributary of the Apure River .-References:*Rand McNally, The New International Atlas, 1993....



Táchira for the Táchira River

Táchira River

The Táchira River is a river located in Táchira and it divides the border that exists between Venezuela and Colombia in that western state....



Yaracuy

Yaracuy

Yaracuy State is one of the 23 states of Venezuela. It is bordered by Falcón in the north, in the west by Lara, in the south by Portuguesa and Cojedes and in the east by Cojedes and Carabobo....


for the Yaracuy River
Other naming origins:
External links