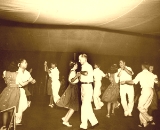 Square dance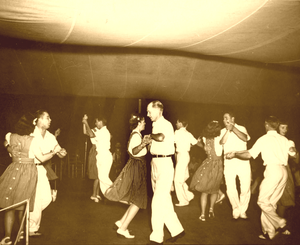 Square dance
is a
folk dance
Folk dance
The term folk dance describes dances that share some or all of the following attributes:*They are dances performed at social functions by people with little or no professional training, often to traditional music or music based on traditional music....
with four couples (eight dancers) arranged in a square, with one couple on each side, beginning with Couple 1 facing away from the music and going counter-clockwise until getting to Couple 4. Couples 1 and 3 are known as the head couples, while Couples 2 and 4 are the side couples. Each dance begins and ends each sequence with "sets-in-order" in the square formation. The dance was first described in 17th century England but was also quite common in France and throughout
Europe
Europe
Europe is, by convention, one of the world's seven continents. Comprising the westernmost peninsula of Eurasia, Europe is generally 'divided' from Asia to its east by the watershed divides of the Ural and Caucasus Mountains, the Ural River, the Caspian and Black Seas, and the waterways connecting...
and bears a marked similarity to
Scottish Country Dancing
Scottish country dance
A Scottish country dance is a form of social dance involving groups of mixed couples of dancers tracing progressive patterns according to a predetermined choreography...
. It has become associated with the
United States of America
United States
The United States of America is a federal constitutional republic comprising fifty states and a federal district...
due to its historic development in that country. Nineteen US states have designated it as their
official state dance
.
The various square dance movements are based on the steps and figures used in traditional folk dances and social dances of the various people who migrated to the USA. Some of these traditional dances include
Morris dance
Morris dance
Morris dance is a form of English folk dance usually accompanied by music. It is based on rhythmic stepping and the execution of choreographed figures by a group of dancers. Implements such as sticks, swords, handkerchiefs and bells may also be wielded by the dancers...
,
English Country Dance
English Country Dance
English Country Dance is a form of folk dance. It is a social dance form, which has earliest documented instances in the late 16th century. Queen Elizabeth I of England is noted to have been entertained by "Country Dancing," although the relationship of the dances she saw to the surviving dances of...
, Caledonians and the
quadrille
Quadrille
Quadrille is a historic dance performed by four couples in a square formation, a precursor to traditional square dancing. It is also a style of music...
. Square dancing is enjoyed by people around the world, and people around the world are involved in the continuing development of this form of dance.
Square dancers are prompted or cued through a sequence of steps (square dance choreography) by a square dance caller to the beat of music—almost a "Simon Says" in dance form. The caller leads, but usually does not participate in the dance. Whether a square dancer travels to China, France, or Mexico, he or she can enjoy attending a square dance because it will only be called in English. This is the only form of dance that is not translated into other languages.
The roots of the
American folk music revival
American folk music revival
The American folk music revival was a phenomenon in the United States that began during the 1940s and peaked in popularity in the mid-1960s. Its roots went earlier, and performers like Josh White, Burl Ives, Woody Guthrie, Lead Belly, Richard Dyer-Bennett, Oscar Brand, Jean Ritchie, John Jacob...
in New York City in the 1950s were in square dancing and folk dancing in the 1940s and musicians like
Pete Seeger
Pete Seeger
Peter "Pete" Seeger is an American folk singer and was an iconic figure in the mid-twentieth century American folk music revival. A fixture on nationwide radio in the 1940s, he also had a string of hit records during the early 1950s as a member of The Weavers, most notably their recording of Lead...
being involved providing the music and songs.
Two main types of square dancing
There are two broad categories of square dance:
Traditional square dance

Traditional square dance

Traditional square dance is a generic term for any style of square dance other than modern Western. The term can mean any of the regional styles that existed before around 1950, when modern Western style began to develop out of a blend of those regional styles, or any style that has survived,...


, which is also called "old time square dance". Traditional square dance is not standardized and can be subdivided into regional styles. The New England

New England

New England is a region in the northeastern corner of the United States consisting of the six states of Maine, New Hampshire, Vermont, Massachusetts, Rhode Island, and Connecticut...


and Appalachia

Appalachia

Appalachia is a term used to describe a cultural region in the eastern United States that stretches from the Southern Tier of New York state to northern Alabama, Mississippi, and Georgia. While the Appalachian Mountains stretch from Belle Isle in Canada to Cheaha Mountain in the U.S...


n styles have been particularly well documented; both have survived to the present time. There are several other styles; some have survived or been revived in recent years, some have not. Traditional square dance is frequently presented in alternation with contra dance

Contra dance

Contra dance refers to several partnered folk dance styles in which couples dance in two facing lines...


s or with some form of freestyle couple dancing. One ancestor of New England style square dances is the quadrille

Quadrille

Quadrille is a historic dance performed by four couples in a square formation, a precursor to traditional square dancing. It is also a style of music...


, and older New England callers occasionally refer to their squares as "quadrilles."
Modern Western square dance

Modern Western square dance

Modern Western square dance is one of two types of square dancing, along with traditional square dance. As a dance form, modern Western square dance grew out of traditional Western dance...


, which is also called "Western square dance", "contemporary Western square dance", or "modern American square dance". The basis of modern Western square dance was established during the 1930s and 1940s by Lloyd Shaw

Lloyd Shaw

Lloyd Shaw , also known as Dr. Lloyd "Pappy" Shaw, was an educator, and is generally credited with bringing about the broad revival of square dancing in America...


, who solicited definitions from callers across the country in order to preserve traditional American folk dance. Since the 1970s modern Western square dance has been promoted and standardized by Callerlab

Callerlab

Callerlab is the international association of square dance callers, and is the largest square dance association in the United States. After some initial work started in 1971, it was officially established in 1974 by several members of the Square Dance Hall of Fame.Callers from all over the world,...


, the "International Association of Square Dance Callers". Modern Western square dance is sometimes presented in alternation with round dance

Round dance

There are two distinct dance categories called round dance. The specific dances belonging to the first of these categories are often considered to be ethnic, folk or country dances...


s.
Comparing square dance calls
In this context a "call" refers to the name of a specific dance movement. It may alternatively refer to the phrase used by a caller to cue the dancers so they dance the specified movement, or to the dance movement itself. It mirrors the ambiguity of the word "dance", which may mean a dance event, the dancing of an individual to the playing of one piece of music, or dancing in general.
A square dance call may take a very short time or a very long time to execute. Most calls require between 4 and 32 "counts" (where a count is roughly one step). In traditional square dancing the timing of a call is dictated by tradition; in some regional styles, particularly that of New England, the dance movements are closely fitted to the
phrases
Phrase (music)
In music and music theory, phrase and phrasing are concepts and practices related to grouping consecutive melodic notes, both in their composition and performance...
of the music. In modern Western square dancing many calls have been given formally specified durations, based partly on direct observation of how long it takes an average dancer to execute them.
Traditional and modern Western square dancing have a number of calls in common, but there are usually small differences in the way they are performed. For example, the "Allemande Left" is traditionally performed by grasping left hands with the other dancer, pulling away from each other slightly, and walking halfway around a central axis then stepping through. In modern Western dance the grip is modified so that each dancer grips the forearm of the other, and there is no pulling (that is, each dancer supports his or her own weight). These modifications make it easier to enter and exit the movement, and thus easier to incorporate into a long sequence of calls.
Traditional square dance uses a comparatively small number of calls—between about ten and thirty, depending on the region and the individual caller. (Many traditional square dance calls are similar or identical to contra dance calls, which are described at
Contra dance choreography
Contra dance choreography
Contra dance choreography specifies the dance formation, the figures, and the sequence of those figures in a dance. The figures usually repeat in a consistent pattern aligned with the phrasing of the music...
). Every dance is explained before the participants dance it, unless everyone present is familiar with it. Participants are made to feel welcome to make mistakes (within limits), and the mistakes can sometimes make the dance a lot more fun.
In modern Western square dance the participants are expected to have learned and become proficient in a particular
program
Square dance program
A square dance program or square dance list is a set of defined square dance calls or dance steps which are associated with a level of difficulty...
, a defined set of calls. Dancing modern Western square dance is constantly challenging and surprising due to the unknown or unexpected choreography of the caller (that is, the way the caller ties together the "calls" and the formations which result)—unlike traditional square dance, very rarely are two modern Western dances ever alike. Like traditional square dancing, recovering from occasional mistakes is often part of the fun, but dancers are usually encouraged to dance only those programs at which they are reasonably proficient.
Comparing square dance music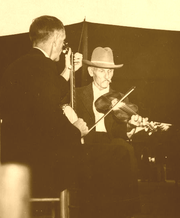 The two types of square dance are accompanied by different types of music.
Traditional square dance is danced to traditional "folk dance" music: Irish
jig
Jig
The Jig is a form of lively folk dance, as well as the accompanying dance tune, originating in England in the 16th century and today most associated with Irish dance music and Scottish country dance music...
s and
reels
Reel (dance)
The reel is a folk dance type as well as the accompanying dance tune type. In Scottish country dancing, the reel is one of the four traditional dances, the others being the jig, the strathspey and the waltz, and is also the name of a dance figure ....
for the most part, as well as folk music from
Quebec
Quebec
Quebec or is a province in east-central Canada. It is the only Canadian province with a predominantly French-speaking population and the only one whose sole official language is French at the provincial level....
(Canada), England,
Scotland
Scotland
Scotland is a country that is part of the United Kingdom. Occupying the northern third of the island of Great Britain, it shares a border with England to the south and is bounded by the North Sea to the east, the Atlantic Ocean to the north and west, and the North Channel and Irish Sea to the...
, and other countries. The music is almost always performed live by a traditional dance music band, and played on acoustic instruments, such as the
fiddle
Fiddle
The term fiddle may refer to any bowed string musical instrument, most often the violin. It is also a colloquial term for the instrument used by players in all genres, including classical music...
,
banjo
Banjo
In the 1830s Sweeney became the first white man to play the banjo on stage. His version of the instrument replaced the gourd with a drum-like sound box and included four full-length strings alongside a short fifth-string. There is no proof, however, that Sweeney invented either innovation. This new...
,
guitar
Guitar
The guitar is a plucked string instrument, usually played with fingers or a pick. The guitar consists of a body with a rigid neck to which the strings, generally six in number, are attached. Guitars are traditionally constructed of various woods and strung with animal gut or, more recently, with...
and
double bass
Double bass
The double bass, also called the string bass, upright bass, standup bass or contrabass, is the largest and lowest-pitched bowed string instrument in the modern symphony orchestra, with strings usually tuned to E1, A1, D2 and G2...
. "Old time music" is one form of dance music played at traditional square dances.
Modern Western square dancing is danced to a variety of music types, everything from pop to traditional country to Broadway musical to contemporary
country music
Country music
Country music is a popular American musical style that began in the rural Southern United States in the 1920s. It takes its roots from Western cowboy and folk music...
—even rock and techno. The music is usually played from recordings; the beat is also somewhat faster, as the "perfect" modern Western square dance tempo is 120–128 bpm. At this speed dancers take one step per beat of the music.
Other comparisons
Modern Western square dance is organized by
square dance club
Square dance club
Square dance clubs are the primary form for organization within the recreational activity of square dancing, and more specifically modern Western square dance...
s. Clubs offer classes, social and dance evenings, as well as arrange for larger dances which are usually open to the general square dancing public (i.e. non-club members). Larger dances sometimes request a strict western-style dress code, which originated in the late '50s and early '60s and is known as "traditional square dance attire", although it was not traditional before that time. Clubs may choose to advertise their dances as requiring less strict dress codes known as "proper" or "casual" (no dress code). Traditional square dance groups are less structured and often have no particular dress code.
Square dance callers
Square dance calling is both an art and a science. The caller's task is to create dance sequences that have the qualities of good body flow, good timing, surprise dancers and are resolved with dancers in sequence and have the correct partner pairings. Some of the top modern western callers in the world are Jerry Story (USA), Dennis Kolecki (WHS), Paul Bristow (UK), Stefan Forster (Germany), Christer Bern (Sweden) and David Cox (Australia).
External links