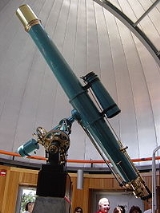 Optical telescope
An
optical telescope
is a
telescope
Telescope
A telescope is an instrument that aids in the observation of remote objects by collecting electromagnetic radiation . The first known practical telescopes were invented in the Netherlands at the beginning of the 1600s , using glass lenses...
which is used to gather and
focus
Focus (optics)
In geometrical optics, a focus, also called an image point, is the point where light rays originating from a point on the object converge. Although the focus is conceptually a point, physically the focus has a spatial extent, called the blur circle. This non-ideal focusing may be caused by...
light mainly from the
visible
Visible spectrum
The visible spectrum is the portion of the electromagnetic spectrum that is visible to the human eye. Electromagnetic radiation in this range of wavelengths is called visible light or simply light. A typical human eye will respond to wavelengths from about 390 to 750 nm. In terms of...
part of the
electromagnetic spectrum
Electromagnetic spectrum
The electromagnetic spectrum is the range of all possible frequencies of electromagnetic radiation. The "electromagnetic spectrum" of an object is the characteristic distribution of electromagnetic radiation emitted or absorbed by that particular object....
for directly viewing a
magnified
Magnification
Magnification is the process of enlarging something only in appearance, not in physical size. This enlargement is quantified by a calculated number also called "magnification"...
image for making a
photograph
Photograph
A photograph is an image created by light falling on a light-sensitive surface, usually photographic film or an electronic imager such as a CCD or a CMOS chip. Most photographs are created using a camera, which uses a lens to focus the scene's visible wavelengths of light into a reproduction of...
, or collecting data through electronic
image sensor
Image sensor
An image sensor is a device that converts an optical image into an electronic signal. It is used mostly in digital cameras and other imaging devices...
s.
There are three primary types of optical telescope: Refractors which use
lenses
Lens (optics)
A lens is an optical device with perfect or approximate axial symmetry which transmits and refracts light, converging or diverging the beam. A simple lens consists of a single optical element...
(
dioptrics
Dioptrics
Dioptrics is the study of the refraction of light, especially by lenses. Telescopes that create their image with an objective that is a convex lens are said to be "dioptric" telescopes....
), reflectors which use
mirror
Mirror
A mirror is an object that reflects light or sound in a way that preserves much of its original quality prior to its contact with the mirror. Some mirrors also filter out some wavelengths, while preserving other wavelengths in the reflection...
s (
catoptrics
Catoptrics
Catoptrics deals with the phenomena of reflected light and image-forming optical systems using mirrors. From the Greek κατοπτρικός ....
), and catadioptric telescopes which use both lenses and mirrors in combination.
A telescope's light gathering power and ability to resolve small detail is directly related to the diameter (or aperture) of its
objective
Objective (optics)
In an optical instrument, the objective is the optical element that gathers light from the object being observed and focuses the light rays to produce a real image. Objectives can be single lenses or mirrors, or combinations of several optical elements. They are used in microscopes, telescopes,...
(the primary lens or mirror that collects and focuses the light).