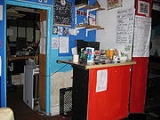 Social center
Social centers
are
community
Community
The term community has two distinct meanings:*a group of interacting people, possibly living in close proximity, and often refers to a group that shares some common values, and is attributed with social cohesion within a shared geographical location, generally in social units larger than a household...
spaces. They are buildings which are used for a range of disparate activities, which can be linked only by virtue of being not-for-profit. They might be organizing centers for local activities or they might provide support networks for minority groups such as
prison
Prison
A prison is a place in which people are physically confined and, usually, deprived of a range of personal freedoms. Imprisonment or incarceration is a legal penalty that may be imposed by the state for the commission of a crime...
ers and refugees. Often they provide a base for initiatives such as cafes, free shops, public
computer
Computer
A computer is a programmable machine designed to sequentially and automatically carry out a sequence of arithmetic or logical operations. The particular sequence of operations can be changed readily, allowing the computer to solve more than one kind of problem...
labs,
graffiti
Graffiti
Graffiti is the name for images or lettering scratched, scrawled, painted or marked in any manner on property....
mural
Mural
A mural is any piece of artwork painted or applied directly on a wall, ceiling or other large permanent surface. A particularly distinguishing characteristic of mural painting is that the architectural elements of the given space are harmoniously incorporated into the picture.-History:Murals of...
s, legal collectives and free
housing
House
A house is a building or structure that has the ability to be occupied for dwelling by human beings or other creatures. The term house includes many kinds of different dwellings ranging from rudimentary huts of nomadic tribes to free standing individual structures...
for travellers. The services are determined by both the needs of the community in which the social center is based and the skills which the participants have to offer.
Social centers tend to be in large buildings and thus can host
activist
Activism
Activism consists of intentional efforts to bring about social, political, economic, or environmental change. Activism can take a wide range of forms from writing letters to newspapers or politicians, political campaigning, economic activism such as boycotts or preferentially patronizing...
meetings, concerts, bookshops, dance performances and
art
Art
Art is the product or process of deliberately arranging items in a way that influences and affects one or more of the senses, emotions, and intellect....
exhibitions. Social centers are common in many European cities, sometimes in squats, sometimes in rented buildings.
Also known as a
free space
, social centers may be designated "safe space" where specific forms of dialogue and
activism
Activism
Activism consists of intentional efforts to bring about social, political, economic, or environmental change. Activism can take a wide range of forms from writing letters to newspapers or politicians, political campaigning, economic activism such as boycotts or preferentially patronizing...
are encouraged and protected from harassment, or they may be intended to serve as
open space
Open forum
Open Forum may refer to:* Forum , a United States constitutional law term* Open Forum , Australian E-Democracy site...
for community interaction among widely disparate groups without censorship (the term "
free speech zone
Free speech zone
Free speech zones are areas set aside in public places for political activists to exercise their right of free speech in the United States. The First Amendment to the United States Constitution states that "Congress shall make no law... abridging.....
" is deprecated). There is a great deal of overlap between the two types.
Social centers that are open to the general public are also part of the general third place movement in
community building
Community building
Community building is a field of practices directed toward the creation or enhancement of community among individuals within a regional area or with a common interest...
. Third places which include small commercial or non-reclaimed urban spaces (or reclaimed from commercial activity towards
cooperative
Cooperative
A cooperative is a business organization owned and operated by a group of individuals for their mutual benefit...
use) such as
community coffee houses
Coffeehouse
A coffeehouse or coffee shop is an establishment which primarily serves prepared coffee or other hot beverages. It shares some of the characteristics of a bar, and some of the characteristics of a restaurant, but it is different from a cafeteria. As the name suggests, coffeehouses focus on...
may serve a similar function with or without an organizing focus besides
localism
Fiscal localism
Fiscal localism comprises institutions of localized monetary exchange. Sometimes considered a backlash against global capitalism, fiscal localism affords voluntary, market structures that help communities trade more efficiently within their communities and regions.-Fiscal localism:"Buy local" is...
.
Free spaces
Social centers provide a place to
socialize
Socialization
Socialization is a term used by sociologists, social psychologists, anthropologists, political scientists and educationalists to refer to the process of inheriting and disseminating norms, customs and ideologies...
in a bar, cafe or music venue. They also provide access to alternative, hard to access information through projects such as libraries,
infoshop
Infoshop
An infoshop is a storefront or social center that serves as a node for the distribution of political information, typically in the form of books, zines, stickers and posters. Infoshops often serve as a meeting space and resource hub for local activist groups....
s, film nights and talks.
The projects are usually run on an entirely voluntary basis by the people involved, who are neither
charity
Charity (practice)
The practice of charity means the voluntary giving of help to those in need who are not related to the giver.- Etymology :The word "charity" entered the English language through the Old French word "charité" which was derived from the Latin "caritas".Originally in Latin the word caritas meant...
workers nor social workers. The projects are run in the spirit of co-operation, solidarity and mutual aid. Other activities organized include events, meetings, exhibitions, classes and workshops on a range of topics.
Whilst every individual case is different, most centers are run on the basis of
non-hierarchical
Anti-authoritarian
Anti-authoritarianism is opposition to authoritarianism, which is defined as a "political doctrine advocating the principle of absolute rule: absolutism, autocracy, despotism, dictatorship, totalitarianism." Anti-authoritarians usually believe in full equality before the law and strong civil...
consensus decision-making
Consensus decision-making
Consensus decision-making is a group decision making process that seeks the consent, not necessarily the agreement, of participants and the resolution of objections. Consensus is defined by Merriam-Webster as, first, general agreement, and second, group solidarity of belief or sentiment. It has its...
. Most centers lean to the left politically, including anarchist, autonomist or communist viewpoints. Centers tend to adopt an ethical vegan philosophy, whilst accepting that individuals involved may have differing personal lifestyles. Individual are often
artivist
Artivist
Artivist is a portmanteau word combining "art" and "activist". Frank Berganza states..."When one pushes for change, , by utilizing their creative ability to communicate in ways of their artistic activity, that is known as Artivism". Artivism developed in recent years while the anti-globalization...
s.
"Social centres are abandoned buildings - warehouses, factories, military forts, schools - that have been occupied by squatters and transformed into cultural and political hubs, explicitly free from both the market, and from state control... Though it may be hard to tell at first, the social centres aren't ghettos, they are windows — not only into another way to live, disengaged from the state, but also into a new politics of engagement. And yes, it's something that may be beautiful." (Klein, 2001).
Difference from community centers
Social centers are distinguished from
community center
Community centre
Community centres or community centers or jumping recreation centers are public locations where members of a community tend to gather for group activities, social support, public information, and other purposes. They may sometimes be open for the whole community or for a specialised group within...
s in the particular relationship social centers have toward the state and governmental institutions. While "community center" is a term used to describe any center of "public" activity, occasionally sanctioned by the state or private interests such as a corporation, social centers are characterized by their quasi-legal and sometimes illegal existence, their direct subsistence on the community that supports it and their political vision vis-a-vis the state.
Italy
The social center concept has taken root most successfully in Italy, beginning in the 1970s. Large factories and even abandoned military barracks have been "appropriated" for use as social centers. There are today dozens of social centers in Italy, often denoted by the initials CSOA (Centro Sociale Occupato Autogestito). Examples include Pedro in Padova, Spartaco in Ravenna, Officina 99 in Naples and Forte Prenestino, and Corto Circuito in Rome, Leoncavallo in Milan and CPA Centro Popolare Autogestito Firenze Sud in Florence.
The historic relationship between the Italian social centers and the Autonomia movement (specifically
Lotta Continua
Lotta Continua
Lotta Continua was a far left extra-parliamentary organization in Italy. It was founded in autumn 1969 by a split in the student-worker movement of Turin, which had started militant activity at the universities and factories such as Fiat...
) has been described briefly in
Storming Heaven, Class Composition and Struggle in Italian Autonomous Marxism
, by Steve Wright.
Social centers in Italy continue to be centers of political/social dissent. Notoriously the
Tute Bianche
Tute Bianche
Tute Bianche was a militant Italian social movement, active from 1994 to 2001.Activists covered their bodies with padding so as to resist the blows of police, to push through police lines, and to march together in large blocks for mutual protection during demonstrations.-Name:Tute Bianche means,...
and
Ya Basta Association
Ya Basta Association
The Ya Basta Association is a network of Italian anti-capitalist and pro-immigrants rights organizations and groups, fueled by the Italian social center movement, formed in 1994, and known for the "authorship" of the Tute Bianche, and later disobbedienti phenomena.Formed as a result of the "eros...
developed directly out of the social center movement, and many
social forums
World Social Forum
The World Social Forum is an annual meeting of civil society organizations, first held in Brazil, which offers a self-conscious effort to develop an alternative future through the championing of counter-hegemonic globalization...
take place in social centers. They are also used for hacklabs, activist
copyleft
Copyleft
Copyleft is a play on the word copyright to describe the practice of using copyright law to offer the right to distribute copies and modified versions of a work and requiring that the same rights be preserved in modified versions of the work...
centers (for example, LOA Hacklab in Milan).
From early years of 2000s, several fascist social centers have emerged, such as CasaPound, social center dedicated to
Ezra Pound
Ezra Pound
Ezra Weston Loomis Pound was an American expatriate poet and critic and a major figure in the early modernist movement in poetry...
, which was associated with Tricolour Flame. Now CasaPound has his own movement, CasaPound Italia, extended all over the Italian territory with many social centers and circles.
The Netherlands
Since the 1960s, there has been a long and continuous tradition of squatted social centers in the Netherlands, particularly in the capital, Amsterdam.
In
Leiden
the
Eurodusnie Collective
Eurodusnie Collective
The Eurodusnie Collective is an anarchist collective based in Leiden, The Netherlands. It was established in 1997, against the background of an EU summit in Amsterdam. A small school was squatted for the purpose of holding a 'counter summit' as a protest over the official EU summit...
provide a service to the community by running a free shop and a cafe/bar.
In Den Haag there was the
De Blauwe Aanslag
De Blauwe Aanslag
De Blauwe Aanslag was a squat in the Dutch city of The Hague. The property was a former tax office which was squatted in 1980. The name refers the blue papers which a person must fill in every year as a tax return....
, which was used for 23 years.
In
Amsterdam
Amsterdam
Amsterdam is the largest city and the capital of the Netherlands. The current position of Amsterdam as capital city of the Kingdom of the Netherlands is governed by the constitution of August 24, 1815 and its successors. Amsterdam has a population of 783,364 within city limits, an urban population...
, the
ASCII
ASCII (squat)
The Amsterdam Subversive Center for Information Interchange was a squatted communication laboratory in the Dutch city of Amsterdam. The first incarnation was formed in 1999 and based at the Herengracht...
center has been providing free internet to all its 'customers' since 1997 and is now mutating into a hacklab. The Overtoom301 squat has a cafe, a non-profit printshop and a music venue. Vrankrijk is open seven days a week, hosting a range of projects including a
kraakspreekuur
(squatters' advice hour), a bar, a
queer
Queer
Queer is an umbrella term for sexual minorities that are not heterosexual, heteronormative, or gender-binary. In the context of Western identity politics the term also acts as a label setting queer-identifying people apart from discourse, ideologies, and lifestyles that typify mainstream LGBT ...
night and benefit events. The
Occii
OCCII
The OCCII is a venue for alternative and independent music in Amsterdam, the Netherlands. The organization is mostly run by volunteers and has its roots in the squatting movement; the building was squatted in 1984 and "legalized" in 1989...
is a busy music venue and children's theater.

In
Rotterdam
Rotterdam
Rotterdam is the second-largest city in the Netherlands and one of the largest ports in the world. Starting as a dam on the Rotte river, Rotterdam has grown into a major international commercial centre...
, the
Poortgebouw
Poortgebouw
The Poortgebouw is a national monument located by the River Maas in the Kop van Zuid area of Rotterdam, in the Netherlands. It was built in 1879 and experienced a range of uses until it was squatted October 3, 1980...
hosts a twice weekly cafe on Wednesdays and Sundays.
Spain
In Barcelona, there is a tight network of squatted social centers which publishes a weekly newspaper InfoUsurpa detailing activities and news. The paper is fly-posted on the doors of the squats themselves. As a result of the relaxed attitude of shop-owners towards
dumpster diving
Dumpster diving
Dumpster diving is the practice of sifting through commercial or residential trash to find items that have been discarded by their owners, but that may be useful to the dumpster diver.-Etymology and alternate names:...
there are free food cafes every night, often vegan. Other squats offer free music or free internet. The
Eskalera Karakola
Eskalera Karakola
Eskalera Karakola is a squat in Madrid, Spain, which is held by feminists and works on autogestion principles. It was situated in the Lavapiés barrio from 1996 to 2005, and is now in Calle Embajador. The squat organizes activities focussing on domestic violence and women's precarity in...
is a feminist social center in Madrid.
United Kingdom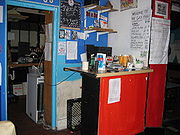 The
UK Social Centre Network
UK Social Centre Network
The UK Social Centre Network is a grass roots initiative to establish a network between self identified radical independent social and community centres in the United Kingdom. There is no single policy statement but clearly a general desire to improve communication and co-operation between the...
aims to link up "the growing number of autonomous spaces to share resources, ideas and information"
http://www.londonarc.org/social_centre_network.html
. This network draws a very clear distinction between the many autonomous social centers around the country on one side and the state or large NGO-sponsored community centers on the other. Despite there being a tradition of large squats, the recent upsurge in social centers has come about in the last five years. Antecedents of the social center concept include projects such as the
Centro Iberico
Centro Iberico
Centro Iberico was a squatted school in Notting Hill, England, that became a Social centre, a live venue and a studio.Centro Iberico, also known as the Anarchy or Alternative 'A' Centre, at 421 Harrow Road alongside the canal, was a former school squatted by Spanish anarchists in the early 80s...
and the
Wapping Autonomy Centre
Wapping Autonomy Centre
Wapping Autonomy Centre was a social centre set up in a rented former warehouse space in the Wapping area of London Docklands from late 1981 to 1982...
.
In London, places include the RampART social center
(now evicted), the
London Action Resource Centre
London Action Resource Centre
The London Action Resource Centre is a meeting centre and planning area for several protest groups, including Queeruption and Indymedia in London. It also functions as a planning and information centre for Peoples Global Action. It was originally known as the Fieldgate Action Resource Centre...
, the Freedom Club and the
56a Crampton Street
infoshop
Infoshop
An infoshop is a storefront or social center that serves as a node for the distribution of political information, typically in the form of books, zines, stickers and posters. Infoshops often serve as a meeting space and resource hub for local activist groups....
. 'The Square' was active during 2006 and is now closed. On January 20, 2007, a new social center opened in London, in the old Vortex Jazz Club on Stoke Newington Church Street. It continued the ideals of the free space project, and ran a cafe, cinema nights and benefits. It was evicted in March 2007. A new space opened up in Camberwell in March 2007 and was evicted in August.
Elsewhere in the United Kingdom, there are centers in Oxford (the
OARC
), Bristol (
Kebele
), Nottingham (
Sumac Centre
Sumac Centre
The Sumac Centre is an independent community and social centre in Nottingham, UK, part of the UK Social Centre Network and Radical Routes. It provides resources, meeting spaces and skills for groups and individuals campaigning for human rights, animal rights, the environment, peace and co-operation...
), Bradford (The 1 in 12 Club), Manchester (the
Basement
), Brighton (the
Cowley Club
Cowley Club
The Cowley Club is a libertarian social centre in Brighton, England, United Kingdom opened in 2003. It provides resources and meeting spaces for groups and individuals active in areas such as workplace and unemployed struggles, international solidarity, animal liberation, ecological defence,...
), Birmingham (the
Social Justice Centre
Justice not crisis
Justice not crisis
Justice Not Crisis is a direct action pressure group campaigning for more social housing in Birmingham, England.-History:Justice Not Crisis was founded in 2008 by Lee Moore and Steve Austin. Their first action was the John Lines Homeless Village, a tent city built on disused land owned by the...
), Cardiff (
The PAD
), Liverpool (
Next To Nowhere
) and Edinburgh (The Forest). Belfast's social center, Giros, has now closed as has Sheffield's
Matilda
Sydney Works
Sydney Works or Sidney Works is a building on Matilda Street in Sheffield, England. It has seen a variety of uses, and occupies a prominent site beside the Porter Brook, surrounded by car parks.The site was originally occupied by the City Saw Mills...
and the
Common Place
) in Leeds.
Many social centers are squats, and as such have a very short life span.
Rest of Europe
Some places have a good social center network, but are not so good at communicating outside of that network. They focus more on local solidarity and being effective in their communities rather than sharing ideas. For example Nosotros in Greece. Others network and have a wider range of international connections and networking. For example
Hirvitalo
Hirvitalo
Hirvitalo is a social center in the Pispala district of Tampere, It houses the Center of Contemporary Art Pispala.- What is there? :In Hirvitalo there are 3 gallery rooms, recording studio, serigraphy space and a shop...
in Finland.
See also
Artivism
Autonomism

Autonomism

Autonomism refers to a set of left-wing political and social movements and theories close to the socialist movement. As an identifiable theoretical system it first emerged in Italy in the 1960s from workerist communism...



Community center

Community centre

Community centres or community centers or jumping recreation centers are public locations where members of a community tend to gather for group activities, social support, public information, and other purposes. They may sometimes be open for the whole community or for a specialised group within...



Coffeehouse (event)

Coffeehouse (event)

A Coffeehouse is a social event, often held to raise funds for and/or generate awareness of a social cause or other event.The name "Coffeehouse" is derived from the limited menu which is typically available at the social event: coffee is usually the featured beverage, together with other...



Cultural center

Cultural center

A cultural center or cultural centre is an organization, building or complex that promotes culture and arts. Cultural centers can be neighborhood community arts organizations, private facilities, government-sponsored, or activist-run...



English coffeehouses in the seventeenth and eighteenth centuries

English coffeehouses in the seventeenth and eighteenth centuries

Historians define English coffeehouses as public social houses during the 17th and 18th centuries, in which patrons would assemble for conversation and social interaction, while taking part in newly emerging coffee consumption habits for the time. Travellers introduced coffee as a beverage to...



Hacklab
Infoshop

Infoshop

An infoshop is a storefront or social center that serves as a node for the distribution of political information, typically in the form of books, zines, stickers and posters. Infoshops often serve as a meeting space and resource hub for local activist groups....



Localism

Fiscal localism

Fiscal localism comprises institutions of localized monetary exchange. Sometimes considered a backlash against global capitalism, fiscal localism affords voluntary, market structures that help communities trade more efficiently within their communities and regions.-Fiscal localism:"Buy local" is...



Salon (gathering)

Salon (gathering)

A salon is a gathering of people under the roof of an inspiring host, held partly to amuse one another and partly to refine taste and increase their knowledge of the participants through conversation. These gatherings often consciously followed Horace's definition of the aims of poetry, "either to...



Squatting

Squatting

Squatting consists of occupying an abandoned or unoccupied space or building, usually residential, that the squatter does not own, rent or otherwise have permission to use....



Third place